Vinyl Record Lovers Newsletter.
Welcome to my monthly Newsletter. Thank you for subscribing. 
The golden age of vinyl records and all things retro are the highlights of my Newsletter. Writing stories about my vinyl record memories with content from my collection is my way of sharing memories and keeping the oldies alive.
I do appreciate your valuable time reading my newsletter.
Issue #102 - September, 2021.
---
In This Issue:
Another Visit To My Favorite Radio Program, Ned Ward's Country Doo Wop Show.
Both of The Everly Brothers are now gone.

Country Doo Wop Spotlight Song.
Framed Album Cover Art of The Month.

Cover Song of The Month - How High The Moon.

Forgotten Country Classics.

---
Vinyl Record Memories and
The Original Country Doo Wop Show.
---
Each month I give a little shout-out to my favorite radio program, Ned Ward's Country Doo-Wop show. My friend, Ned, airs his show from out Oregon way and if you tune in you just might hear Ned talk a little about Vinyl Record Memories.
Ned plays all my favorites and I know he will have some of your favorites too. Ned turns music into memories playing yesterday's country favorites and the classic hits of the 50's and 60's Doo Wop style. Listen in Monday thru Saturday from 1pm to 3pm, all times Pacific, on KNCP Newberry Mix 107.3 FM.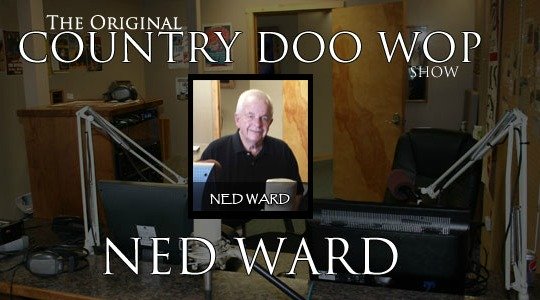 Let's get started...

---
Another Visit to The Country Doo Wop Show.

---
It was good to be back, August 26th, for a second round interview on Ned Ward's Country Doo Wop show.  Ned's producer, Mr "B" always comes up with a great playlist for the show. His playlist gives me ideas for some special pages I write on Vinyl Record Memories.  Ned led the way and ask me about the "Angel with an Attitude" page, which turned into another fun interview for me. 

After the interview and the discussion about "The Angel with an Attitude" I decided to add the album, "My Boyfriend's Back" as our Album Cover Art of the month. In addition, the album title song was set-up as a second "Spotlight Song." The Angels and the Everly Brothers Spotlight songs are both played regularly on Ned Ward's Country Doo Wop show.
Take a listen at these two memorable songs from the past...

---
Country Doo-Wop Spotlight Song.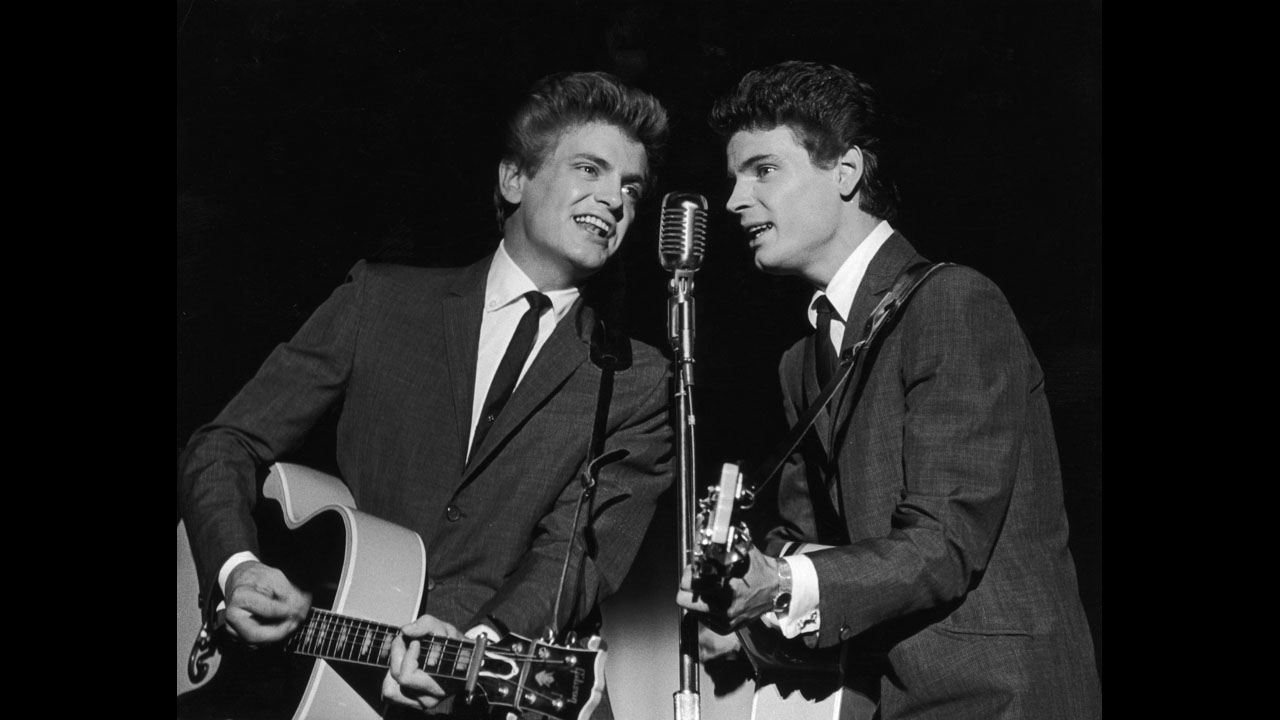 Our Spotlight song for this month centers around a Jukebox classic with the Everly brothers center stage as we remember Don Everly who died this past month. 
Both of the Everly Brothers are now gone...January 4, 2014, we lost 1/2 of the Everly Brothers, Phil Everly.  Phil died of Chronic Obstructive Pulmonary Disease at a hospital in Burbank California, reported by his son Jason.

We Lost Don Everly recently on August 21, 2021. He died at his home. He was 84. No cause was given.
The brothers toured extensively with Buddy Holly during 1957 and 1958. According to Holly biographer Philip Norman, they were responsible for the change in style for Holly and The Crickets from Levi's and T-shirts to the Everlys' sharp Ivy League suits. Don claimed Holly to be a generous songwriter who wrote the song "Wishing" for them, while Phil later stated: "We were all from the South. We'd started in country music."

Phil Everly was one of Buddy Holly's pallbearers at his funeral in February 1959, although Don did not attend. He later said, "I couldn't go to the funeral. I couldn't go anywhere. I just took to my bed."

They had fantastic harmonies without the use of "Autotune." There is no substitute for real talent. Truly Rock Pioneers, but unfortunately, forgotten in today's society.  For more information read our story, "Why has the vinyl record survived."

---
Framed Album Cover Art of The Month.
---
The Framed Album Cover Art this month also has a dual roll as our second spotlight song of the month.

In an age of digital downloads, another example why fans still love and need to love vinyl records. Between the mid-1960s and the late 1970s, the long-playing record allowed popular music to become an art form and changed popular music for ever.
However, it is the Album Cover Artwork that will be a constant reminder how good the music inside really is. Musicians could escape the confines of the three-minute pop single and express themselves as never before with glorious artwork and adorning gatefold sleeves.
The Angels LP shown below was purchased new. I added the frame and took this photo on 09-13-2021 so you can see the excellent condition of this nearly 60 year old vinyl LP. The record itself is also in excellent condition but I have replaced the record insert sleeve with an updated acid free paper sleeve.

---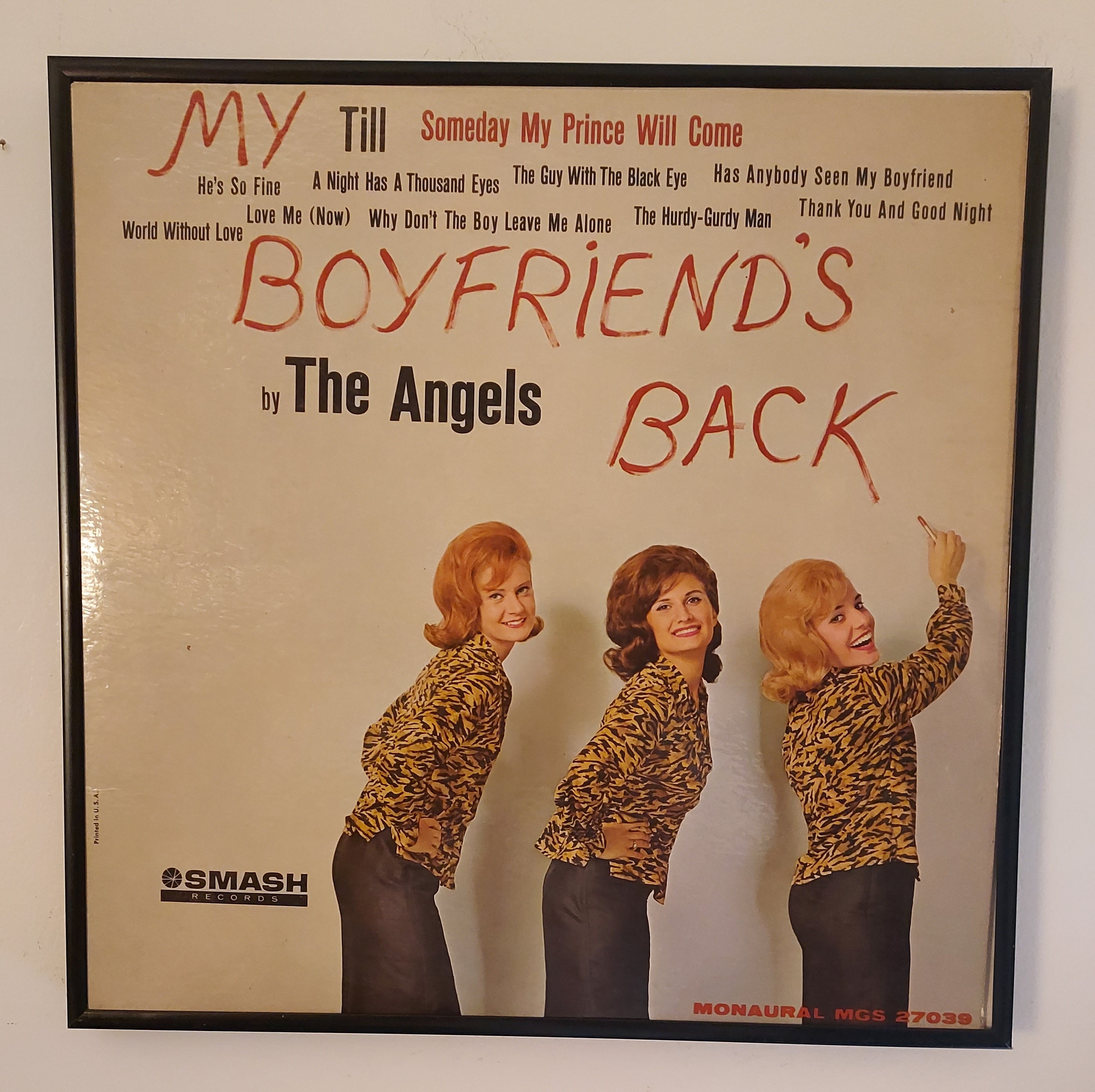 This vinyl LP is an original September, 1963 release with catalog number MGS - 27039 on Smash Records - vendor Mercury Records Corporation. If you'll notice in the bottom right corner this original LP was issued as a monaural recording, not in stereo.
The song is featured in the 2006 Tony Award-winning musical Jersey Boys. The Angels version was used in the promotional trailers for the 1993 movie My Boyfriend's Back, but was not featured in the film itself. You can read about the "Angel with an Attitude" here.

---
A Rock-n-Roll Timeline

(When did Rock-n-Roll Begin)
---
The book you see below is a special one I recently added to my collection of Rock-n-Roll memorabilia.  You may be thinking, what's the big deal, it's just an old book. Read on...
---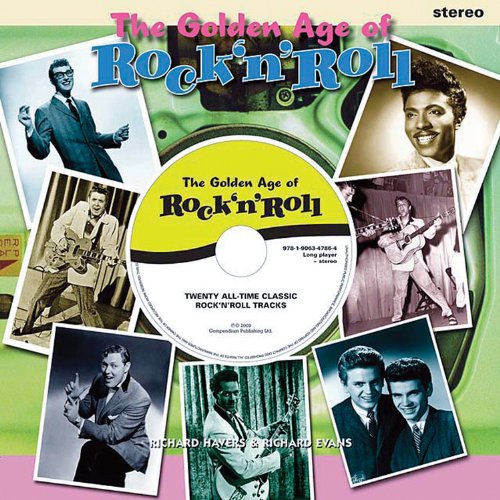 My wife and I were at a local garage sale and while I was looking at some items she walked across the street to another sale. I got back into the car and a few minutes later she handed me a book thru the open window and said, "Would you like this book"? She said it was $2.00 and the man told her he bought it new about ten years prior. I looked at the book and I was like a kid in a candy store.
The book is like new. It's as if no pages have been turned, the book is flawless, absolutely perfect. The CD added to the center of the book is playable, although it has never been removed from the book. The Kohl's sticker on the back reads $39.99. My wife said, "I have not paid the man do you want the book"? Really....for two bucks and a detailed  Rock-n-Roll timeline included.

---
Excerpts from the book...The Golden Age of Rock-n-Roll

Ask any music fan what was the first rock-n-roll record.  No doubt, many will say Bill Haley & His Comets "(We're Gonna) Rock Around The Clock." Some will say Jackie Brenston's 1951 hit, "Rocket 88." How about Lloyd Price's "Lawdy Miss Clawdy" from 1952.
According to "Muddy Waters" an American blues singer-songwriter and musician, it was all because the blues had a baby and they named it "Rock-n-Roll." But there definitely was not one defining moment when it all began. We could start with the 1922 Trixie Smith record "My Man Rocks Me (With One Steady Roll) but I'll start with 1949 for one simple reason, the 45-rpm record.
Let's begin with that year and excerpts from the book, The Golden Age of Rock-n-Roll and a break-down on a Rock-n-Roll timeline. The series will take us through 1962 with added entries in future newsletters. Stay tuned and subscribe to our newsletter so you don't miss a single timeline issue. 

        1949
June: The Race Records chart becomes the Rhythm & Blues chart in Billboard
        1951

The first jukebox that plays 45-rpm records is introduced.
March: Jackie Brenston and His Delta Cats record "Rocket 88" with Sam Phillips in Memphis.
March: Les Paul and Mary Ford's "How High The Moon" enters the Billboard chart and also crosses over to the R&B chart because of Paul's dazzling guitar work.
July: Alan Freed's Moondog House on WJW in Cleveland  is a big hit.
        1952

March 21: Alan Freed's Moondog Coronation Ball in Cleveland, ends in a riot.
May: Lloyd Price's "Lawdy Miss Claudy" charts and gets to No. 1 on the R&B chart.

        1953  
May: "Crazy Man Crazy" by Bill Haley & His Comets enters the charts.



---
Best Cover Songs - Where the best version isn't always the first version.
---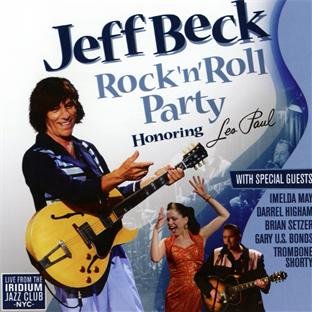 We've all been there. You hear a song, take it to heart and love it as your very own. And then comes the day you learn this special song you adore is actually something else, a remake or cover of the original recording.
As mentioned above in the Rock-n-Roll timeline, Les Paul and Mary Ford's "How High The Moon" entered the Billboard chart in 1951 and also crossed over to the R&B chart because of Paul's dazzling guitar work. Les Paul and Mary Ford were way ahead of their time.

On this cover, you also have dazzling guitar work from an amazing guitarist, Jeff Beck, along with Mary Ford sound-alike, Imelda May doing a tribute to Les Paul...with a perfect cover of the song. The words are rather dreamy and filled with unfulfilled longing, but the music is toe-tapping fun and happy. Enjoy...

I've come to realize that some songs do turn out better with a different artist and new arrangement, and have provided many examples on the Best Cover Songs pages.
---
Forgotten Country Classics.

(Come to Me)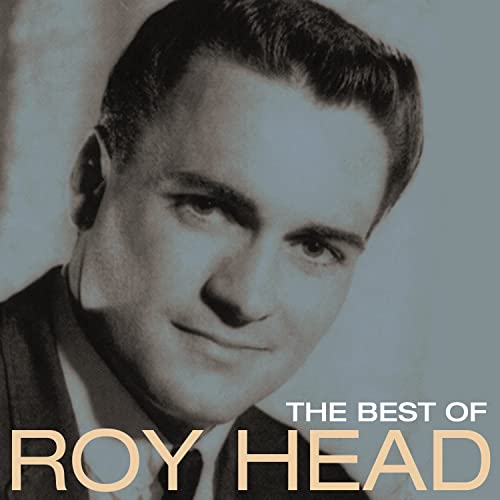 This is a follow-up to the August, 2021 newsletter article about Roy Head and the two songs I purchased new in 1976 and 1977 on 45-rpm records. Both records should have made it into the top ten, and in my opinion, were number one songs. Listen to this 1977 Forgotten Country Classic, "Come to Me," and if you missed it, you can read the August article and listen to his 1976 song, "The Door I Used To Close". 

I noticed on this 1977 song, "Come to Me," the record producer was listed as Jimmy Bowen. I was familiar with the name as I wrote a story about Buddy Knox and the song Party Doll. Jimmy Bowen was co-author of the song. Bowen went on to have major accomplishments as a record producer including one of Frank Sinatra's biggest hits, "Strangers In The Night." You can read more about Bowen on the Buddy Knox page.
---
Ever thought of having your own website? I built Vinyl Record Memories "from scratch" with SoloBuildIt! Click below to find out more....

What's Next?
---
The Year 1954 and beyond...
A new type radio is introduced to the public, Rock-n-roll is born, Elvis arrives on the scene, and a big name DJ hosts a Rock-n-roll party....and much more.

---