Vinyl Record Lovers Newsletter.
Welcome to my monthly Newsletter. Thank you for subscribing. 
The golden age of vinyl records and all things retro are the highlights of my Newsletter. Writing stories about my vinyl record memories with content from my collection is my way of sharing memories and keeping the oldies alive.
I do appreciate your valuable time reading my newsletter.
Issue #100 - June, 2021.
---
In This Issue:
 My Special Day on The Country Doo Wop Show With A Very Special Spotlight Song.

How a 1990 #1 Song Became The Focal Point of the 50's, 60's, and 70's Genre.

Cover Song of The Month - A #1 Song Twice, 16 Years Apart.

New Series - Greatest Albums of The 50s.

Down at The Twist & Shake -

A Cruise Down Memory Lane.



Framed Album Cover Art of The Month.
---
Vinyl Record Memories and
The Original Country Doo Wop Show.
---
Each month I give a little shout-out to my favorite radio program, Ned Ward's Country Doo-Wop show. My friend, Ned, airs his show from out Oregon way and if you tune in you just might hear Ned talk a little about Vinyl Record Memories.
Ned plays all my favorites and I know he will have some of your favorites too. Ned turns music into memories playing yesterday's country favorites and the classic hits of the 50's and 60's Doo Wop style. Listen in Monday thru Saturday from 1pm to 3pm, all times Pacific, on KNCP Newberry Mix 107.3 FM.
You won't be disappointed...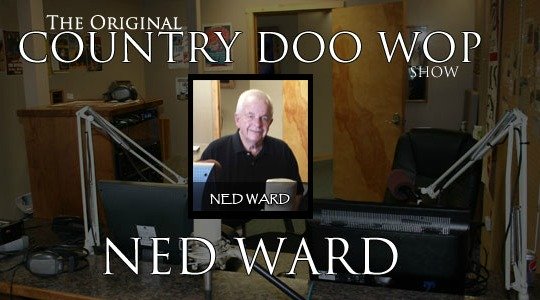 Lets get started...
---
Country Doo Wop Spotlight Song.
It was a fun time for me as a guest on Ned Ward's Country Doo Wop show on Monday, May 24th. Ned and his producer, Mr. Barney, invited me to talk about my vinyl record memories website and how the song, "Jukebox In My Mind" became the focal point of my site.

It may seen strange to some how a song from 1990 would fit in with my memories of growing up in the 50's. When I first heard "Jukebox In My Mind" I closed my eyes and realized how easy it was to picture a jukebox in my mind playing all my favorite memories.
As the years pressed on I couldn't get that jukebox out of my mind. At the time it was not my intention to write stories based on my vinyl record collection or the music from the 50's, 60's and 70's. Many years later I would do just that.

In 2010 it became the theme for my new website. A place to talk about my jukebox memories, a special place to get pleasantly lost in one's thoughts. Together with visitors from all around the USA, and many from around the world, I can share in a sentimental sea of nostalgia and reminisce about old friends and lost loves through the pages of my Vinyl Record Memories website.
Thanks to Ned, Mr. Barney and The Country Doo Wop Show, my site visitor pages continue to grow. 
When our on air conversation ended Ned dropped the coins in the jukebox, and once again, it began to play all my favorite memories.

---
Best Cover Songs - Where the best version isn't always the first version.
---
We've all been there. You hear a song, take it to heart and love it as your very own. And then comes the day you learn this special song you adore is actually something else, a remake or cover of the original recording.
I've come to realize that some songs do turn out better with a different artist and new arrangement, and have provided many examples on the Best Cover Songs pages.
This 1962 #1 song by Connie Francis is about a plea from a heartbroken teenager who is trying to understand why her boyfriend is going out of his way to treat her unkindly.
The song ends with her begging him not to break her heart, and is another classic song where Connie possess that little "cry" in her voice that is so familiar with many of her songs.
In 1978 Margo Smith adds her unique Country style, and again takes the song to #1 making it one of her two number one songs she recorded during her career. Read the Margo Smith song page and how she changed the song.

Connie's original will always be my favorite but the Margo Smith country cover 16 years later would earn her a special place on the vinyl record memories cover songs pages.
---
Greatest Albums of The 50s.

Ritchie Valens (Del-Fi, 1959)
From radio and jukebox hits of early dawn to the rock-n-roll LP classics that brought music to the masses. Come with me as we begin with this issue and look back on some of those original LP's from the 50s.  
What better way to start the series than to  begin with Ritchie Valens 1959 posthumous release from Del-Fi records.

---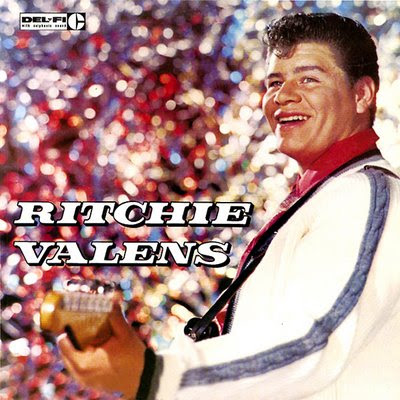 A none more tragic rock'n'roller, 17-year-old Ritchie Valens had only released two 45s when he was killed on The Day The Music Died. This LP issued after Valens death, collected the best cuts he'd laid down....La Bamba, Donna, Come on, let's go, and two of my favorites, We Belong Together and Bluebirds Over The Mountain, plus seven more.

Hispanic America remains a rockabilly hotbed and Ritchie Valens is a major reason why....there's no guessing how big he could have been.

---
Let's Head On Down To The
Twist & Shake Drive-in.
---
Last month's Classic Car Art featured a story about "Old Flames," a fond  look back at two hot rods painted by Dale Klee with an abandoned Drive-in movie in the background.
This month we take a cruise down memory lane, this time to an old abandoned Saturday night Drive-in restaurant where many moons ago guys with duck-tails would meet gals with pony-tails. 
No matter where you lived, you were never far from a soda shop or drive-in restaurant where friends could meet and talk about who dated who and who had the hottest car in town. The "Dodge Boys" are gonna love this painting. Click on the painting for a larger more detailed view.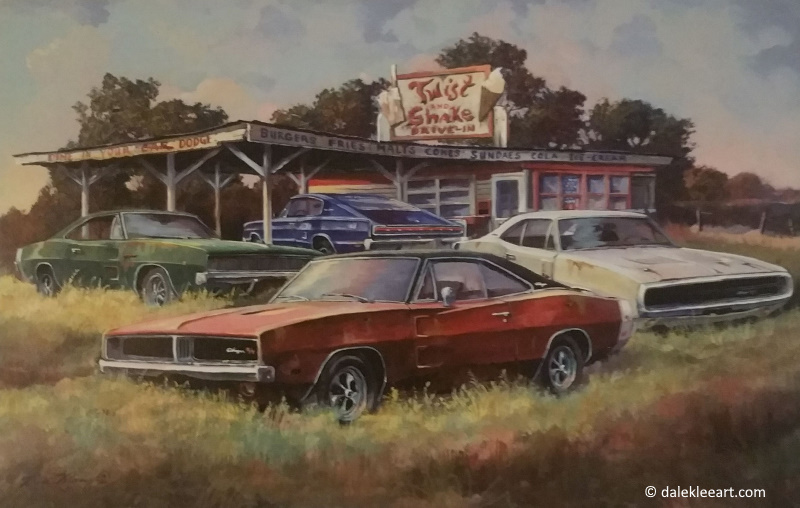 In the November, 2020 issue, I introduced Dale Klee and his amazing classic old car art paintings. In January, 2021 Dale's art was again featured with one of my favorites titled, A Few Good Years.

Today, Dale continues to create his colorful classic automobile scenes. Each one forms a particular memory and a sentimental look back for those of us who grew up in this very special time in history. His prints now adorn homes and businesses throughout the world. You can view more automotive art at the Dale Klee Art website.
---
Framed Album Cover Art of The Month.
Do you collect vinyl records or vinyl record art?  Some of us purchase and enjoy the vinyl cover artwork more than the record itself.
When writing about music, especially music that was recorded before you were born, you only have the luxury of listening as an outsider. It is the Album Cover Artwork that will be a constant reminder how good the music inside really is.
The Framed Album Cover Art for this month is a 1976 RCA "Special Products" compilation album with some unique listings.
I found this album at an estate sale along with five others with similar album cover themes; 2 different Love Story albums by two different bandleaders, a 1970 romantic music  LP called "Softly," a 1954 "Music For Lovers LP," and another titled, "Music For A Summer Night" from 1955.
This album, obviously titled "Feelings," was a unique find at the sale. Unique in that the LP numbers assigned to this album could not be located on Discogs.com with the same album cover photo. There was also another album titled "Feelings" but it too had a different photo with the same LP numbers.
At the time of this writing there are two LP's listed on eBay with the same photo shown above, however, both appeared in poor condition.

"Feelings," is a song by the Brazilian singer Morris Albert, who also wrote the lyrics. It was released in 1974 as a single.

I was drawn to the content on the back of this album cover although I found it odd there was no author listed for the beautiful words on the back of this album.
In this collection of contemporary music's most beautiful songs, there are a myriad of feelings expressed in words and melody.  They are perfect companions for solitary reflections, or, as background for moments of shared intimacy.  Like echoes across a misty lake, this album will caress and captivate; create for you a musical universe calm and serene...and abounding with "Feelings."    


---
Don't Forget Record Store Day 2021
---
---
RSD was created in 2007 and its purpose is to celebrate the culture of independently owned record stores. Record store staff and customers get together with artists on Record Store Day to celebrate music and the record store itself.
Record Stores from all over the world participate in this event, this year on June 12th and July 17th, 2021. Visit you favorite Record Store for more details.
---
Ever thought of having your own website? I built Vinyl Record Memories "from scratch" with SoloBuildIt! Click below to find out more....

What's Next?
---
"Only The Lonely" - The song that kick-started the Legend of Roy Orbison.
Greatest albums of the 50s takes a look at the 1958 Dale Hawkins album from "Chess" records.

---