Vinyl Record Lovers Newsletter.
Welcome to my monthly Newsletter. Thank you for subscribing. 
The golden age of vinyl records and all things retro are the highlights of my Newsletter. Writing stories about my vinyl record memories with content from my collection is my way of sharing memories and keeping the oldies alive.
I do appreciate your valuable time reading my newsletter.
Issue #099 - May, 2021.
---
In This Issue:

Country Doo Wop Spotlight Song.
Memories Fade But This 1959 Classic Will Always Be Special.

Cover Song of The Month - Released Live in 1970 With Memorable Guitar Break, "Play The Song James."

"Old Flames"

- Keepers of Memories.

Framed Album Cover Art of The Month.
Memories of Roadside America - An Unforgettable Era.

---
Vinyl Record Memories and
The Original Country Doo Wop Show.
---
Each month I give a little shout-out to my favorite radio program, Ned Ward's Country Doo-Wop show. My friend, Ned, airs his show from out Oregon way and if you tune in you just might hear Ned talk a little about Vinyl Record Memories.
Ned plays all my favorites and I know he will have some of your favorites too. Ned turns music into memories playing yesterday's country favorites and the classic hits of the 50's and 60's Doo Wop style. Listen in Monday thru Saturday from 1pm to 3pm, all times Pacific, on KNCP Newberry Mix 107.3 FM.
You won't be disappointed...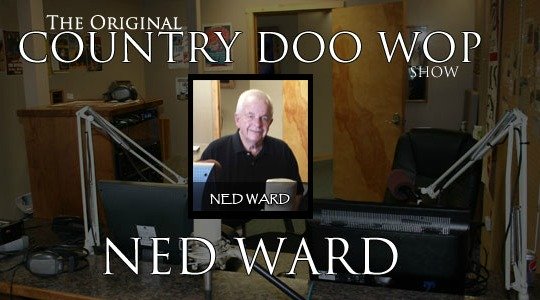 Let's get started...

---
Country Doo Wop Spotlight Song
The Skyliners vinyl record memories returns to the Doo-wop era with their original hit song, "Since I Don't Have You." The song was the first single by a Caucasian group to score a #3 song on the Cashbox R&B charts.
Many of us grew up during a time in history when this song was so popular. It was Friday and Saturday night sock hops and the vinyl record memories of great songs like this 1959 classic. What a wonderful time to be a teenager. Memories fade but for many of us this music era will always be special.
Enjoy this classic one more time. Recorded in 2005 at the Sands Casino and Hotel in Atlantic City. One of my favorites from 1959!
Our Spotlight song for May...Since I Don't Have You!

Best Cover Songs - Where the best version isn't always the first version.
---
We've all been there. You hear a song, take it to heart and love it as your very own. And then comes the day you learn this special song you adore is actually something else, a remake or cover of the original recording.
I've come to realize that some songs do turn out better with a different artist and new arrangement, and have provided many examples on the Best Cover Songs pages.
In 1959, "The Wonder of You" was first released by Ray Peterson as a single. You may recall Peterson had the 1960 teen tragedy hit song, "Tell Laura I Love Her."

Elvis Presley had a #1 hit in the UK and a Top 10 hit in the U.S. with his 1970 live version of "The Wonder of You." Recorded in Las Vegas, Nevada in February 1970 you can hear Elvis as he points to his famous guitar player, James Burton, and says..."Play The Song James." 
"The Wonder of You" was one of about thirty-five songs Elvis would regularly perform at concerts. Watch and listen to James Burton talk about his friend, Elvis.
---
"Old Flames"


They Are The Keepers of Memories.

---
Our Pick this month titled "Old Flames" will bring a smile to the face of many of our "senior" readers who grew up in this special time as we continue to reminisce about  "Old Flames."
Nearly everyone's been tempted to check up on an old flame.  Second chances can be lasting and wonderfully satisfying. They are the keepers of memories; they hold the keys to our past and help us make peace with aging.
It's simply undying love for those "Old Flames" we choose not to forget.  It does make life sweeter and my friend, Dale Klee, brings all those memories to life with his amazing classic car art.
Paintings with titles like Mopar Meadow, Mustang Mania, Country Vettes, Barnyard Shakers, and modified memories, will have you dreaming about that special old flame from years past.    

Surely you didn't think I was referring to an old high school flame or that sweet college girl you left behind.  Surely not!!!
Here's a couple of my favorite "Old Flames" sadly abandoned near a 50's drive-in theater, also known back in the day as the passion pit.

For the "Old School" guys, paintings like this one you proudly display on your man cave wall aren't necessarily limited to men with high mileage or fine character...Hot Rod and custom car lovers worldwide will continue to find this part of automobile history captivating.
In the November, 2020 issue, I introduced Dale Klee and his amazing classic old car art paintings. In January, 2021 Dale's art was again featured with one of my favorites titled, A Few Good Years.

Today, Dale continues to create his colorful classic automobile scenes. Each one forms a particular memory and a sentimental look back for those of us who grew up in this very special time in history. His prints now adorn homes and businesses throughout the world. You can view more automotive art at the Dale Klee Art website.
---
Framed Album Cover Art of The Month.
When writing about music, especially music that was recorded before you were born, you only have the luxury of listening as an outsider. It is the Album Cover Artwork that will be a constant reminder how good the music inside really is.
In an age of digital downloads, another example why fans still love and need to love vinyl records. Between the mid-1960s and the late 1970s, the long-playing record allowed popular music to become an art form and changed popular music for ever.
Musicians could escape the confines of the three-minute pop single and express themselves as never before with glorious artwork and adorning gatefold sleeves.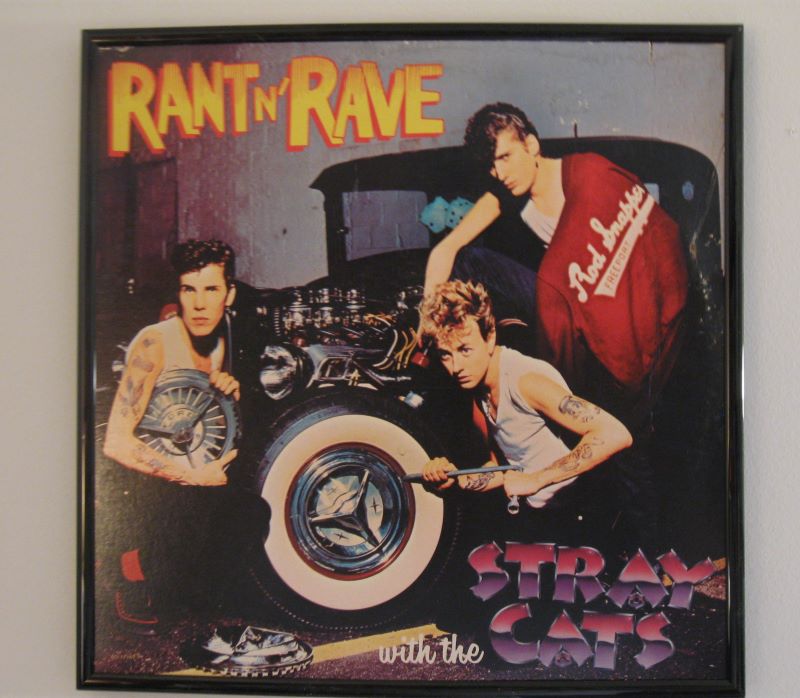 It was hard to pass up this 1983 album by The Stray Cats with its "take me back to the rockabilly fifties" look, and the great layout on the Stray Cats sleeve insert below. This is the second time around for this album as I failed to add the sleeve art on the first entry in 2019.  It's worth the second look...

The stray cats rockabilly line up begins with one cool cat, Lee Rocker, "Slappin' that Doghouse Bass."  On drums we have "Hittin' Not Missin," and the "Howlin' & Screamin'" backing vocals courtesy of Slim Jim Phantom. The "Sangin' & Guitar Twangin'" is provided by lead cat, Brian Setzer.
Producer, Dave Edmunds, also did work on the Carl Perkins Rockabilly Sessions in London in 1985.  Gavin Cochrane did the cover photography and Liner photography was done by Robert Matheu.
I took this photo of the insert from the album and cropped the edges to give it a cleaner appearance but this is the actual sleeve insert below from the Rant n' Rave album shown above. The album itself shows some wear but the sleeve and the record are in excellent condition.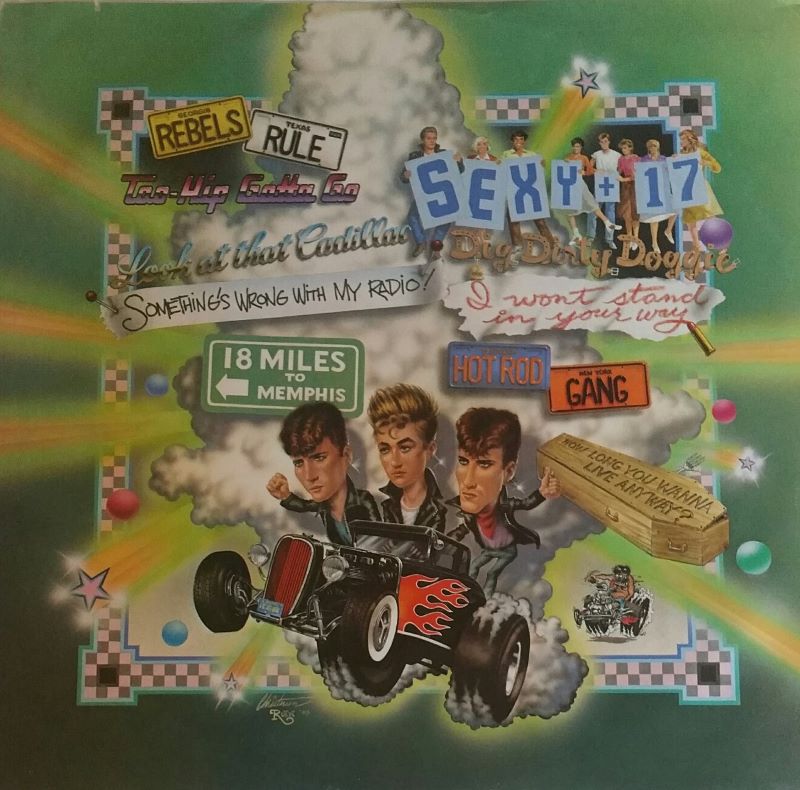 Memories of Roadside American
An Unforgettable Era...
---
"A trip back in time for the older people,
a history lesson for the younger kids."

Carroll Estes...
---
Given what Carroll Estes said, this nostalgic look back will forever continue to be an everlasting piece of history spanning through time, past, present, and future for the rest of eternity.
To those who collect memorabilia, or actually grew up in the times, we will continue to preserve our rightful spot permanently in history. 
---
Ever thought of having your own website? I built Vinyl Record Memories "from scratch" with SoloBuildIt! Click below to find out more....

What's Next?
Another Framed Album Cover Art coming next month in the June issue of vinyl record lovers newsletter. 

---