Poor Little Fool
Song Writer claimed Ricky Nelson
ruined her song.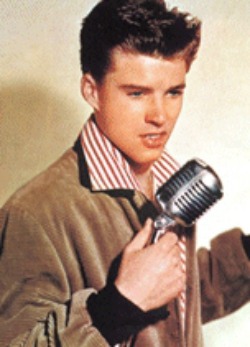 Poor Little Fool was originally released in June 1958 on Ricky Nelson's second album titled simply Ricky Nelson.
The song was written by sixteen-year-old Sharon Sheeley and was based on her disappointment after a short-lived relationship with a member of a popular singing duo.
The song was released as part of a four-song Extended Play 45 rpm disc, which was taken from Ricky's second album.
Elvis had released several of these 45 rpm EP's (extended play) during the fifties, and I still have a few of those.

The song became a hit and radio airplay began pushing the song up the charts.
Nelson's record company, Imperial records, had suggested releasing a single off of the EP album, but Ricky said no. He believed a single would hurt the EP sales.
Why no picture sleeve for this top selling #1 hit song?
A single was rushed out anyway by Imperial Records and Nelson was not happy. Under his contract with Imperial Nelson had approval rights for all picture-sleeve art.

Ricky expressed his displeasure with the decision by refusing to select a photo for the single. The single was released in a plain label-cut-out sleeve and remains the only Ricky Nelson single released by Imperial records without a photograph.

Listen to this "Poor Little Fool" song from a 1983 Concert and relive the memories of Ricky on the "Adventures of Ozzie & Harriet."  
Continue reading below and find out why Ricky never sang the song on the show.
On August 4th, 1958, the song became a #1 single and sold over two million copies.
The song holds the distinction of being the very first number-one song on Billboard magazine's newly created Hot 100 chart and spent two weeks at the number one spot.
Nelson reportedly disliked the song so much he refused to perform it on the Ozzie and Harriet show. Sheeley claimed he ruined her song by slowing the tempo.
Continue below with more Ricky Nelson links.  
---
I Will Follow You - A great cover of this classic oldie.
Return to Ricky Nelson main page.
---
Vinyl Record Memories- The 50s, 60s, & 70s. Read my stories, listen to all the great oldies.   Read more...
Cruise on over to the Doo Wop page and listen to those wonderful street corner sounds from the 50s & 60s.  Read more.