My Boyfriend's Back!
The Angels Vinyl Record Memories.
---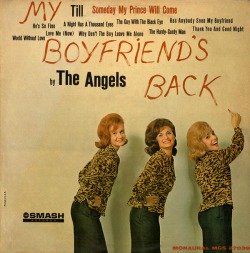 The lyrics to the song My Boyfriend's Back was written by the songwriting team of Bob Feldman, Jerry Goldstein and Richard Gottehrer. 
The Angels originated in New Jersey as The Starlets which consisted of sisters, Barbara "Bibs" and Phyllis "Jiggs" Allbut, Bernadette Carroll, and Linda Malzone. The group had some minor local hits and wound up doing back-up work in the studio. When Linda Malzone left, Linda Jankowski (later Jansen) became the new lead singer

The Angels started out singing doo-wop ballads on the low budget Caprice label. Linda Jansen sang lead on these songs.

---
The Angel With an Attitude.
---
When Jansen left the group to get married, the remaining two Angels moved to a new label and got a new lead singer, Peggy Santiglia.
Santiglia had sung jingles for WINS Radio, appeared on Broadway, and had songwriting experience.  

Her voice lent something that was sorely missing from the group...Attitude!  Her voice could save even the weakest song simply because of its pure sassiness.

The early 60's was still somewhat a time of innocence. The Angels sang of true love, dreamy boys, heartbreak, crying, and vengance.

After Santiglia joined the group they became known for their vengeful anthem, "My Boyfriend's Back." Santiglia was just 19 when the song was recorded.

"My Boyfriend's Back and you're gonna be in trouble."
How it all came about.
---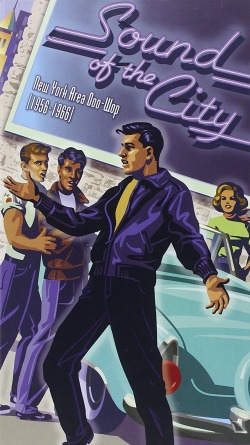 In 1963, songwriter and producer, Bob Feldman was a staff writer for April-Blackwood Music. He heard that a place called the Sweet Shoppe, across the street from his old high school in Brooklyn, was being torn down and went back for one last look.
"While I was there", Feldman recalled, "an altercation started between a young girl and a hoody-looking young man with a leather jacket. 

She was pointing a finger at him and screaming "My boyfriend's back and you're gonna be in trouble. You've been spreading lies about me all over school and when he gets ahold of you, you're gonna be sorry you were ever born."

That night Bob told his writing partners, Jerry Goldstein and Richard Gottehrer (a.k.a. FGG Productions) about the incident and they sat down and wrote a song about "My Boyfriend's Back".
---
Original Demo Was Cut For Another Girl Group.
---
The Angels recorded the song as a demo (with Santiglia on lead) that was intended for The Shirelles but The Angels demo was released as a single. 
With its unique hand clapping rhythm and The Angels great harmonies, the music publishers chose instead to release it as it stood.

Rival girl groups "The Chiffons" and "Martha and the Vandellas" recorded covers shortly after The Angels' original release.

---
An altercation between 2 teens resulted in success for The Angels.
---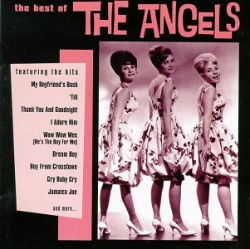 The song became a major hit, reaching #1 on the Billboard Hot 100. 
On July 28th 1963, "My Boyfriend's Back" entered Billboard's Hot Top 100 chart at position #75.
Four weeks later on August 25th, 1963 it peaked at #1 for 3 weeks and eventually spent 14 weeks on the Top 100. It reached #2 for 1 week on Billboard's R&B Singles chart and the week it was at #2, the #1 record was "Heat Wave" by Martha and the Vandellas.

"My Boyfriend's Back" sold over one million copies, and was awarded a gold disc. Their album "My Boyfriend's Back" made the top forty, charting at #33.

Between 1961 and 1964 The Angels had six Top 100 records. After "My Boyfriend's Back" their next biggest hit was "'Til", charting at #14 for 1 week on December 31st, 1961.
---
More stuff you may not know about this talented Girl Group from New Jersey.
---
The Angels, in addition to having hits of their own, were much in demand as studio singers in NY recording demos and background vocalists for other artists, including Neil Diamond, Trini Lopez, Lou Christie, Ben E. King, Tony Orlando and Frank Sinatra.   
The song is featured in the 2006 Tony Award-winning musical, Jersey Boys.

The Angels were inducted into the Vocal Group Hall of Fame in 2005. 

---
---
Return to Girl Groups main page.
Visit the Doo-Wop oldies pages.
Read the stories and of this by-gone era.
Top of Page