Vinyl Record Memories Newsletter

(VIP CLUB)
The golden age of vinyl records and all things retro are the highlights of my Newsletter. Writing stories about my vinyl record memories with added content from my collection is my way of sharing memories and keeping the oldies alive.
I do hope that you enjoy these little stories, I write. They are short, they will not win any prizes for literature, but it's all about the music and our vinyl record memories.

We wish you lots of fun on this journey to the time of Drive-In Movies, Pizza Parlors, Malt Shops, and those memorable Friday & Saturday night school dances. 
Issue #125 - October, 2023
---
What's New?
Thanks to DJ Ned Ward and his producer, Mr. Barney, Vinyl Record Memories enjoyed a return visit to the Country Doo-Wop show. It was a memory-filled interview as Ned covered a special song, one of my all-time favorites. If  you missed this "forgotten oldies classic" here is the link to the September Spotlight Song.

For the October Spotlight Song, Ned continues to amaze listeners with a great selection of oldies. One in particular brought back fond memories of this 50s classic with a cover version that became the most popular version ever.  A special performance from a special lady on this 1952 #1 song.

Two additional covers of the song were both released in August, 1962. It was recorded on Patsy Cline's last album on August 7th, 1962, titled, "Sentimentally Yours." The Duprees highest-charting single of the song reached No. 7 on the Billboard Hot 100, also in August of 1962.
Rick Nelson sings a rockabilly classic: It's been nearly 40 years since that tragic New Years Eve plane crash that took the life of Rick, his band and also his finance. Enjoy this rare performance with Rick and his "Stone Cannon Band."
Without a doubt one of the most popular groups on Vinyl Record Memories is "The Highwayman" and their live performance of the song, "The City of New Orleans." This month we feature a song written by Kris Kristofferson, a member of the group, with a link to an unforgettable story about this special song and those who made it popular.
Framed Album Cover Art of The Month. We continue this month with more Kenny Rogers albums. "Every Time Two Fools Collide" is a 1978 duet album with Kenny Rogers and Dottie West. The title song became one of the pair's best-known songs and also became one of country music's classic duet recordings.
More Vinyl Record Memories. Selected pages with stories and songs about many of the  forgotten oldies classics. A trip down memory lane.
Let's get started...
---
Listen to our favorite original classic oldies show - Monday thru Saturday from 1pm to 3pm, all times Pacific, on KNCP Newberry Mix 107.3 FM.  Ned turns music into memories playing yesterday's country favorites and the classic hits of the 50's and 60's Doo Wop style.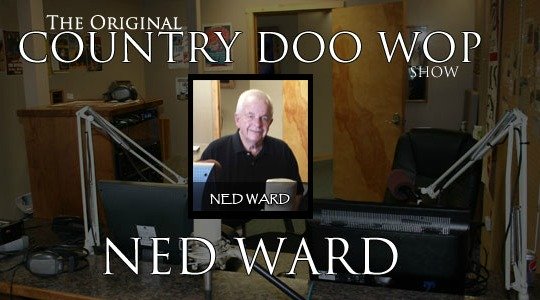 Country Doo-Wop Spotlight Song of The Month.
You Belong To Me - Jo Stafford - 1952.

---
In 1962 there were two different versions of "You Belong To Me," both released in August of that year, one by Patsy Cline and the other by The Duprees. More on these two in the articles below the video.

However, let's not forget that ten years earlier, the Jo Stafford version entered the charts in August, 1952 and remained there for 24 weeks. Her version has the distinction of topping the charts at #1 in both the US and UK listings and was the first song to top the UK charts by a female singer.
Although all three versions are played on Ned's Show on different days and times it is hard to believe the Jo Stafford version is often over looked by so many. Ned continues to play many of these forgotten oldies classics on his popular Country Doo-Wop show.
And how unique is it that all three versions listed here were released during the month August in 1952 and 1962. 

---
1962 - Patsy Cline "You Belong To Me."
From The Album "Sentimentally Yours."

We did a Patsy Cline tribute back in March 2022 but have since updated our video with her version of this forgotten oldies classic. We simply could not leave out Patsy's version of the song as it also played on Ned's Country Doo-Wop Show. 
We all love "Crazy" by Patsy Cline, and many consider this, along with "I Fall To Pieces" her signature song, but my equal to those two is her style of singing on the song "You Belong to Me." Her #1 song, "She's Got You," is another that will tug at your heartstrings.
She was the voice of the average woman....the waitress at the diner, the woman working swing shift at the local factory, the counter girl at the all-night truck stop, or even the stay-at-home mom who stops to wonder what happened to all her dreams. Patsy Cline was their voice.
Not only did she have "the" voice, but she was able through her phrasing and voice control to put such feeling into her songs. Listen to most Patsy Cline songs on a dreary rainy night and tell me you don't feel the heartbreak in her songs.
---
1962 - The Duprees - You Belong To Me.
The Duprees were known for mixing Doo-wop vocals with big band sounds. The big band sound was introduced courtesy of George Paxton, a former big band leader from the 1940's. He was impressed by the group's smooth vocal style and signed them to his Coed Records label. The current Duprees shown in the video below were not part of the original 1962 recording but nonetheless are a class act and a very talented group.

The original group was founded in the early 1960s by High School students Michael Arnone, Joe Santollo, John Salvato, Tom Bialoglow, and lead singer Joey Canzano (later known as Joey Vann).

Their first million seller "You Belong To Me" reached #7 in 1962. The group would go on to have more than 40 hits over the next few years.
---
Rick Nelson Covers A Rockabilly Classic.

"That's All Right, Mama" is best known as the debut single recorded on July 5, 1954, and released by Elvis Presley, with "Blue Moon of Kentucky" as the B-side. The original recording was by the American blues singer Arthur Crudup recorded in 1946 and re-released in early March 1949 by RCA Victor on its new 45 rpm single format.
This version of Rick Nelson in Concert with The Jordanaires was recorded live at the Universal Amphitheatre in Los Angeles, on August 22, 1985, just four months before Rick's death. A great rockabilly version by Rick Nelson and the "Stone Canyon Band."

A rarely viewed concert featuring one of the last performances by Rick Nelson and his band. Rick is in fine voice and seems in a great mood while he performs some of his legendary hits during this concert.
Rick Nelson and Elvis remain two of our favorite singers and 2023 will mark the 38th anniversary of Rick's passing with that tragic New Year's Eve plane crash in 1985.

---
Me And Bobby McGee - The Highwayman

The proof of Kristofferson's talent as a songwriter lies in the fact that songs like this one, along with "Help Me Make It Through The Night," "For The Good Times" and "Sunday Morning Coming Down" have been covered thousands of times by artists from many different genres.
For those of us who would appreciate a single day back in the "Good Old Days" the line in the "Bobby McGee" song "I'd trade all my tomorrows for a single yesterday" seems appropriate.
If I could go back in time to any concert with this talented group, it would have been this one. A stage full of legends having fun with their friends, singing some of the greatest songs ever penned.
This version is special as it has Waylon Jennings and Johnny Cash (who are no longer with us) adding their talents to this live concert song, along with Willie Nelson, and of course, Kris Kristofferson leading off on the song he wrote.
The actual story behind the song is a story in itself. The lady who made the song popular, Janis Joplin, finished recording "Bobby McGee" on October 1, 1970. It was included on her Pearl album. Three days later, she was dead. I believe you will find the Bobby McGee Story a fascinating read.

---
Framed Album Cover Art of The Month.
"Every Time Two Fools Collide."

When writing about music, especially music that was recorded before you were born, you only have the luxury of listening as an outsider. It is the Album Cover Artwork that will be a constant reminder how good the music inside really is.
Beautiful artwork on memorable album covers and sleeves are a sign of our life and times. For music fans the covers are the expression of a period, of a particular time in their lives. Below is another like new Framed Album Cover Art I still have in my collection today.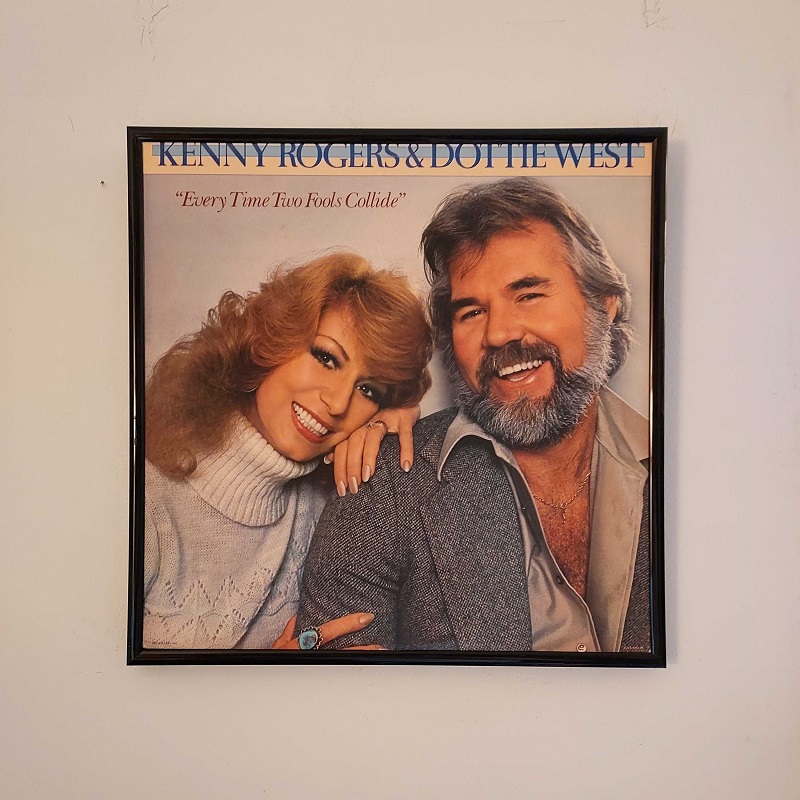 Released in early 1978, the song hit number one on the Hot Country Songs list that year, for two weeks, and was West's first number one and one of Rogers' many number ones. The song became one of the pair's best-known songs and also became one of country music's classic duet recordings.
In 2005 in a once-in-a-lifetime concert event, CMT revealed the Top 12 duets from its elite list of "100 Greatest Duets" live from Nashville. At #8 was Kenny Rogers & Dottie West's former #1 song from 1978, Every Time Two Fools Collide.
Released more than 45 years ago, this is another great example of our Framed Album Cover Art you can display on the walls of your Hobby or Retro-Room.
---
Ever thought of having your own website? I built Vinyl Record Memories "from scratch" with SoloBuildIt! Click below to find out more....

You might also like these stories...
Earl Grant may be a faded memory on the music scene but how could anyone overlook this beautiful classic ballad from the fifties that receives little or no airplay on the radio? Read the story here.

 Many of us have always enjoyed the Beach Boys version but this talented lady just multiplied the WOW factor by a million. One of those really nice "feel good" love songs.

Return with me to 1958 and the career of this deeply troubled artist, from street corner singing to Gold Gloves boxing champion, a solo career with Brunswick Records, and his 1958 signature song, "Lonely Teardrops."


I hope you find time to visit more great stories about growing up in the 50s, 60s and 70s. You can start here.... 
Looking for that special song, artist, or group on this site?


What's Next?
We will continue to add our Kenny Rogers albums for the "Album Cover Art of The Month" feature. November will showcase "Kenny Rogers Greatest Hits" album. 
Statue of A Fool was a #1 song for Jack Greene in 1969 and twenty years later a #2 Country song, and our favorite from a former Country music star with 10 number one hits, and no longer in the music business.