Vinyl Record Lovers Newsletter.
Welcome to my monthly Newsletter. Thank you for subscribing. 
The golden age of vinyl records and all things retro are the highlights of my Newsletter. Writing stories about my vinyl record memories with content from my collection is my way of sharing memories and keeping the oldies alive.
I do appreciate your valuable time reading my newsletter.
Issue #104 - November, 2021.
---
In This Issue:

Ned Ward's Country Doo Wop Show.
Veterans Day - Honoring Those Who Served.

Country Doo Wop Spotlight Song.
Cover Song of The Month - I Will Follow You.
Framed Album Cover Art of The Month.
Forgotten Oldies Classics - "It Was I" from 1959.

Rock-N-Roll Hall of Fame - Last Man Standing!

---
Vinyl Record Memories and
The Original Country Doo Wop Show.
---
Each month we give a little shout-out to our favorite radio program, Ned Ward's Country Doo-Wop show. Our friend, Ned, along with producer, Mr. Barney, airs the show from out Oregon way and if you tune in you just might hear Ned talk a little about Vinyl Record Memories. Listen in Monday thru Saturday from 1pm to 3pm, all times Pacific, on KNCP Newberry Mix 107.3 FM.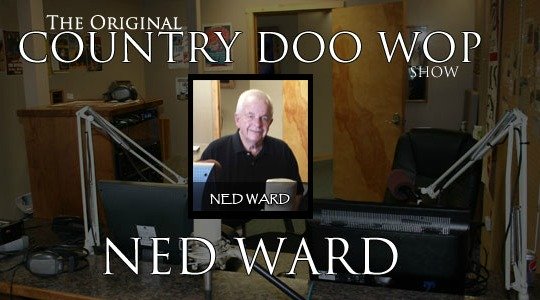 Let's get started...

 Remember Veterans Day
November 11th

---
Veterans Day is dedicated to honoring anyone who has served in the United States military. This day gives Americans the opportunity to personally thank veterans for their sacrifice. Please share with all your social media, e-mail friends and family!

---
Country Doo-Wop Spotlight Song.

(Gene Vincent - A Rockabilly icon with a sad ending.)
---
With Be-Bop-A-Lula, recorded on May 4, 1956, the artist - born in Virginia in 1935 - has become an immortal rockabilly idol on both sides of the Atlantic. Gene Vincent belongs to the elite circle of the greatest and most influential musicians of his era.
His appearance in the film "The Girl Can't Help It" (see photo and video below) made him known beyond the hard core of rockabilly fans to a wider audience.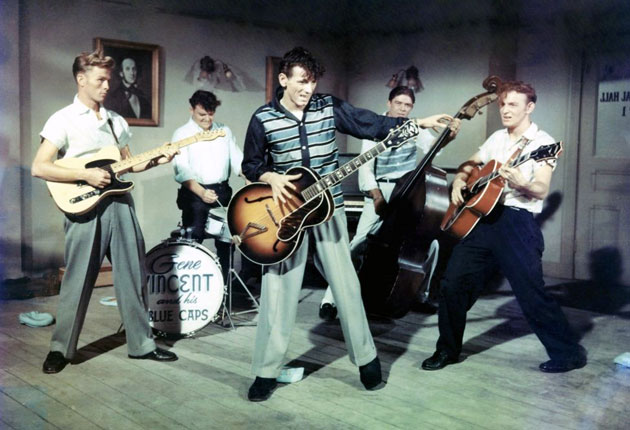 Gene Vincent was considered by many to be Rockabilly's greatest vocalist and provided one of the most impressive stage shows in the early years of rock. His backing band the Blue Caps, particularly lead guitarist Cliff Gallup, was a major influence on rockabilly and its descendants.

These boys were way ahead of the curve. Drums and electric bass; long hair, screaming-serious talent. He was the first rock star to wear a leather outfit. After hearing "Be-Bop-A-Lula," Elvis' bassist, Bill Black, accused the King of making the record in secret. If you listen to the song a few times you can hear similarities.

Gene Vincent and His Blue Caps had only five charted hits from 1956 through 1958, but he and the Caps simply rocked too hard for radio. It was those legendary '56 sides, however, that kept Vincent viable as a performing artist, both here and in Europe where he was instrumental in establishing the rock craze in England.

Gene Vincent was a lot more than Be-Bop-A-Lula. His music was unforgettable and widely collected today. By the late Sixties, Gene had fallen victim to changing times, financial mismanagement and his own worsening addiction to alcohol.

In October 1971, a sick Vincent went on a three-day bender that ruptured existing stomach ulcers and he died soon after. He was 36. Enjoy this classic Be-Bob-A-Lula clip with Jayne Mansfield, from the 1956 movie, "The Girl Can't Help It."

Best Cover Songs


(Where The Best Version Isn't Always The First Version.)
---
We've all been there. You hear a song, take it to heart and love it as your very own. And then comes the day you learn this special song you adore is actually something else, a remake or cover of the original recording.
I've come to realize that some songs do turn out better with a different artist and new arrangement, and have provided many examples on the Best Cover Songs pages.
Several years ago I remember reading a review on Ricky Nelson's 1963 album, For Your Sweet Love. It was a so-so review but when I read the comment on the last song on side two titled, I Will Follow You, I did not recall the song as the reviewer indicated.
The article comment went as follows; "Worst of all is saved for last, an embarrassing cover of Peggy March's "I Will Follow Him." It's positively dreadful, and brings the set to a clunking close."

I got out my original Ricky Nelson album, "For Your Sweet Love," purchased new in 1963. This was Nelson's first album released under the Decca label, DL 4419. His backing musicians, The Jordanaires, who played with Patsy Cline, and Floyd Cramer on piano, can be clearly heard on this album with that Nashville influence and prominent use of the Decca echo chamber.    

Take a listen to this black and white video on an early Ozzie & Harriet show and Nelson's cover of "I Will Follow You." I think you will find, as I did, a very nice cover of this song. Check out a young James Burton on lead guitar and you make the call on this classic cover song from 1963.  

Framed Album Cover Art of The Month.
Our Favorite Ladies on Vinyl.

---
When writing about music, especially music that was recorded before you were born, you only have the luxury of listening as an outsider. It is the Album Cover Artwork that will be a constant reminder how good the music inside really is.
Beautiful artwork on memorable album covers and sleeves are a sign of our life and times. For music fans the covers are the expression of a period, of a particular time in their lives.
Between the mid-1960s and the late 1970s, the long-playing record allowed popular music to become an art form and changed popular music for ever.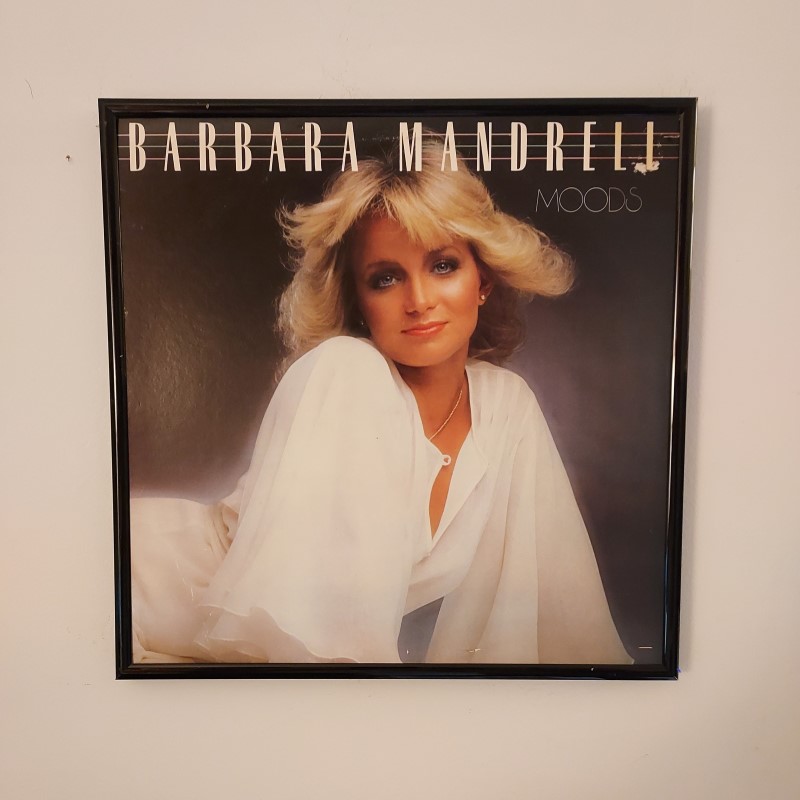 The LP titled Barbara Mandrell - Moods, shown above was purchased from a private collector in a lot of 16 vinyl record albums. This album is an original 1978 release from ABC Records, catalog number AY-1088. The album was released in September, 1978 consisting of 10 tracks.
Two tracks from the album became #1 country hits, "Sleeping Single in a Double Bed" and a remake of the popular Luther Ingram R&B hit, "(If Loving You Is Wrong) I Don't Want to Be Right." The popularity of these singles made "Moods" a success, peaking at #8 on the Top Country Albums chart.

For those familiar with session or backup players, this album has James Burton on guitar (played with Elvis and Ricky Nelson) Charlie McCoy on harmonica, and country singer Janie Fricke on backing vocals. 
Released more than 40 years ago, this 1978 album is in very good condition with no ring wear marks. It does have a small blemish at the top right where an original record  price label was placed. The original record itself appears with no noticeable scratches or marks and is also in excellent condition. This is another great example of our Framed Album Cover Art you can display on the walls of your Retro-Room or display as "Man Cave Art" for that perfect spot behind the bar. 

---
Forgotten Oldies Classics.
---
This Skip and Flip golden oldie titled "It Was I" from 1959 will once again put you on that memory train back to the fifties. 

Close your eyes and give it a few Na-na-na's and you'll soon find yourself hanging out with your cool friends at one of those Friday night school dances more than sixty years ago.  

Remember having your shirt collar turned up Elvis style on your multicolored pin-stripped shirt and your duck tail hair cut? Songs like "It Was I" by Skip and Flip were the classic sounds many of us grew up with back in 1959.
Rock-n-Roll Hall of Fame
"Last Man Standing"
---
In the October, 2021 newsletter it was noted that Jerry Lee Lewis was the last man standing from the original Million Dollar Quartet. The quartet also included Elvis, Carl Perkins, and Johnny Cash.

In addition, I failed to mention, with Little Richard's death on Saturday, May 9, 2020, at the age of 87, and Don Everly recently on August 21, 2021 at the age of 84, now just one member of that inaugural 1986 class of the "Rock and Roll Hall of Fame" is still living -- Jerry Lee Lewis, who is 84.
The first class of the Rock and Roll Hall of Fame was a great one indeed and included: Elvis Presley; Buddy Holly; Jerry Lee Lewis; James Brown; Chuck Berry; The Everly Brothers; Sam Cooke; Ray Charles; Little Richard; and Fats Domino.

Other inductees voted in for their early influences on rock and roll were: Jimmy Rodgers; Jimmy Yancey; and Robert Johnson, with Alan Freed and Sam Phillips entered with the inaugural class as non-performers.

---
A Rock-n-Roll Timeline

(When did Rock-n-Roll Begin)
---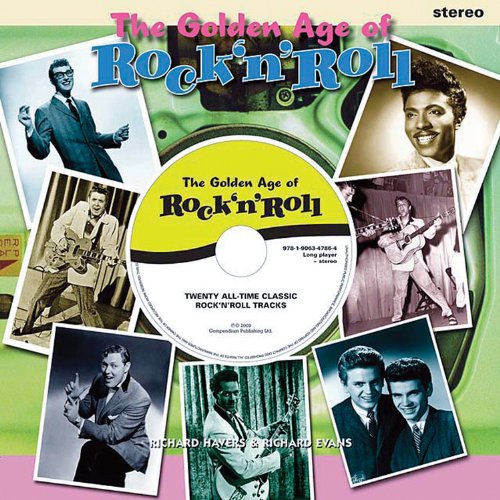 Excerpts from the book...The Golden Age of Rock-n-Roll.
Last month we continued with the years 1954 thru 1955.  Let's move on with the year 1956, a year that saw the release of Five rock-n-roll movies. The series will take us through 1962 with added entries in future newsletters. Stay tuned and subscribe to our newsletter so you don't miss a single timeline issue.
         1956 - The premiere of 5 Rock-n-roll movies.

January

: Buddy Holly records in Nashville with Owen Bradley.
July: Elvis records

"Hound Dog"

&

"Love Me Tender."
October:

"Rock, Rock, Rock

" premieres.
November:

"Shake, Rattle and R-O-C-K"

premieres.
December 4th: The Million Dollar Quartet session at Sun Studios with Elvis, Jerry Lee Lewis, Johnny Cash and Carl Perkins.

December 14th:

"Don't Knock The Rock" premieres.

---
Ever thought of having your own website? I built Vinyl Record Memories "from scratch" with SoloBuildIt! Click below to find out more....

What's Next?
---
December will continue the "Rock'n'Roll Timeline" with special dates from the year 1957.
Two of our favorite Elvis movies were both released the same year, 1957. Great videos capture Elvis at his best.

Beautiful Album Cover Art with a great album titled Rose Colored Glasses.

---