Vinyl Record Memories Newsletter

The golden age of vinyl records and all things retro are the highlights of my Newsletter. Writing stories about my vinyl record memories with added content from my collection is my way of sharing memories and keeping the oldies alive.
I do hope that you enjoy these little stories, I write. They are short, they will not win any prizes for literature, but it's all about the music and our vinyl record memories.
We wish you lots of fun on this journey to the time of Drive-In Movies, Pizza Parlors, Malt Shops, and those memorable Friday night school dances.
Issue #117 - February, 2023
---
In This Issue:
Johnny Angel -  Session Players Made This A Hit Song.

Misery and Gin - Merle Haggard's Honky-tonk Lounge.

Storms Never Last - A True Story With A Message of Hope.

Framed Album Cover Art of The Month - Jukebox Memories.

Best Cover Songs - Don' Break The Heart That Loves You.

A Special Treat For Our Senior Lady Friends.

---
What's New?
February 1, 1962, Shelley Fabares debuts her hit single "Johnny Angel" on The Donna Reed Show episode "Donna's Prima Donna." Fabares plays the daughter, Mary Stone, on the sitcom.
====================================================
Misery and Gin was the first single off the album, "Back to The Barrooms," and words alone make this one a true honky-tonk classic.
====================================================
Storms Never Last - The marriage of Jessi Colter and Waylon Jennings is one of the best love stories in country music. But offstage, life was a challenge, as Waylon pursued his addictions and battled his demons.
====================================================
Beautiful artwork on memorable album covers and sleeves is a sign of our life and times. For music fans, the covers are the expression of a period, of a particular time in their lives.
====================================================
Best Cover Songs - Where the best version isn't always the first version. My guess is that many reading this have never heard this cover of an original  #1 Connie Francis recording.
====================================================
For ladies only - Englebert Humperdinck - A Medley of Hits From 2007

---
Vinyl Record Memories and
The Original Country Doo Wop Show.
---
Each month we give a little shout-out to our favorite radio program, Ned Ward's Country Doo-Wop show. Our friend, Ned, along with producer, Mr. Barney, airs the show from out Oregon way and if you tune in you just might hear Ned talk a little about Vinyl Record Memories. Listen in Monday thru Saturday from 1pm to 3pm, all times Pacific, on KNCP Newberry Mix 107.3 FM.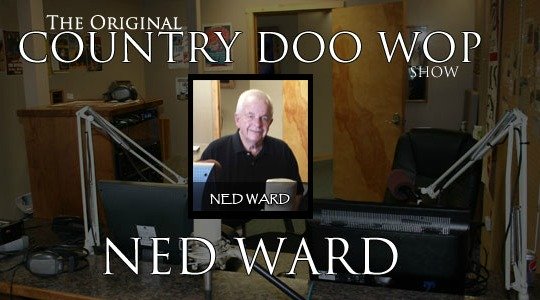 Let's get started...


---
Country Doo-Wop Spotlight Song.
---
February 1, 1962, Shelly Fabares (pronounced Fab-ray), created a sensation with her first recording, "Johnny Angel," when she introduced the song on a "Donna Reed Show" (aired '58-'66) episode, and almost overnight it became a nation-wide hit.

This song, played regularly on the Country Doo Wop show by my friend, DJ Ned Ward, is a tale of a girl who has a huge crush on a boy (Johnny) who has no knowledge of her. She loves him so much and is so desperate to win his heart that she turns down any other boy who asks her for a date.
Fabares did not consider herself a singer and thought that the voices of her backup vocalists were so "beautiful" that it frightened her to try to be a recording artist herself... but she managed it. Although she did have another Top 40 hit, it was obvious that her acting career would always be stronger. Her singing career ended in 1966.

This song features Glen Campbell and Carol Kaye on guitar, Hal Blaine on drums, and Darlene Love and the Blossoms on backup vocals. These were some of the top West Coast session musicians who played on hundreds of hits in the '60s, and would later be know as "The Wrecking Crew."

---
Merle Haggard's Honky-Tonk Lounge.
(Misery and Gin)

---
If Heaven has a honky-tonk lounge, this is the song on the jukebox at closing time, with Merle Haggard crooning his classic bar stool philosophy.
Looking at the world through the bottom of a glass
All I see is a man who's fadin' fast.
Grab a cold one, then add a couple of notches to the volume control. Your evening with classic honky-tonk is just gettin' started.

Merle may not have written the song, but his whiskey-soaked voice certainly made this classic a bar room favorite. No song in his music catalog evokes sadness and loneliness as much as this potent number. A rarity in the case that he didn't write it, but he made this song all his own.
---
Storms Never Last - A Love Story.

---
The marriage of Jessi Colter and Waylon Jennings is one of the best love stories in country music. In 1981, they released Leather and Lace, which featured what is arguably their best duet, "Storms Never Last." It's a song about passing through the hardships of marriage, and knowing that their love for one another will endure.
I still have Waylon Jennings albums I purchased in the 70s and love his music today as I did nearly 50 years ago. Jennings won election to the Country Music Hall of Fame in 2001 and died on February 13, 2002.

God bless you Jessi Colter for standing by your man;  and Waylon... thanks for the memories. Read their story here...

---
Framed Album Cover Art of The Month.
George & Tammy and The Doobie Brothers.

---
Framed Album Cover Art can be a powerful way to communicate feelings and ideas that are sometimes too difficult for words.

When writing about music, especially music that was recorded before you were born, you only have the luxury of listening as an outsider. It is the Album Cover Artwork that will be a constant reminder how good the music inside really is.

Beautiful artwork on memorable album covers and sleeves are a sign of our life and times. For music fans the covers are the expression of a period, of a particular time in their lives. Between the mid-1960s and the late 1970s, the long-playing record allowed popular music to become an art form and changed popular music forever.
Here are two of my framed album cover art displayed with a jukebox theme.
---
Best Of The Doobies:
(1976)

---
This album sold more than 10 million units (A Diamond Record), which should say it all, but of course I can't stop there.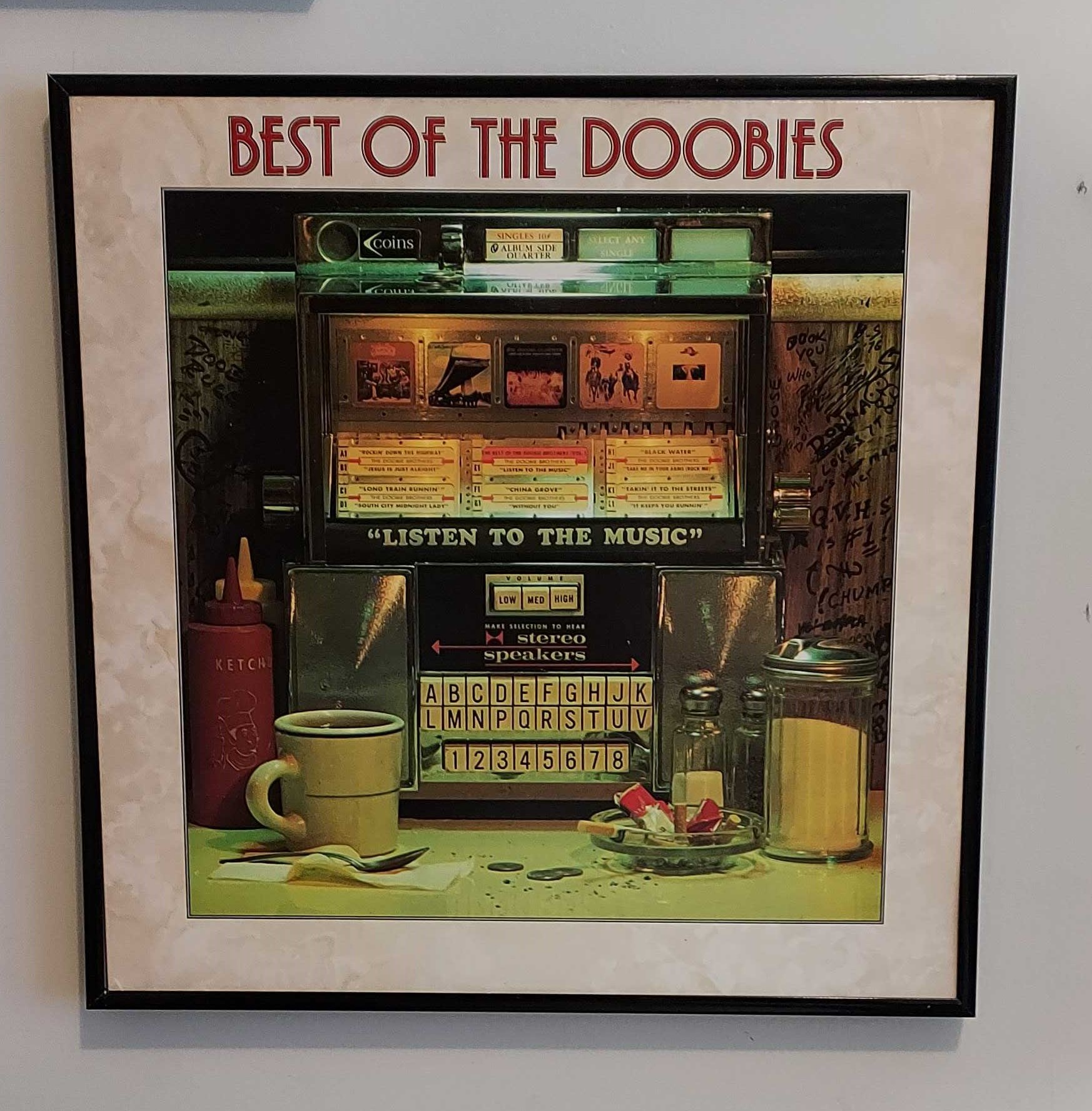 A great collection of songs by a timeless 70's band. Songs include the big hits, "Listen to the Music," "Jesus Is Just Alright," "Long Train Runnin'," "China Grove, "Black Water," and "Takin' to the Streets."
This LP has just enough Michael McDonald so his fans won't feel cheated, and you truly have THE BEST OF THE DOOBIES' mid-seventies machine. This crisp collection of solid, good time singalongs is just the ticket for Rockin' down the highway.

---
George & Tammy - Greatest Hits
---
This album from 1977 shows what Country Music was like at its pinnacle. Radio was the real medium that spread it everywhere, multiplied by jukeboxes in the diners, bars, and roadhouses. Tammy Wynette and George Jones were great as soloists, but there was an unbelievable magic when they were together.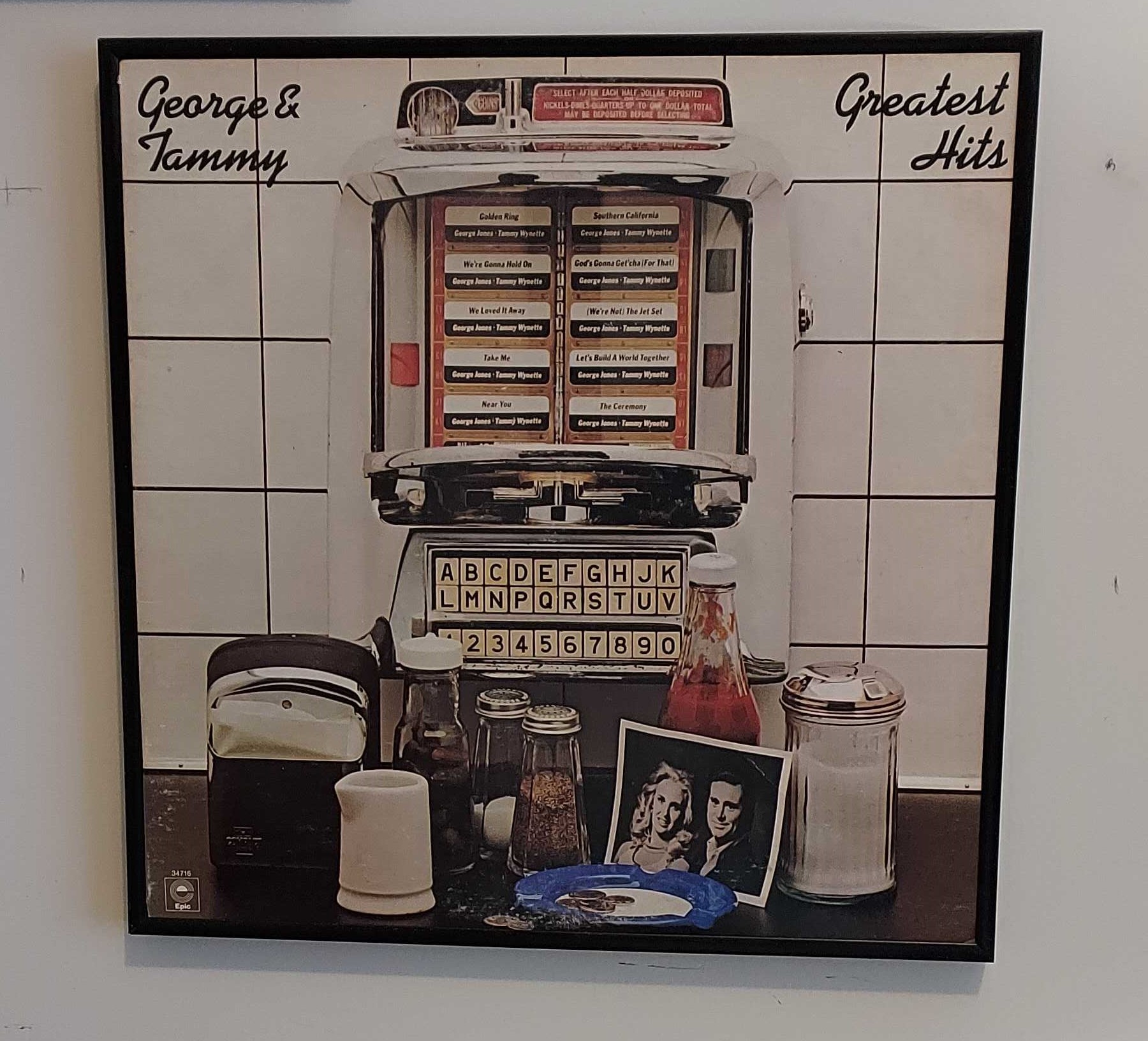 Country fans unfamiliar with the great, "classic" male-female duets such as Conway & Loretta or Dolly & Porter owe it to themselves to listen to at least one such album. I can think of no better choice than this one with backing by The Jordanaires on four tracks and The Nashville Edition on another two tracks.

---
Best Cover Songs:
"Don't Break The Heart That Loves You."

---
This Margo Smith country classic is a song Connie Francis placed #1 on the Pop charts back in 1962. Of all the songs Connie sang, this is my favorite.
Ms Smith adds her unique Country style and takes the song to #1 again in 1978, making it one of her two number one songs she recorded during her career.
Although I listened to Margo Smith sing Country music I didn't have any of her records. However when she recorded a cover of my favorite Connie Francis song, I really took notice.
I purchased her 45rpm vinyl record hit song (WBS 8505) and still have the record today in near perfect condition.
---
Englebert Humperdinck
A Medley of Hits From 2007

---
A special selection for our senior lady visitors. I am sure many of the younger set would be amazed at how some entertainers preformed in the past. The background singers, musicians and dancers are dressed appropriately, a noticeable difference from how some singers dress and perform in public today.

Always classy, always amazing to watch. Just outstanding...
The Spanish Night is over (Released 1986)
The Last Waltz (Released 1967)
Release Me (Released 1966)
This is Englebert Humperdinck at the autumn festival in Chemnitz, Germany in 2007. He is 70 years old here and his voice is spectacular. He's like fine wine, he simply gets better with time.
---
What's Next?
More classic album cover art...

March will continue the "Rock'n'Roll Timeline" with special dates from the year 1960.

Ever thought of having your own website? I built Vinyl Record Memories "from scratch" with SoloBuildIt! Click below to find out more....