Johnny Rodriguez Cover

Eagles Lyin' Eyes Cover
Vinyl Record Memories

---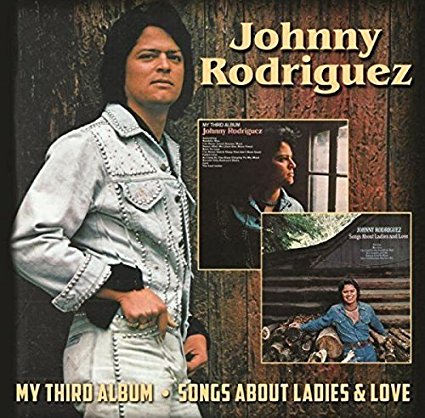 This Johnny Rodriguez cover of the Eagles song "Lyin' Eyes" was written by Eagles bandmates, Glenn Frey and Don Henley. The title and idea for the song came when Frey and Henley were in their favorite Los Angeles restaurant/bar, frequented by many beautiful women.
They were talking about beautiful women who were cheating on their husbands. They saw a beautiful young woman with a fat and much older wealthy man, and Frey said: "She can't even hide those lyin' eyes." Johnny's version has to be one of the best covers on this song by anyone.

The song was a #2 hit for the Eagles in 1975 and Johnny recorded the song and released it on the album "Reflecting" the following year in 1976.
The album made it to number eleven on the US Country charts. Three songs off the album all made the top five, however, this really well done Lyin' Eyes cover song never got any real recognition.
---
Is This Johnny's Best Cover Song?
---
I love doing cover songs because there are some covers that are actually better than the original artist or group. The really good covers are a matter of opinion, but the covers I have added to my vinyl record memories are good enough, I believe, to change a few minds.
The producers changed the arrangement, added different instruments and bingo, same song with a distinctive new sound.  The classic music lyrics by Frey and Henley makes "The Eagles" an easy pick as one of the premier bands of all time and the lyrics to this song are "cheatin' perfect."
On this song it would be hard for anyone to out shine the Eagles original recording.  However, Johnny took it, put a country twist on it, and turned it into the  best Johnny Rodriguez cover of this song I have ever heard. Again, just my opinion.

---
Why The Shorter Version of This Johnny Rodriguez Cover?

---
The single version of the song is shortened quite a bit from the album version. Top 40 Radio in 1975 didn't usually play songs longer than 4 minutes so the run-time on the 45RPM label needed to be shorter.
This song has one of the better story lines and could be the reason this song is over five minutes long, but well worth the listen.   
Side Note: Enjoy this Johnny Rodriguez video and take note that he did some re-arranging with the lyrics but I added the lyrics as they were written by Frey and Henley. 

---
Johnny Rodriguez Cover - Lyin' Eyes
Songwriters: Glenn Frey - Don Henley
Released off album "Reflecting" in 1976
City girls just seem to find out early
How to open doors with just a smile
A rich old man...And she won't have to worry
She'll dress up all in lace and go in style
Late at night a big old house gets lonely
I guess every form of refuge has its price
And it breaks her heart to think her love is only
Given to a man with hands as cold as ice
So she tells him she must go out for the evening
To comfort an old friend who's feelin' down
But he knows where she's goin' as she's leavin'
She is headed for the cheatin' side of town
You can't hide your lyin' eyes
And your smile is a thin disguise
I thought by now you'd realize
There ain't no way to hide your lyin eyes
On the other side of town a boy is waiting
with fiery eyes and dreams no one could steal
She drives on through the night anticipating
'Cause he makes her feel the way she used to feel
She rushes to his arms
They fall together
She whispers that it's only for awhile
She swears that soon she'll be comin' back forever
She pulls away and leaves him with a smile
You can't hide your lyin' eyes
And your smile is a thin disguise
I thought by now you'd realize
There ain't no way to hide you lyin' eyes
She gets up and pours herself a strong one
And stares out at the stars up in the sky
Another night, it's gonna be a long one
She draws the shade and hangs her head to cry
She wonders how it ever got this crazy
She thinks about a boy she knew in school
Did she get tired or did she just get lazy?
She's so far gone she feels just like a fool
My, oh my, you sure know how to arrange things
You set it up so well, so carefully
Ain't it funny how your new life didn't change things
You're still the same old girl you used to be
You can't hide your lyin eyes
And your smile is a thin disguise
I thought by now you'd realize
There ain't no way to hide your lyin' eyes
There ain't no way to hide your lyin' eyes
Honey, you can't hide your lyin' eyes

---
---
Return to Johnny Rodriguez main page.
---