Elvis Presley Sun Records
The Scotty Moore  "That's All Right" story.
Part 2


The Elvis Presley Sun Records story continues from the previous page.
The next night, July 6th, 1954, the trio had to come up with a side "B" for the record and chose an old Bill Monroe classic, "Blue Moon of Kentucky."
Listen below how Scotty Moore describes just how the song "Blue Moon of Kentucky" came about and Elvis' first interview and I'll continue below with excerpts from the vinyl record LP "The Complete Sun Sessions."
The vinyl record LP "The Complete Sun Sessions" content is pretty much in line with the way Scotty tells the story in this video.


July 7th, 1954 was the first time an Elvis Presley record was put on the air.
Here is how the Elvis Presley Sun Records first song was released, according to the content on my LP album.
After recording the "B" side "Blue Moon of Kentucky" Sam delivered his two-sided acetate to three Memphis disc jockeys.
Two of them jumped on the blue grass tune, but it was a Disc Jockey named Dewey Phillips, who really put the record across. He played it over and over again, first one side then the other, while Elvis sat in a movie theater watching a western double feature.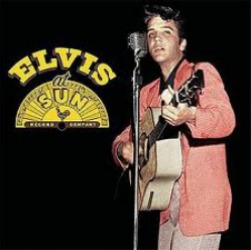 The phone calls and telegrams started pouring in!
Dewey got hold of Elvis' daddy, Vernon and was told that Elvis was at Suzore's No. 2 theater.
When Elvis finally got to the studio, Dewey told Elvis "Sit down, I'm going to interview you." Elvis said "Mr. Phillips, I don't know nothing about being interviewed." Dewey told Elvis, just don't say nothing dirty.
---
This is Dewey's Elvis Presley Sun Records interview.
"He sat down, and I said I'd let him know when we were ready to start. I had a couple of records cued up, and while they played we talked. I asked him where he went to school, and he said Humes. I wanted to get that out, because a lot of people had thought he was colored. Finally I said all right Elvis, thank you very much. Aren't you gonna interview me? he asked. I already have, I said, the mike's been open the whole time. He broke out in a cold sweat."
Dewey Phillips
---
The record was released on July 19th, just two weeks after it was recorded. On July 27th Marion Keisker brought a very uncomfortable-looking Elvis Presley down to the Memphis Press-Scimitar building where he was interviewed by theater critic Edwin Howard.
Marion said he was a truck driver, recalled Howard and he could only come in on his lunch hour.  I'll never forget...he walked in there with his duck-tail haircut and had this funny looking thin bow tie on. He was hard to interview and about all I could get out of him was yes or no.
Elvis would never again be able to venture out into the real world.
On July 30th Elvis appeared at an outdoor concert at the Overton Park Shell. He didn't go over very well at the afternoon show where he sang mostly ballads.
In the evening he came back with "Good Rockin' Tonight" and the shock was heard all around the world. In October, 1954 Elvis made his debut on the Louisiana Hayride, and the next month signed on as a regular and quit his truck driving job at Crown Electric.
By December he was acknowledged by Billboard magazine as "the hottest piece of merchandise on the Louisiana Hayride...the youngster with the hillbilly blues beat."
Within a year Elvis had left forever, singing on school house gyms hardwood floors, the shopping center openings and short notice shows on the back of a flatbed truck.
By the time he was 21 years old Elvis had acquired the status of a legend and would never again be able to venture out into the real world he once knew.
Elvis Presley would become nothing less than the most popular entertainer of all time.

---

Return to the Elvis Presley Story Part One 

Return to Elvis Presley Main Page.

Return Home from Elvis Presley Sun Records.