Waylon Jennings Albums
Featuring "The Ramblin' Man" album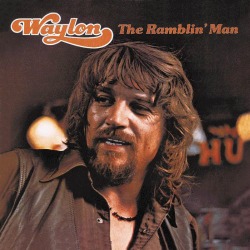 There are over two hundred Waylon Jennings Albums available for purchase and included in that number is "The Ramblin' Man," an original album that remains in my collection today.

The single titled "I'm a Ramblin' Man" was released in July, 1974 and after the song hit #1 the album was released in September and peaked at #3 on the country charts.

The cover and liner photos for the album were shot at a saloon in Nashville and I still have a removable sticker on the cover that indicates I purchased the album at Rinks Bargin City in Hamilton, Ohio...Price $4.29.

Waylon Jennings Albums - "The Ramblin' Man" album success.
This Vinyl Record Album was released at what was considered the height of the Outlaw Movement and contained ten great songs.

Three were released as singles. "I'm a Ramblin' Man" and "Amanda" became number one hits and "Rainy Day Woman" reached #2 on the country music charts.

The most notable success was that after "The Ramblin' Man" album, Waylon's next Six albums would all turn  Gold with one of those albums making it to Platinum status.

Special side note: Waylon changed the lyrics around for this live performance but below are the correct lyrics as released on the original single in 1974.

Enjoy this really well done Austin City Limits live video recorded in 1989.


---
Waylon Jennings Albums
I'm A Ramblin' Man (#3 album in 1974)
Song was wirtten by Ray Pennington
I've been down the Mississippi
Down through New Orleans...Yes, I have
I've played in California
There ain't too much I haven't seen
No, there ain't
Well, I'm a ramblin' man
Don't fool around with a ramblin' man

Left a girl in West Virginia
Up there where that green grass grows
Yes, I did
Another girl in Cincinnati
Waitin' where the Ohio River flows
Poor girl!
I'm a ramblin' man
Don't give your heart to a ramblin' man

You'd better move away
You're standin' too close to the flame
Once I mess with your mind
Your little heart won't beat the same
Lord, I'm a ramblin' man
Don't mess around with any ol' ramblin' man
Better not!
Well, up in Chicago...I was known as "Quite a Boy"
Yes, I was!
Down in Alabama...They call me "The man of joy"
Still do!
Well, I'm a ramblin' man
Don't fall in love with a ramblin' man

You'd better move away
You're standin' too close to the flame
Once I mess with your mind
Your little heart won't beat the same
Lord, I'm a ramblin' man
Don't mess around with any ol' ramblin' man
---

Waylon's 1984 Song "I May Be Used" (but baby I ain't used up)

Visit The Highwayman Page - Click Here

Return Home from Waylon Jennings Albums