Vinyl Record Lovers Newsletter.

Welcome to my monthly Newsletter. Thank you for subscribing. 
The golden age of vinyl records and all things retro are the highlights of my Newsletter.

Writing stories based on my vinyl record collection is my way of sharing memories and keeping the oldies alive.
I do appreciate your valuable time reading my newsletter.
Issue #097 - March, 2021.
---
In This Issue:
Country Doo Wop Spotlight Song.
Put A Nickel in The Jukebox and Bring Back Patti Page.

Ricky Nelson - First Hit, Plus A Rockabilly Classic.

Framed Album Cover Art of The Month.
A Tribute to Mary Wilson - The Supremes Anthology Album.
"Betcha Didn't Know" - How This Disco Band Got its Name.

---
Vinyl Record Memories
The Original Country Doo Wop Show.
---
Tune in each day to my favorite oldies station, the Country Doo Wop Show. My friend, Ned Ward turns music into memories playing yesterday's Country favorites and the Classic Doo Wop hits of the 50s and 60s. Listen in Monday thru Saturday from 1pm to 3pm, all times Pacific, on KNCP Newberry Mix 107.3 FM.

---
What's New?
=======================================
The Tennessee Waltz is still played regularly on many oldies stations, especially the Country Doo Wop Show. Read the story how I first met Pattie Page.
=======================================
Among all the versions of "Statue of a Fool," Jack Greene's 1969 recording was the most successful, but was it the original?  And is it the best version? I'll let you in on who I believe does the best cover on this great song.
=======================================
Ricky Nelson reigned as one of the hottest teen idols of the 50's and 60's. A look back at his first hit song he recorded to impress a girl and his rockabilly classic, "Believe What You Say."
=======================================
Do you collect vinyl records or vinyl record art?  Some of us purchase and enjoy the vinyl cover artwork more than the record itself. The Framed Album Cover Art for this month is a "SPECIAL" group from the 70s.
=======================================
Mary Wilson, a founding member of the popular Motown group, The Supremes, died last month. I'll share with you my original 1974 three-album compilation album titled "Anthology."
=======================================
Do you remember Harry Wayne Casey from  the 1970's Disco era? Donna Summer will always be my favorite Disco Queen but this guy and his band could certainly make you get out on the dance floor and  light up your "Boogie Shoes." "Betcha Didn't Know" how this group came up with their name.
=======================================
Let's get started...

---
Country Doo Wop Spotlight Song.
---
Let's put a nickel in the jukebox and bring back Patti Page. In 1950 Page recorded her signature song, "Tennessee Waltz" and it became one of the biggest-selling singles of the 20th century. Remember these heartbreaking lyrics?

"I was dancing with my darling to the Tennessee Waltz
When an old friend I happened to see..
Introduced her to my loved one, and while they were dancing,
My friend stole my sweetheart from me."

Our Spotlight Song for March...The Tennessee Waltz.

Best Cover Songs - Where the best version isn't always the first version.
---
We've all been there. You hear a song, take it to heart and love it as your very own. And then comes the day you learn this special song you adore is actually something else.
Among all the versions of "Statue of a Fool," Jack Greene's 1969 recording was the most successful, but was it the original? 

Surrounded in controversy, some believe David "My Girl" Ruffin wrote the song in 1958. My personal favorite and I believe the best cover is by Ricky Van Shelton.

In 1989 the song was re-released as part of Ricky Van Shelton's album "RVS III." Shelton's cover version peaked at #2 on the charts. The song was so popular it remained on the charts for 26 weeks and an additional 2 weeks in the runner-up spot.
Record producer and keyboard player Barry Beckett gives a stirring session performance on the piano, an added gift to the singer's voice that will set chills in motion. Read this remarkable updated story and listen to this perfect cover of "Statue of A Fool" by Ricky Van Shelton.
Here is my list of more than 20 songs that have been recorded as cover songs and are a different version of an original that are, in some ways, better than the original.

---
Ricky Nelson - How It All Started.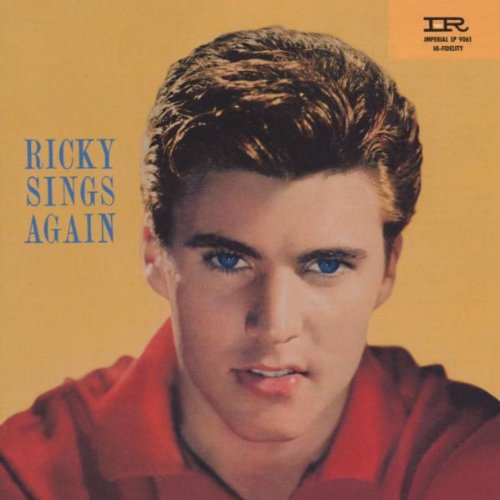 The story of how Ricky Nelson got into music is often repeated. Like most teenagers in 1956 Ricky was captivated by all the attention shown Elvis and the freedom his records offered. Ricky discovered the legendary Sun records that first led him to the classic rockabilly style of Carl Perkins.

Nelson believed Elvis and Carl Perkins were his escape from the fame and the "Little Ricky" that everyone in the country thought they knew. We can certainly give some credit to Elvis for Nelson's career.

As the story has been told, Ricky was rejected by a girl who was obsessed by Elvis, and on the spur-of-the-moment decided he was going to cut a record.
That record, "I'm Walking," a cover of the Fats Domino hit, shot up to #4 on the Billboard Best Sellers Chart. Side "B" titled "A Teenager's Romance" did even better at #2 on the charts.
Note: Click on each Verve record photo and after it expands click on the small arrows in top right to expand for an excellent view of this original 45rpm record I've had in my collection since new.

---
---
This quickly thought out maneuver to get a girl would soon turn into one of the most important careers in rock history.
Nelson would later record the 1958 rockabilly classic, "Believe What You Say" with the scorching James Burton guitar licks.
The song appeared on his 1959 album, Ricky Sings Again displayed above. "Believe What You Say" would be James Burton's first record as Nelson's lead guitar player. Take a listen at this fantastic 45rpm sound from over 60 years ago. Then watch Ricky and Fats Domino sing "I'm Walking." 

---
Framed Album Cover Art of The Month.
You don't have to be a fan of a any artist or group to enjoy album cover art. A perfect example is this 38 Special Forces LP cover from a 70's group that was not on my list of favorites. I found this album several years ago at a garage sale and was surprised by the condition of the album.
No ring wear and a smooth, clean cover. The inner sleeve was also a plus, a clean picture sleeve of the band members containing a near flawless record on both sides. And how could you not notice the sexy red head eye candy in the cutoff denim shorts that made for an easy record sale. It was a good buy for an album nearly 40 years old in very nice condition.
If you click on the album it will open into a new screen, then click on the four small arrows to the top right of the album for an expanded view.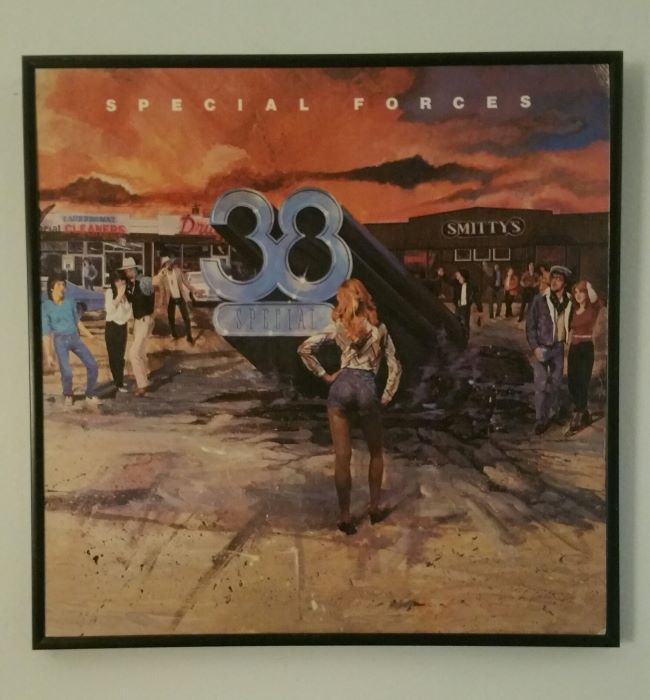 The group, 38 Special, is an American rock band that was originally formed in 1974 by two neighborhood buddies, Donnie Van Zant and Don Barnes. The group specialized in Southern rock, Country rock, and blues-rock and is associated with the A&M record label.

38 Special derived their name from the song "Saturday Night Special" by Lynyrd Skynyrd. In the song, a lyric is mentioned about someone being shot with 38 rounds of ammunition.

Fans of 38 Special understand why the band has survived the test of time having been created more than four decades ago. Like the man who survived being shot 38 times, the band has survived different generations of rock bands that have been formed and disbanded while they were still in operation. Cover by graphic designer Philip Gips. 

---
"Someday We'll Be Together"
A Mary Wilson Tribute.

---
Mary Wilson of the Supremes has died. She died on February 8th, 2021, so I decided to dust off my original Anthology album and pay tribute to one of the original co-founders of The Supremes. The Anthology series began in 1974 with the first one shown here, a three-album compilation album compiled to represent "one of the 1960s' most popular groups."

The three-album set included all of the R&B hits and most of the pop hits of the Supremes, along with several tracks of the band's more experimental material. There were three additional releases.

The August 1986 release added 15 songs to a total of 50 while the re-release on September 28, 1995, raised the number to 52. On December 18, 2001, Motown released a fourth version of Anthology with 50 songs representative of The Supremes' period with Diana Ross. This version includes three previously unreleased versions of songs in addition to the 1960s hits and a selection of cover songs.
If you click on the album it will open into a new screen, then click on the four small arrows to the top right of the album for an expanded view.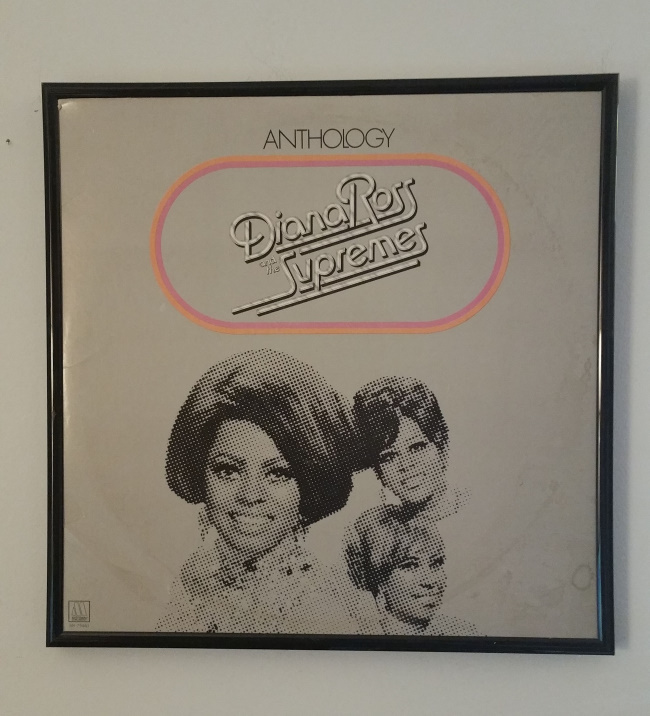 ---
Born in Greenville, Mississippi, on 6 March 1944, Wilson's family moved to Chicago and later Detroit. Wilson met Florence Ballard while singing in a school talent show at a primary school in Detroit.

In 1958, Ballard recruited Wilson and Diana Ross to form the Primettes. The group performed covers at local events and made a name for themselves locally. Aspiring to sign to Motown, Ross asked her former neighbor, Smokey Robinson, to get them an audition with Motown founder, Berry Gordy.

In January 1961, Gordy signed the group, changed the name to The Supremes, and in 1964 the song "Where Did Our Love Go" topped the US charts and reached No 3 in the UK. From there the music careers of these three ladies only got better. Rest easy dear lady. 

---
"Betcha Didn't Know" about Harry Wayne Casey.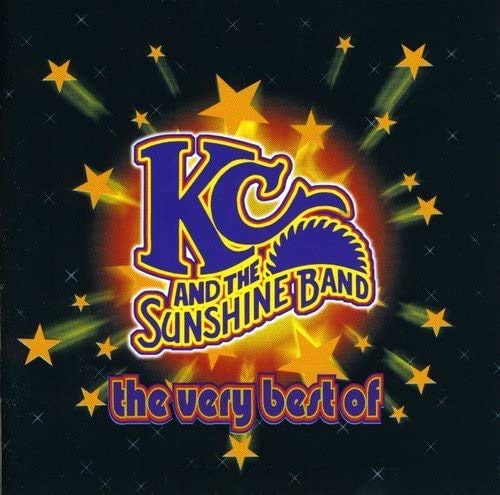 Harry Wayne Casey...How did the band get its name?

When the band was formed they took Harry Wayne's last name, Casey, and made it KC and the band was named after the state they lived in Florida, The Sunshine State, Thus: KC and the Sunshine Band.  

Lots of great songs from this band in the 70's Disco era...
1975 - Get down tonight - #1 BB
1975- That's the Way (I like it) #1 BB
1977 - I'm your Boogie Man - #1 BB
1977 - Keep it comin' Love - #2 BB
1978 - Boogie Shoes - #35 BB
1978 - It's the Same Old Song- #35 BB
1979 - Please Don't Go - #1 BB
1979 - Yes I'm Ready - #2 BB
---
Ever thought of having your own website? I built Vinyl Record Memories "from scratch" with SoloBuildIt! Click below to find out more....


What's Next?
Another classic country cheatin' song from the last man standing, the "Killer" himself, Jerry Lee Lewis.

---
Top of Page