Johnny Rodriguez Albums

Featuring the album
"Love Me With all Your Heart"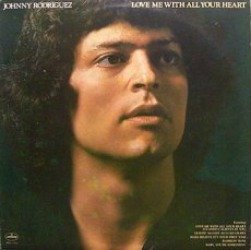 This Johnny Rodriguez Albums page is written about a song from Johnny's album titled "Love Me with All Your Heart."
This was the first of two albums Johnny released in 1978. The other was titled "Rodriguez was Here" but never charted.
This Album reached #19 on the US Country charts and the single off the album, Cuando Calienta El Sol, reached #7.
As with this song, Johnny sometimes covered other people's songs and had hits with them, including "Something" (Beatles), "That's the way love goes" (Lefty Frizzell) and "Desperado" (Eagles).
This particular song just happens to be my favorite of all the latino songs. 

Is it Cuando Calienta El Sol or Love Me with All Your Heart?
Actually "Love Me with All Your Heart" is a song based on the Spanish language song "Cuando calienta el sol".
The song was originally written in the fifties by Rafael Gaston Perez but the English lyrics are sometimes credited to three different song writers and published in 1961.
The Spanish title translates as "When the sun heats up" and I have included other versions on this site for you to compare. You can decide who you think does the best performance on this beautiful song.  Love to hear your thoughts on this song. 
Check out the links at the bottom of this page or in the right column on this page to see other cover versions of this song. 
Enjoy this video I have included and see why I have always admired Johnny's singing.
This would be the last album Johnny Rodriguez would place in the Top 20.
---
Listen to the Vikki Carr version of Cuando Calienta El Sol

Click her for the Connie Francis version of this Spanish love song

Love Me with All Your Heart in English and #1 in 1964 - Click here

Return to Johnny's Main songs page

Return to home page from this Johnny Rodriguez Albums page
---
"Thank you so much for all the work you have done on these pages.  I found my way here, and spent the next two hours in absolute bliss. Memories, memories...thank you for rekindling them."

Bob Douglass,
Richmond, VA
---
"Just stumbled onto this site and decided to stay and visit for a while. You have it laid out so wonderfully. Easy to get around and love your comments. Thanks for my trip down memory lane. Really, really enjoyed it."
Priscilla Hernandez,
Arkansas