Vinyl Record Lovers Newsletter
Welcome to my monthly Newsletter. Thank you for subscribing. 
The golden age of vinyl records and all things retro are the highlights of my Newsletter.

Writing stories based on my vinyl record collection is my way of sharing memories and keeping the oldies alive.
I do appreciate the time you take to read my newsletter.
Issue #089 - July 29, 2020.
---
In This Issue:

"Old" Is Good In Some Things.
Best Cover Songs - Is The Girl Version Better?
Me and Bobby McGee - The Real Story.
Remembering Carl Perkins and His Friends.

Telephone Songs of The 50s and 60s.
---
What's New?
---
Old is Good in Some Things - Why Old Friends Matter.
It's been nearly 3 years since I received an article from a high school buddy titled "Why Old Friends Matter." It continues to be a popular read as visitors still contact me about the article.
The article was related to a topic about what people regret the most when they have gone home to die and have maybe three to twelve weeks remaining. There were many deep regrets about not giving friendships the time and effort that they deserved.
Many had become so caught up in their own lives that they had let golden friendships slip by over the years. I mention this because a friend of mine died recently, a friend I have never met. Thousands visit vinyl record memories each month, and a few of those visitors are the reason "Why Old Friends Matter."
=======================================
Favorite cover songs continues with another classic, this time by the lady who gave you "Help Me Make It Through The Night." It's better than the original but I'll give you my take on the cover I like best.
=======================================
When a Jerry Lee Lewis fan contacted me with this opening, "Where in hell is the Bobby McGee story," I knew I was in trouble. I wrote the page about the Lewis cover of the song and thought it was fine. When I got all the details about the story behind the song, I rewrote the page and received a much nicer email from that visitor.
=======================================
Ain't Nuttin' Better than good old Rockabilly music from the original rockabilly king, Carl Perkins. A fascinating ride with super stars in tow. Enjoy the "Carl Perkins and Friends" party in London from 1985. With the attention from the March 2020 newsletter issue I've given Carl a much deserved second round. 
=======================================
Telephone Songs: If you can remember these oldies from the 50s, then around 7pm might be way past your bedtime.
=======================================

Let's get started....

---
"Old" is good in some things:
Old Songs, Old movies, and best of all,

our dear...OLD FRIENDS.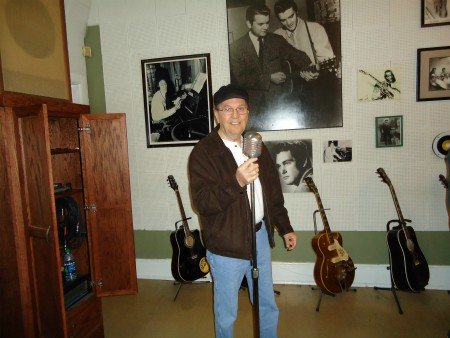 Copyright photo @ vinylrecordmemories.com
I often write about how much "Old Friends" mean so much more as we get older....at least I feel that way. The friendship I maintain with my old high school buddies keeps us in touch with fond old memories. And then there are those friends, the friends I've never met that are also special. Bill Moore died on March 11, 2020, and it is sad I did not learn about his death until late last month.  

I never had the pleasure of meeting Bill Moore face to face but he remains one of those "Old Friends" I've never met and won't forget. Bill contacted me nearly ten years ago after finding my oldies music site. He was excited that someone was writing about the '50s and '60s when it was such a wonderful time to grow up.
Bill played oldies music in a band for local events, performed on a Carnival Cruise lines "Legends" Show and sent me a recording of an Elvis song he recorded at Sun Studios in 2015 (see photo). Over the years Bill shared song ideas and old memories that I turned into stories.
I'll miss those conversations with Bill Moore.
Rest easy my friend.

---
Best Cover Songs - Where the best version isn't always the first version.
---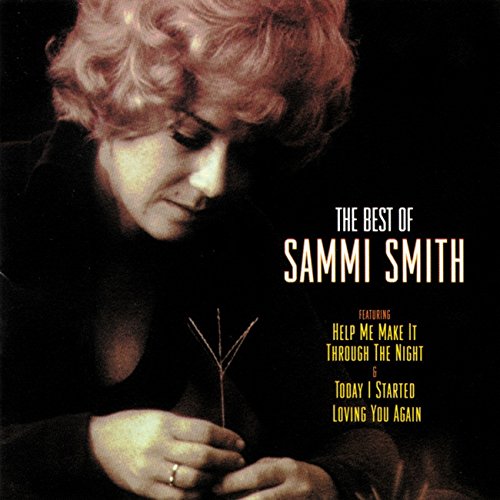 This oldies Classic, 'Then You Can Tell Me Goodbye" was originally released in 1962 by Don Cherry as a country song, and again as a doo-wop in 1967 by "The Casinos."
It would later be covered by two country artists placing the song at #1 and #4 on the country charts. The Eddy Arnold cover was a number 1 country hit in 1968 and a cover by Neal McCoy became a Top 5 country hit in 1996.

Of all the covers of this well written song by the "guys," I believe this Sammi Smith version released in 1978 by this country gal, will be the one that stays with you longer.  One exception would be the 1967 cover by The Casinos, my choice as best ever cover on this classic oldie.

---
The Story Behind "Me and Bobby McGee."
---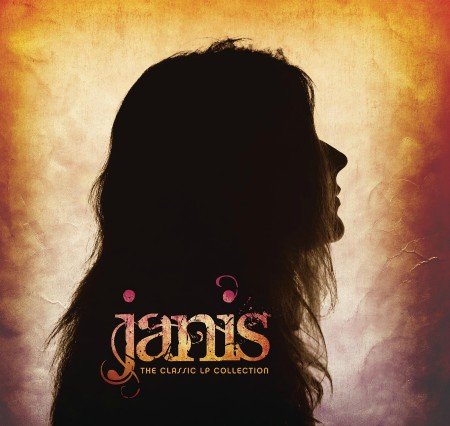 I originally heard the song, "Me and Bobby McGee" in 1969 by Roger Miller, who had a country hit with the song.
I was not a Janis Joplin fan, didn't follow her music, and when her version made it to #1 after her death I really didn't think much of it. After receiving an email critical of my Jerry Lee Lewis page on his cover of the song, I looked deeper into the history of the song as my visitor had suggested.
I wrote the page about the Jerry Lee Lewis cover of the song and believed it was good enough for his fans. I was wrong...

"Me and Bobby McGee" has become a rock classic over the years. It's a song about love on the road and love lost "up near Salinas." Written by singer, songwriter, musician, and actor Kris Kristofferson and songwriter/record producer Fred Foster, this iconic song was first conceived with just a title -- inspired by a real person.
Read this inspiring story about the Producer, The Pearl Album, Kris Kristofferson, and the sad ending for this troubled lady...

---
Carl Perkins and Friends
A Rockabilly Session.

---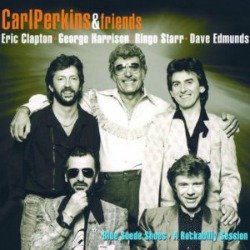 Carl Perkins and friends is attracting more visitors and has remained in the top ten at Vinyl Record Memories for the past three months, so Carl gets a second write up, along with the March 2020 issue.

If you have not visited the Carl Perkins and Friends pages you are missing some of the great performances by the best in the business, Rockabilly friends including George Harrison, Ringo Starr, Dave Edmunds, Lee Rocker, Eric Clapton and Rosanne Cash.

You'll learn some facts about Perkins you may not know; Find out who Carl played lead guitar for on this mother/daughter number one song; He also played lead guitar on a Johnny Cash #1 hit and Jerry Lee Lewis played piano on a Perkins hit song. All this happened more than 35 years ago and you can watch the live performances at Carl Perkins and Friends.  

---
Telephone Songs of the 50s and 60s.
---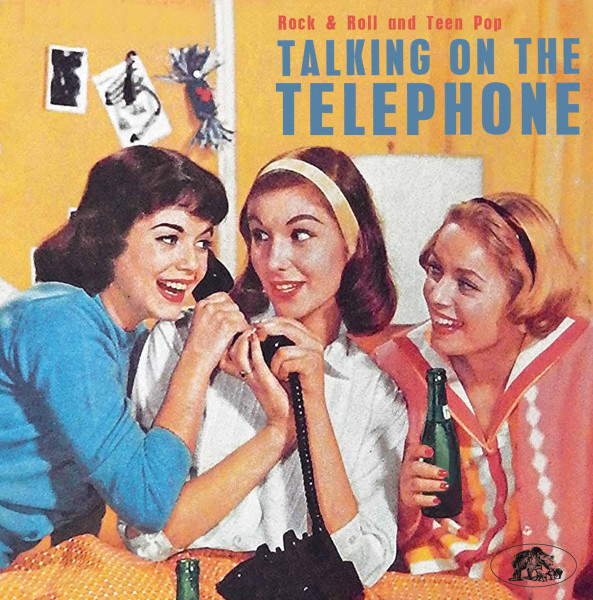 As a follow up to the March 2020 "Answer Songs," this Telephone song list brings together some extremely rare and long-forgotten songs about what telephones meant to teenagers.
These are some of the original Telephone Songs from the early days of rock & roll and teen pop music. Teenagers were becoming a force in the music business during the 1950s and rock & roll gave them a chance to sing about their newfound freedom.
Talking on the telephone offered teenagers independence from parental oversight, and the birth of rock and roll gave them a chance to sing about it. There are a lot more great Telephone songs from later years but these are from the 50s and early 60s.
If you remember any of these you've been drawing Social Security for quite a while...look back and enjoy the memories.

---
Bigelow 6-200               Brenda Lee              1956
Ring My Phone              Tommy Sands        1957
Chantilly Lace                The Big Bopper      1958
Hello, Hello Baby           Jerry Lee Lewis     1958
Memphis, Tennessee    Chuck Berry           1958        

Ring-A-My-Phone         Brenda Lee            1958
Kissin' On The Phone    Paul Anka              1961
Come On                          Chuck Berry          1961
Buzz Buzz A Diddle It    Freddy Cannon    1961
If A Man Answers          Bobby Darin          1962
Don't Hang Up               The Orlons             1962
Beechwood 4-5789        The Marvelettes    1962
---
What's Next?
Tucked between the early street corner Doo Wop groups and the mid-60s British invasion was the phenomenon known as the Girl Groups.
A video tribute, song lyrics centered around that perfect guy and why Studio Session Players are a big reason songs become hits. Coming your way in the next vinyl record lovers newsletter.
---
Return to Newsletter Main Page.
Back Issues of Newsletters Are Located Here.