Vinyl Record Lovers Newsletter
Welcome to my monthly Newsletter. Thank you for subscribing. 
The golden age of vinyl records and all things retro are the highlights of my Newsletter.

Writing stories based on my vinyl record collection is my way of sharing memories and keeping the oldies alive.
I do appreciate the time you take to read my newsletter.
Issue 055 - September 20, 2017
In This Issue:
A Country Music Legend has died.
Album Cover Art of the month.
A Happy Birthday to Jerry Lee Lewis.
The Original Country Doo-Wop Show.
---
What's New? A September to Remember.
September started off on a sad note....Enjoy my featured "Album Cover Art of the Month" as I remember a Country Music legend who died on September 8th, 2017.
On the same day, September 8th, I paused to remember the birthday of my favorite female country singer, Ms Patsy Cline.  Patsy did it her way and made life much better for the female country singer.

September is also the birthday of Jerry Lee Lewis so I am in good company as my birthday also falls this month.
I looked back at some favorite country songs with special stories (and there are many) and chose one I believe sets close to the way many feel on how the world has drifted away from those simpler times from a bygone era. 
---
Don Williams died on Sept 8, 2017.  

Favorite Don Williams Album Cover Art.
My "Album Cover Art" entry for September is dedicated to all Don Williams fans. The four albums shown below are the Don Williams albums I currently have in my collection.
---
My favorite is the "The Best of Don Williams" with the cowboy hat and jacket hanging on the rack.  This is a replacement copy as I previously sent the original copy to my friend, Ned Ward, a Country Doo-wop DJ in Oregon.    
Ned's dad played in a band (The Hoosier Hotshots) in some of the old Gene Autry cowboy movies.  The album seemed to fit just right for my friend and his family background.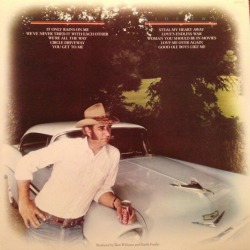 The back of the album titled "Portrait" is especially nice as it shows Williams leaning against a blue and white '56 Chevy Bel Aire with a Coca-cola in hand.
In 1976, Williams became an Opry member, and was crowned CMA Male Vocalist of the Year in 1978, with his version of Danny Flowers' "Tulsa Time" earning CMA Single of the Year. I also have an original 45rpm record of "Tulsa Time,"  purchased new in 1978.  

Don Williams was 78. 
---
Patsy Cline was Born on Sept 8, 1932.


Despite being known for songs like "Crazy," and "I Fall to Pieces," Patsy Cline was a true powerhouse – a trailblazer for women.
Cline defined a new type of woman – she wore bright red lipstick, but donned men's Dungarees and cowboy boots. She was the first woman to wear pants on stage at the Grand Ole Opry.  
She pioneered a way for women as lead singers and was just hitting her professional stride when she died in a tragic plane crash at the age of 30 in 1963.

Willie Nelson originally wrote "Crazy," but Cline's unforgettable performance of the song made it forever hers.

Her final album, "Sweet Dreams," was released a month after her untimely death, and she was the first solo female artist to be inducted into the Country Music Hall of Fame.
Happy birthday, Patsy...read more.
---
Jerry Lee Lewis - Last Man Standing 

"Just point me to the piano and give me my money. In fifteen minutes I'll have 'em Shakin', Shoutin', Shiverin', and Shackin' " ......Jerry Lee Lewis - A Rockabilly Hall of Fame Excerpt.

---
Jerry Lee Lewis took black rhythm & blues, white gospel and other funky Southern sounds and turned them into rock and roll. 

More than a few Rock-n-Roll fans have often said that Jerry Lee Lewis is the King.  Elvis fans might dispute that title, but nobody else in the history of popular music would dare call himself  The Killer. 

"Of all the legends who came out of Sun Records in the 1950s, including Elvis, Johnny Cash, Carl Perkins, and Roy Orbison, no one would have bet the last one standing would be the pill-popping, whiskey-guzzling, gun-waving hellion from Ferriday, La...... Except The Killer, of course.
Happy Birthday Jerry Lee Lewis, born September 29, 1935.
---
Betcha' Didn't Know!

'Bout old dogs, children and watermelon wine.
---
Country songs tell stories and many are based on real life situations and events. Tom T. Hall had a hit song in 1972 about "Old Dogs, Children and Watermelon Wine" but do you know the story behind this 45 year old song? Continue reading below the album.

While at a performance in Miami Beach in 1972, country music's  storyteller, Tom T. Hall met a man, who relayed to Hall in simple terms, what life is really all about.

A janitor, a month away from his 66th birthday, shared his impressions of the only three things worth a damn in life, while also sharing with Hall his thoughts on the loyalty and value of lovers and friends...and Hall took it all down.

If you are not familiar with the Tom T. Hall lyrics to the song, here is some excerpts to refresh your memory of this well written story line from many years ago.

"I was sittin' in Miami pourin' blended whiskey down
When this old gray black gentleman was cleanin' up the lounge."
"Ever had a drink of watermelon wine? " he asked.
He told me all about it, though I didn't answer back.
"Ain't but three things in this world that's worth a solitary dime, But old dogs and children and watermelon wine." 
He said, "women think about they-selves, when menfolk ain't around.
And friends are hard to find when they discover that you're down."
"Old dogs care about you even when you make mistakes;
God bless little children while they're still too young to hate."
"When he moved away I found my pen and copied down that line... 'Bout old dogs and children and watermelon wine."
The resulting hit, though sentimental on the surface, revealed the old man's distrust of all but the simplest things in life.

You can see the complete song lyrics here. (will open in new window).
---
What's Next?
Between 1950 and 1960, Sun Records founder Sam Phillips discovered and produced a number of artists who changed the way popular music was made.
In 1951 Sam Phillips recorded a song by the Delta Cats in his Memphis studio and licensed the song (Rocket "88") to Chess Records for release.
A year later Phillips launched Sun Records with one local release, and then folded for a year.  Tune in next month for the details.    
---
The Original
Country Doo-Wop Show!
---
Listen to my favorite Country Doo-Wop show Monday thru Saturday from  1pm to 3pm, all times Pacific.

DJ Ned Ward turns music into memories playing yesterday's Country Favorites and the Classic Hits of the 50's and 60's Doo Wop style on the new and exciting KNCP Newberry Mix 107.3 FM.
You won't be disappointed.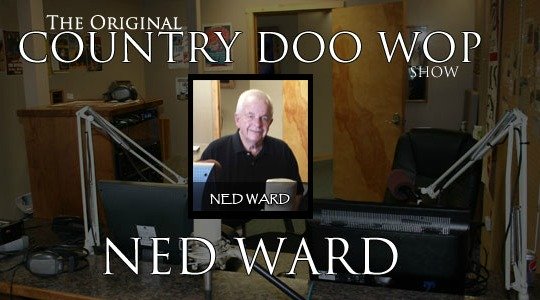 ---
Do you have questions, comments or suggestions? 
If you have any favorite vinyl record topics you'd like to see on this site, please click here and enter your information in the contact form. I would love to hear from you.
All the best,
Danny Lee Sandrik
Vinyl Record Memories

---
Top of Page