Vinyl Record Lovers Newsletter
Welcome to my monthly Newsletter. Thank you for subscribing. 
The golden age of vinyl records and all things retro are the highlights of my Newsletter.

Writing stories based on my vinyl record collection is my way of sharing memories and keeping the oldies alive.
I do appreciate your valuable time reading my newsletter.
Issue #094 - December, 2020.
---
In This Issue:
Country Doo Wop Spotlight Song.
The Country Side of Elvis.
Blue Bayou - Who Does It Best?
Album Cover Art of The Month.
Cover Song of The Month - For My Spanish Visitors.
America's Greatest Pilot Has Died.

---
Vinyl Record Memories
The Original Country Doo Wop Show.
---
Tune in each day to my favorite oldies station, the Country Doo Wop Show. My friend, Ned Ward turns music into memories playing yesterday's Country favorites and the Classic Doo Wop hits of the 50s and 60s. Listen in Monday thru Saturday from 1pm to 3pm, all times Pacific, on KNCP Newberry Mix 107.3 FM.

A Very Merry Christmas &
Happy New Year to all.

---
---
What's New?
Favorite pages visited during the month of December always include the Elvis and Martina McBride Blue Christmas video. A special favorite of mine is "All I Want For Christmas is You" by  Vince Vance and The Valiants, with Lisa Layne on lead vocals. You can revisit both in this popular 2019 newsletter issue.
=======================================
In late 1962 and early 1963, this song spent nine weeks on the Billboard Hot 100, reaching No. 24. The song has since become widely used by rock and roll revival acts and remains well known for its chorus of "Re-meh-meh, re-meh-meh-mem-ber.....Re-meh-meh, re-meh-meh-mem-ber....and one of the "Spotlight Songs" played regularly on the Country Doo Wop Show.
=======================================
The Country side of Elvis and for those who missed it, a repeat on why Elvis gave out white scarves at his concerts.
=======================================
"Blue Bayou" was released as the b-side to stateside single "Mean Woman Blues" and became an international hit for Roy Orbison, peaking at No. 3 on the U.K. charts. With no official U.S. radio push, the song finished at only No. 29 on the Billboard Hot 100.
=======================================
As with many of her own reworkings of popular hit songs, Linda Ronstadt's 1977 version of "Blue Bayou" is often known as irrefutably hers. One of many classy ladies I have on album covers, Linda is our choice for Album Cover Art of The Month.
=======================================
Cover Song of The Month is one that my Spanish lady friends will watch over and over. A well done cover of "Can't Help Falling In Love," by one of the most recognized and commercially successful continental European singers in the world.
=======================================
The first man to fly faster than the speed of sound has died.  A legacy of strength, adventure, & patriotism, Chuck Yeager will be remembered forever.
=======================================
Let's get started...

---
Country Doo Wop "Spotlight Song."
---
Doo-Wop blends classic rhythm and blues with vocal group harmonies, street corner singers, and falsetto leads mixed with baritone and bass singers.

Having these old songs in our lives provides us with memories and connects us with the emotions and special feelings that let us "Remember Then" just like this December Spotlight Song performed below by Larry Chance and The Earls.

---
The Story Behind The Scarves &
The Country Side of Elvis.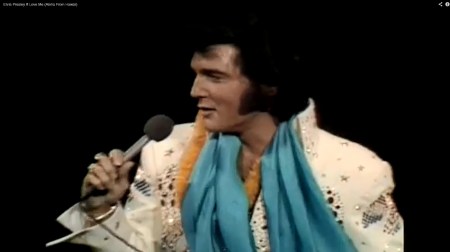 Kathy Westmoreland was an Elvis background singer from 1972 to around 1975. She loved what he did with the scarves and shortly after meeting Elvis, asked about the scarves.
He told her he got that from Tibetan Lamas, Tibetan Monks. Elvis had a great culture about religions. In Tibetan culture, gift giving is part of Buddhist philosophy and way of life.

Tibetans give white silk scarves called a khata to friends and family who are arriving or leaving. They symbolize good luck.

How many of you knew the significance of the scarf greeting?
---
Elvis counted country music as an influence early on, largely abandoned it during his years of making movies, and returned to it in the last decade of his life as seen here four years before his death.
Even when singing classic country songs like "I'm So Lonesome I Could Cry," and this great cover of "Welcome To My World" he doesn't give it a strictly country arrangement (using steel guitar or fiddle) for example. This is a great arrangement and notice one of those white scarves he gives out at the end of the song. 
Blue Bayou - Who Does The Best Version?

---
Roy Orbison wrote a lot of songs with themes of loneliness and yearning, but in many cases there was a lot more to them.
"Blue Bayou," a somber ballad yearning after simpler times, was originally recorded by Orbison on his legendary 1963 album In Dreams. While it only scored as high as #29 in the US, Linda Ronstadt took it to far greater fame as her only gold-selling single and her signature song.
So, who does the best version of the song? You be the judge, both are great, but I like the original by Roy Orbison. This is another song and story that will have its own page on Vinyl Record Memories in the not to distance future. Stay tuned...and do enjoy this original by Roy Orbison.

---
Album Cover Art of The Month.
---
Linda Ronstadt's "Blue Bayou" was released in August 1977 and climbed to the No. 3 and No. 2 on the pop and country charts, respectively. As with many of her own reworkings of popular hit songs, Ronstadt's 1977 version is often known as irrefutably hers.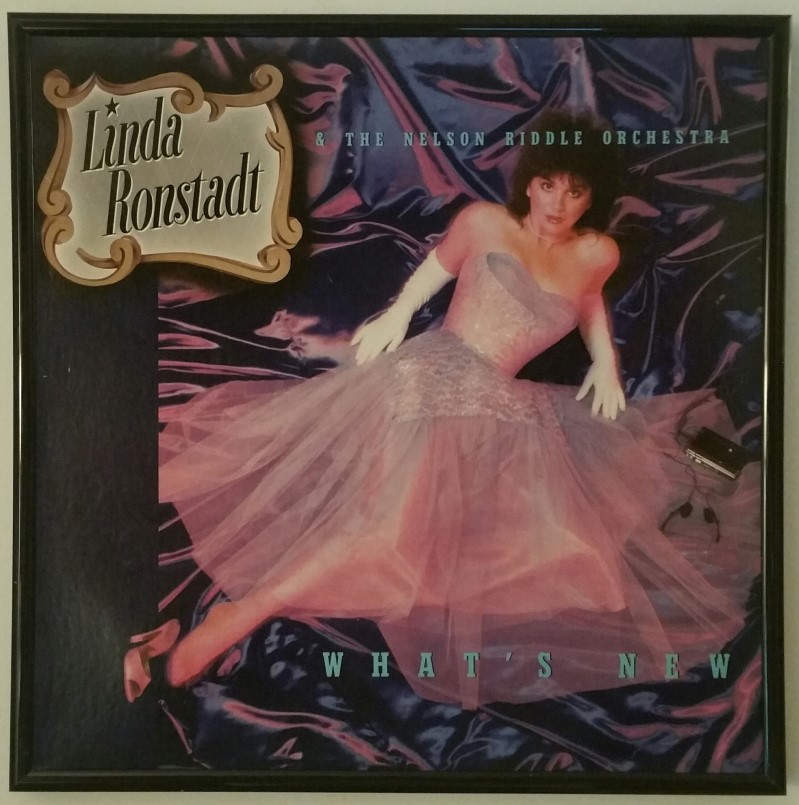 Our Album Cover Art of The Month, titled "What's New" is an album of traditional pop standards released by Linda Ronstadt in 1983. This recording, along with "For Sentimental Reasons" and "Lush Life," has great song selections beautifully arranged by Nelson Riddle and interpreted very well.
No vocalizing for the sake of calling attention to one's self, just beautiful touching renditions of great standards, as they should be sung.  John Kosh designed the album covers for all three albums.

I've had this unique album in my collection for well over 20 years. It was an interesting change of pace with the Nelson Riddle Orchestra. I've framed the album as shown and it is still in excellent condition. The vinyl record inner sleeve is just as nice. 
---
"Can't Help Falling In Love"
Julio Iglesias...

---
"Can't Help falling in love" by Julio Iglesias, recognized as the most commercially successful continental European singer in the world and The Best-Selling Latin Artist In History. Watch closely as some of these Ladies appear to be having a music-gasm watching him sing.

---
For my Spanish lady friends. I receive many visitors from around the world visiting pages I have written about Ritchie Valens, Johnny Rodriguez, Vikki Carr, Luis Meguel and of course, Connie Francis singing the beautiful Spanish love song, "Cuando calienta el sol." I appreciate those who write to me about the music you love. This one is for you.

---
Remembering Chuck Yeager
An American Hero...
---
Chuck Yeager, America's greatest Pilot, died on Dec 7, 2020, at age 97. A legacy of strength, adventure, & patriotism Yeager will be remembered forever.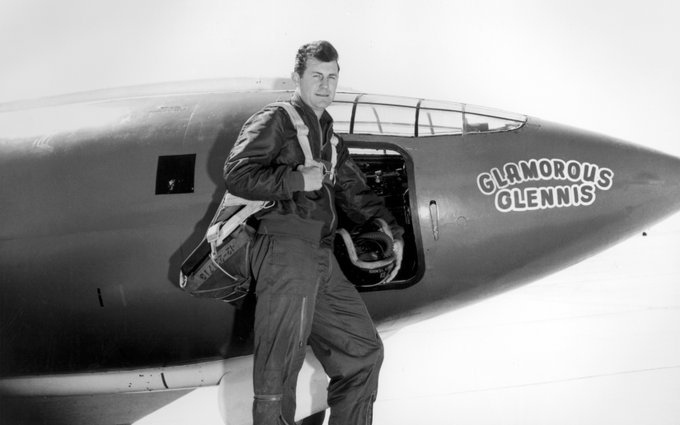 USAF Capt. Charles E. Yeager (shown standing with the Bell X-1 supersonic rocket plane) became the first man to fly faster than the speed of sound in level flight on Oct. 14, 1947. (Image credit: United States Air Force Archive)

The rocket-propelled orange airplane was nicknamed the "Glamorous Glennis" after Yeager's first wife, who passed away in 1990.

Yeager was born on February 13, 1923, in Myra, W.Va. ″Little did I realize when I left this town to join the Army Air Corps in September 1941 ... that I would come back here to see a statue of myself in front of Hamlin High School, where I spent so many wicked days,″ said Yeager.

Blessed with exceptional vision, he totaled 12.5 aerial victories and shot down 13 German planes on 64 missions during World War II, "including five Me109s on 12 October and four FW 190s on 27 November," his website added.

"That day was a fighter pilot's dream. In the midst of a wild sky, I knew that dogfighting was what I was born to do," he said of the battles on Nov. 27. He later returned to combat during the Vietnam War, where he flew several missions a month in twin-engine B-57 Canberras making bombing and strafing runs over South Vietnam.

He flew for more than 60 years, including piloting an F-15 to near 1,000 mph at Edwards Air Force Base in October 2002 at the age of 79.

"Living to a ripe old age is not an end in itself. The trick is to enjoy the years remaining," he said in "Yeager: An Autobiography."

---
Ever thought of having your own website? I built Vinyl Record Memories "from scratch" with SoloBuildIt! Click below to find out more....


---
What's Next?
---
---