Vinyl Record Lovers Newsletter
---
Welcome to my monthly Newsletter. Thank you for subscribing.
The golden age of vinyl records and all things retro are the highlights of my Newsletter. Writing stories about my vinyl record memories with content from my collection is my way of sharing memories and keeping the oldies alive.
I do appreciate your valuable time reading my newsletter.
Issue #113 - July-August, 2022
---
In This Issue:
The Last Buddy Holly Band Member Has Died.



Country Doo-Wop Spotlight Song - A Tribute To Elvis.


Scotty Moore Meets Elvis - How It All Went Down.
That's All Right (Mama) - What Ever You're Doing Elvis, Keep On Doing It! Sam Phillips:



"Mystery Train" - A Masterpiece In Music History.


Loving You - Double-sided Hit With Teddy Bear.
Jailhouse Rock - Presley's greatest moment on screen?
King Creole - Co-Star Leaves Hollywood To Become A Nun.
I'll Remember You - Favorite Elvis Performance.
James Burton Guitar Memories.



What's Next?
===========================================

What's New?
=========================================
From his rise to fame in the 1950's, to his death at the age of 42 in 1977, through to the present-day; the world is still fascinated by everything that is Elvis.
Elvis Presley died 45 years ago this month. So let's take a look back at my favorite entertainer as we renew old memories with some featured songs and movie clips from a time when many of us were indeed, "Growing up with Elvis."
Elvis will be the featured article for this month but we could not overlook one additional entry on the death of the last remaining member of Buddy Holley & The Crickets, who also died during the month of August. 

---
Buddy Holly Drummer, Jerry Allison, Has Died.

---
Jerry "JI" Allison, the drummer for Buddy Holly and the Crickets, who is credited as a co-writer on influential rock 'n' roll hits "That'll Be the Day" and "Peggy Sue," died on August 22, 2022 at age 82.
Following Holly's death in a plane crash in February 1959, Allison continued recording and touring as The Crickets with a rotating cast of band members. Allison also became an in-demand session player, recording with such artists as Bobby Vee, Eddie Cochran, Waylon Jennings and Paul McCartney.
The track "Peggy Sue" was named after Allison's then-girlfriend and future wife Peggy Sue Gerron. It features Allison playing one of rock's most celebrated drum parts.
Holly's other band member, Joe B. Mauldin, bass player for The Crickets, died of cancer at age 74 in Nashville, Tennessee on February 7, 2015.
---
The Country Doo-Wop Spotlight Song.

A Special August Tribute To Elvis.
---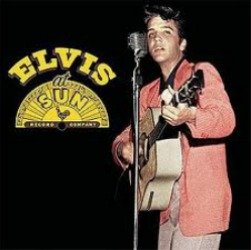 The month of August will remind many Elvis fans it has been 45 years since his tragic death on August 16, 1977.
Relocating to a new home during July and most of August has been time consuming but I did manage to keep the dial set to my favorite Country Doo-Wop show with DJ, Ned Ward.
Ned played many of my favorite Elvis songs during the month of August in a tribute to the memory of Elvis. Ned's producer, Mr. "B" continues to provide great playlists each day for the show. Here's a sample of one of the early Elvis recordings Ned plays on the Country Doo Wop Show.
Along with Elvis, you can hear all your favorite classic oldies on my favorite radio dial, Ned Ward's, Country Doo Wop Show Monday thru Saturday from 1pm to 3pm, all times Pacific, on KNCP Newberry Mix 107.3 FM.
---
My Vinyl Record Memories:

Growing Up With Elvis.
---
Elvis was a big part of our lives for many of us who grew up with Elvis in the fifties as teenagers. For oldies fans hoping to bask in Elvis nostalgia, "Remembering Elvis" with video clips provided, will make for a satisfying stroll down memory lane.
His style to me was definitely rockabilly. When I heard Elvis sing "That's All Right (mama)" and saw a picture of him, I was ready for my first ducktail haircut. Over sixty years later I still have many of Elvis' original 45's and LP's.....and my (mild) ducktail haircut.
---
Scotty Moore Talks Elvis and
"That's All Right" - The Beginning.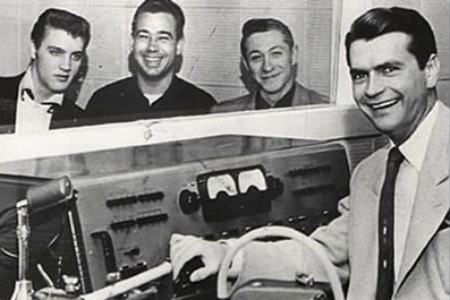 Elvis, Bill Black, Scotty Moore, and Sam Phillips at Sun Recording Studio.
---
This is how Scotty Moore (Lead guitar player for Elvis) described his first meeting with Elvis at Scotty's home, his wife's reaction to Elvis, and the way Elvis was dressed at the time.

The Following video clip is from a made for TV series from 1990 that kinda pulls together what Scotty said in the clip above. It shows how the original recording may have appeared when Elvis suddenly jumped into the rockabilly influenced That's All Right (Mama) after a brief encounter with an irritated Sam Phillips.

Mystery Train - A Masterpiece In Music History.

---
Sixty Seven years ago this month, Mystery Train was released on August 20, 1955.  Elvis was 20 years old....two guitars and a stand-up bass....Elvis played rhythm guitar, Scotty Moore on lead guitar and Bill Black on bass....
As you listen to the original recording it's as if Scotty Moore's guitar sound is actually that train coming round the bend. Listen closely...clickety-clack, clickety-clack....the result is a masterpiece in music history.
After hearing That's All Right and Mystery Train for the first time, Elvis became the sound track to my life throughout my teenage years. So many of the things I did for the first time I did with Elvis in the background.
"Loving You"
Movie Featured #1 Song, "Teddy Bear."

---
Released in 1957, the movie "Loving You" showed Elvis had genuine acting talent with his gritty and emotional portrayal of a simple country boy catapulted to stardom.
Dolores Hart made her film debut in "Loving You". She also appeared in Elvis' fourth movie, "King Creole" (See article below).  The single "Loving You"/ "Teddy Bear" was released and became Elvis' eighth million seller and stayed at No. 1 for seven weeks.

Elvis sings "Teddy Bear" from the 1957 movie, Loving You. Dolores Hart can been seen at the very beginning of this video.

Jailhouse Rock

"Presley's Greatest Moment On Screen."
---
The "Jailhouse Rock" movie and "Loving You" were the only two Elvis Presley movies made in 1957. These two and the 1958 "King Creole" have always been my favorites.
If you ever wondered why Elvis was so popular, watch this movie. He defines cool. Critics often down played Elvis' acting but he is nothing less than superb in this film. It really shows how gifted an actor he really was.
The dance sequence, choreographed by Alex Romero, drew applause from Gene Kelly, who just so happened to be visiting the set, and is often cited as "Presley's greatest moment on screen".
King Creole
Co-Star Left Hollywood To Become A Nun.

---
Elvis Presley starred with many A-list leading ladies during his film career in the 1950s and 1960s, including Ann-Margret, but just one actress has the distinction of starring in not one but two of the first four Elvis movies (Loving You & King Creole) before deciding to leave Hollywood altogether to become a nun — and all before the age of 25.

From the 1958 movie, King Creole, with a very young Delores Hart, who would later become an American Catholic Benedictine nun. Following her 1957 movie debut with Elvis in Loving You, she also appeared with Elvis in King Creole (see clip below photo) and the very popular, Where The Boys Are, with Connie Francis.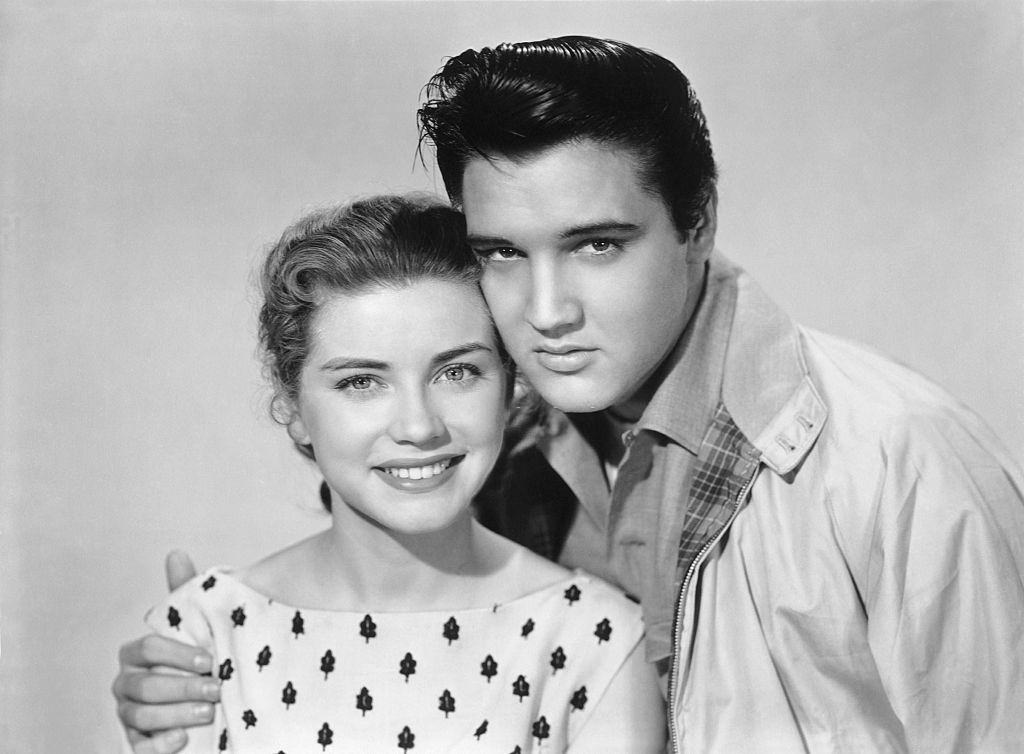 Eventually, however, she realized she had found her calling as a nun and, per the Global Sisters Report, took her final vows in 1970 and went on to be named prioress of Regina Laudis in 2001, where she remains to this day as Mother Dolores Hart. Below is the clip showing Dolores Hart in the movie King Creole.

I'll Remember You
Favorite Live Performance.

---
This Elvis Presley Aloha from Hawaii music concert video below was broadcast live via satellite around the world on January 14, 1973. It is a prime example why his charisma and raw talent can still make any woman "All Shook Up" after all these years.
It remains my very favorite live performance song by Elvis and is the way I will always remember Elvis. Elvis' life came to a tragic end four years after this concert.

James Burton Guitar Memories.
---
James Burton guitar memories looks back at 1968 when he was working with Frank Sinatra, and Elvis called him and wanted him to do an NBC show that would later be know as the '68 Comeback Special.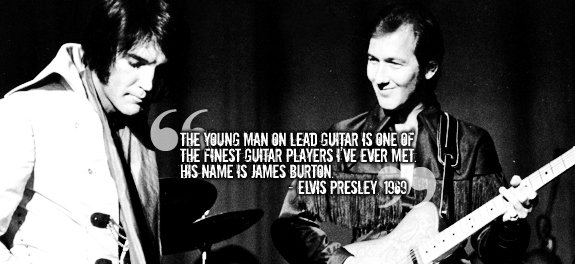 Burton played great music with Elvis but some of his iconic guitar hooks with Rick Nelson and Merle Haggard were just as memorable.
Read about what Elvis thought of James Burton's Pink Paisley guitar.  Watch the interview with Burton and his relationship with Elvis. He would play lead guitar with Elvis from 1969 until Elvis' death in 1977. Watch the videos with James and Elvis at Vinyl Record Memories, James Burton Guitar Memories.

---
What's Next?
More classic album cover art...
July will continue the "Rock'n'Roll Timeline" with special dates from the year 1960.
---