Vinyl Record Lovers Newsletter
---
Welcome to my monthly Newsletter. Thank you for subscribing.

The golden age of vinyl records and all things retro are the highlights of my Newsletter. Writing stories about my vinyl record memories with content from my collection is my way of sharing memories and keeping the oldies alive.

I do appreciate your valuable time reading my newsletter.
Issue #112 - June, 2022
---
In This Issue:
American Bandstand - The Beginning.
Country Doo-Wop Spotlight Song - My Friend Stole My Sweetheart From Me.

Girl Groups....Who Was First?

Betcha Didn't Know - First Teen Idol.

Remember "Tammy" From 1957 - Did The Song Really Beat Out Elvis' Number One?

---
This late newsletter is due to a relocation to a nearby city. Things got kinda jammed up so I did a repeat and minor rewrite of some old articles many of you may not have had the opportunity to visit. I hope you find the articles interesting.
We also had to postpone our Country Doo-wop show interview with our favorite DJ, Ned Ward, but did manage a special Country Doo Wop "Spotlight" song of an oldies favorite played on Ned's Show.
Let's get started...

---
The Original American Bandstand

Is It Really 70 Years Old?
---
I was, as I'm sure many of you were, big fans of American Bandstand.  I started watching it around 1957 when it went national but the show actually began in 1952 as a Philadelphia TV show.

Host Dick Clark once said, "Had we used today's vocabulary in 1952 when Bandstand first went on the air, it would have been labeled a reality show."

Back then real kids danced to their music, dressed in their real fashions. It was an open window on a style of life that was, up until then, a mystery to most people. That open window on the teenage world stayed open for 37 years.

In July, 1956, Dick Clark made his debut as host of Bandstand on Philadelphia TV station WFIL. He took over from Bob Horn, and in 1957 the show's name would be changed to American Bandstand when it went to ABC-TV.

Clark relinquished his hosting duties in 1989 to 26 year-old David Hirsch, but the program died within a matter of months. Still, it had been on the air for 37 years - a record for a television variety show.
Clark died in 2012 of a heart attack after prostate surgery. Known as "The World's Oldest Teenager," Dick Clark was 82.
---
The Country Doo Wop Spotlight Song:

Put A Nickel In The Jukebox & Bring Back Patti Page.
---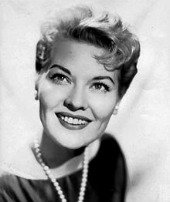 Each time I hear my favorite DJ, Ned Ward, play this classic old standard by Patti Page, I drift back to 1955 and remember when I first heard her singing about a "Doggie in the Window," a #1 hit for Patti Page in 1953.
I was sitting on the floor in front of the TV when The "Patti Page Show" came on and she began singing this song to me.

I know she was singing to me because I was about six inches from that small B&W TV screen and she couldn't possibly see anyone else in that room but me.

As I got older the "Tennessee Waltz" became my favorite song by Patti Page, and for many years was the second-best-selling record of all time (behind only "White Christmas).

She was perhaps the preeminent female crooner of the immediate postwar era. So let's put a nickel in the jukebox and bring back Patti Page as we step back in time with some  great vinyl record memories.

Patti Page died on New Year's Day, 2013, and it made me think of a tribute song recorded in 1978 entitled "Put A Nickel in the Jukebox and Bring Back Patti Page."
You can also listen to this, and many other classic oldies on my favorite radio dial, Ned Ward's, Country Doo Wop Show Monday thru Saturday from 1pm to 3pm, all times Pacific, on KNCP Newberry Mix 107.3 FM.
---
Favorite Girl Groups &
Songs of the '50s & '60s
---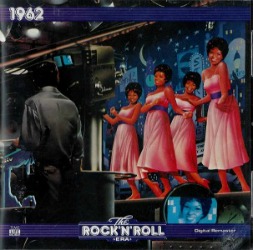 In terms of style, the Chantels' hit "Maybe" was the prototype for much of the girl group era's classic singles--it was full of passionate romantic yearning and sung by a female quartet. Starting in 1958, all-Girl Groups became more visible and started to hit the charts with regularity.

But the girl-group era as we now know it was kicked off in earnest by 1960's "Will You Still Love Me Tomorrow," written by Gerry Goffin and Carol King and recorded by the Shirelles. The subject matter, very daring for its time, dealt with the fear of being used by a man, a classic Girl Group subject.

The Shirelles rejected the song at first, but fortunately, wiser heads prevailed, and the girl group genre as we know it was born. Dressed in pink prom dresses and behive hairdos, three ladies from the present pay tribute to 50s-60s girl-group pop.

Take time to smile a little and watch Carrie Underwood, Kristin Chenoweth, and Christina Applegate in a 60s medley from this 2009 All-Star Special.

The Supremes "You Can't Hurry Love," released in the summer of 1966, could arguably be considered the last hit of the era for the girl groups.

---
Teenage Idol - Who Was The First?

---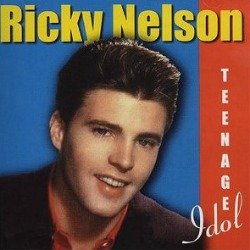 The phrase "Teenage Idol" was first used by Time magazine to describe 16 year old Ricky Nelson in the cover story of their December 1958 issue.

Nelson would release a song called "Teenage Idol" in July of 1962 that would reach number 5 in the U.S.
Whenever Ricky sang on the show, Ozzie noticed that Ricky's record sales soared the next day. That's when Ozzie tried to work the Ricky Nelson songs into the show at the end.

Watch Ricky sing this song on the original Ozzie and Harriet show in glorious black and white and check out his lead guitar player, a very young James Burton.
Ricky Nelson was born Eric Hilliard Nelson in 1940. He died in a private plane crash in Dekalb, Texas on December 31st, 1985 while flying to a New Year's Eve concert.
---
Tammy - Life Was Simple On The Mississippi.
Tammy Tyree (played by Debbie Reynolds) is an uneducated orphan living on a riverboat on the Mississippi with her moonshiner grandpa (Walter Brennan). His portrayal of Grandpa was both warm and funny.

Her life was simple, with simple morals and values.

The song, Tammy, was published in 1957 and debuted in the film Tammy and the Bachelor. It was also the best selling single by a female vocalist in 1957.

The song spent 23 weeks on the Top 40 charts beginning 7/22/57. It was #1 for five weeks replacing Elvis Presley's Teddy Bear on Sept 2, 1957.

Although this may not be considered one of the all time greatest movie songs, after watching this movie, when you think of a young girl in love, you will always see Debbie Reynolds at her windowsill, bathed in moonlight, singing Tammy.

The music and the story were both quite memorable. If you have never seen this family-friendly movie you are in for a treat.

Olivia Newton-John has stated that her performance of "Hopelessly Devoted to You" in the movie Grease is inspired by Debbie Reynolds' performance of "Tammy" in Tammy and the Bachelor.

Sadly, Debbie Reynolds died on December 16, 2016.  She was 84.

---
What's Next?
More classic album cover art...

July will continue the "Rock'n'Roll Timeline" with special dates from the year 1960.
---
Do you have questions, comments or suggestions? 
If you have any favorite vinyl record topics you'd like to see on this site, please click here and enter your information in the contact form. I would love to hear from you.
All the best,
Danny Lee Sandrik
Vinyl Record Memories