Vinyl Record Lovers Newsletter
Welcome to my monthly Newsletter. Thank you for subscribing. 
The golden age of vinyl records and all things retro are the highlights of my Newsletter.

Writing stories based on my vinyl record collection is my way of sharing memories and keeping the oldies alive.
I do appreciate the time you take to read my newsletter.
Issue 053 - July 30, 2017
In This Issue:

What else is new?  Meet The NiteBeat Band

Album Cover Art - This month's featured album.
Retro Feature - Muscle Car Heaven, crica 1964.
Johnny Angel - All that talent on one record.
The Original Country Doo-Wop show.
---
What's New? 
Just returned from vacation. First time in Canada. Saw the Righteous Brothers in concert.  See the "Featured Album" story below with photos. More history on  "The Wrecking Crew" session band and the song "Johnny Angel."
Received some interesting emails from Hot Rod fans, Artie and Tim, Jerry and Paul, asking me to add something music related for the early custom cars and Hot Rods.  
I do have a Guitars & Cars section on the site containing videos with music about the classics I grew up with, but never thought about adding something to the newsletter. Not sure what I was going to do but it was fun to try something different for the retro car fans.
I looked back at the Chevy's and Ford's with their hit songs and friends from long ago with their Dodge and Plymouth cars without any hit songs. I especially remember my classmate, and good friend, Ken Petty, a huge Chrysler fan and owner of a high performance Chrysler collectible.  
Sadly, Ken died a few years back. I added a special retro car article to this month's newsletter with Ken in mind. This one is for you, Ken, and those visitors who originally got this entry started. Enjoy this retro street machine feature in this issue about one of my favorite classics from the 60's. 
---
Meet This Talented Group from Houston, Texas.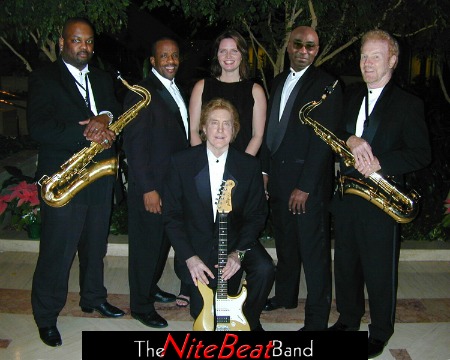 I recently received a nice comment in reference to one of my music pages from Leo O'Neil, a member of The NiteBeat Band from Houston.
When an individual or an artist contacts me and has a website, I take the time to visit their site so I can make additional comments in my reply.

The NiteBeat Band deserved additional comments and more. A remarkabley talented group, I was blown away just by their song list.

The NiteBeat provides its audiences with the best of Top 40, Rhythm & Blues, Country, 50's - 80's music, Mo-Town Classics, Latin Tunes, Broadway Show Tunes, Ballroom and Big Band era music.

The NiteBeat is composed of unique and professional musicians who are not only outstanding and impressive soloists, but who work together, striving for the highest standards of musical performance and rapport with their audience.

Please take time to view their website where you can watch and listen to this talented group perform. If you live in Texas, especially the Houston area, this is the group you need for your next event. They play the music that makes you want to dance.  Check out The NiteBeat Band website.
---
Album Cover Art - Featured Album for July.
The Righteous Brothers Greatest Hits is an original album I have maintained in my collection for fifty years.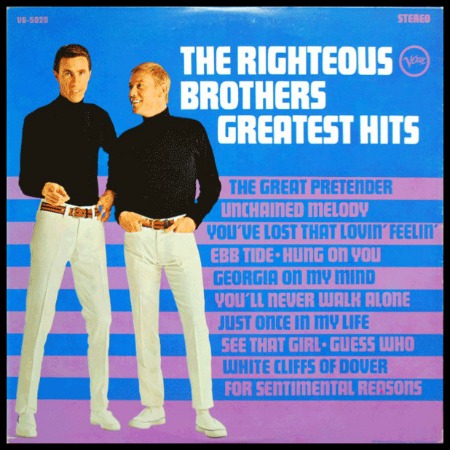 I selected this album for the "Featured Album" of the month entry as I was able, along with my wife Susie, her sister Nelly and her husband Ed, to see the Righteous Brothers live in concert at the Niagara Fallsview Casino in Canada on July 14th, 2017.

The show was amazing and Bill Medley had a new partner. Medley said he was touring as a solo artist but last year, after hearing his long-time friend Bucky Heard perform he admits: "It just dawned on me, "He sounds a lot like Bobby." So I said, "What do you think?"
He also said that singing the same songs after 50 years never gets old. "When I sing Lovin' Feelin' it always feels like I'm singing it for the very first time."  See the (not so perfect) photo below of this live concert with Bill Medley and Bucky Heard.  Medley made a beautiful solo tribute to his original partner, Bobby Hatfield, on the song "Unchained Melody."
The Righteous Brothers were inducted into the Rock & Roll Hall of Fame in March, 2003 by Billy Joel. Bobby Hatfield died 9 months later of heart failure in Kalamazoo, Michigan prior to a concert. 
This is my original First Stereo pressing of this 1967 album. It was on the Verve label and has the blue label with silver print as shown below. The correct number listing V6-5020 on cover and spine; V6/5020 on labels is verified at discogs.com.
Album Credits:
Design [Cover] – Acy R. Lehman*
Engineer [Director] – Val Valentine*
Liner Notes –Magnificent Montague
Photography [Cover Photo] By Ron Joy  
Producer – Bill Medley (tracks: A3, A5, B2, B4, B6),
Phil Spector (tracks: A1, A2, A4, A6, B1, B3, B5)
Click on LP records for larger view of song listings.
---
Bill Medley on the right and Bucky Heard performing at the Fallsview Casino in Canada. The young lady doing backing vocals just over Medley's left shoulder is his daughter.
Medley also made the audience aware that on September 19, 2017 he will turn 77 years old.  His voice sounded the same as when I first heard him sing  some 50 years ago.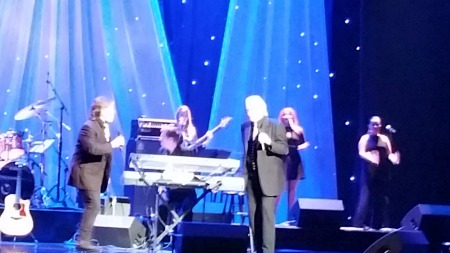 ---
Retro Feature for the Mopar Fans.
In 1962 The Beach Boys released the song "409" about the Super Chevy from GM with the high performance "409" engine.  Remember how it started out?..."She's real fine, my 4-0-9!"
In 1963 The Beach Boys again released a car song titled *"Little Deuce Coupe" referencing the '32 Ford Hot Rod.  
Chrysler Corporation, feeling like a footnote in the song and high performance department, proceeded to release their version of what would later be determined one of the most iconic factory drag race cars ever built.
Even today, over a half century later, it is still hard to believe that this street legal 1964 Plymouth Savoy could rip down the quarter mile in 10 seconds. The SS/A on the rear side window was a class designated Super Stock Automatic. 
A loosely defined "factory production," 10 second quarter mile car with a high powered 426 HEMI engine and no apparent external clue of what they were packin' except a hood scoop.  A classic street sleeper. 
I took the photos below at a Chrysler-Plymouth dealership in Holland, Michigan.  The owner is a car collector and invited Chrysler, Plymouth and Dodge owners to bring their toys to his dealership for a Mopar only car show.
*Don't miss the once-in-a-lifetime 2013 video of Hot Rod Magazines 65th Anniversary at the bottom of the Little Deuce Coupe page. (opens new window)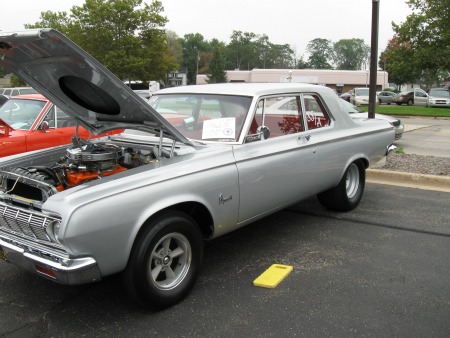 1964 Plymouth Savoy HEMI SS/A
---
When you click on the  photos below they will expand to a larger view.  You will then see four small arrows in the top right corner of the expanded view that will allow you to expand further.  
---
Johnny Angel - Amazing backing talent.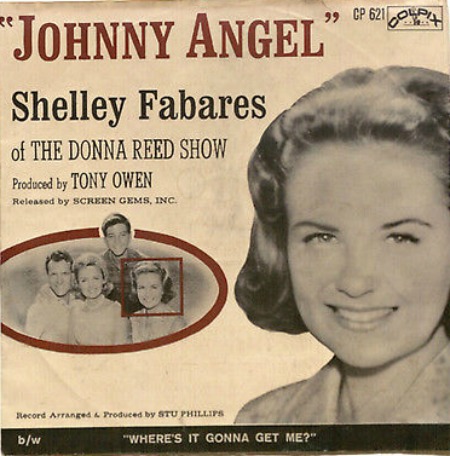 Shelly Fabares co-starred with Elvis Presley in three of his movies. She first gained fame as Mary Stone on "The Donna Reed Show" in the late fifties and early sixties. 
In 1962 she went to #1 on the Billboard Hot 100 with "Johnny Angel." Released on Colpix records, the 45 is worth up to $30.00 but the picture sleeve, as shown here, can get you $1,000.00 today. Source, Money Music.

The Amazing talent behind this 1962 recording.
Darlene Love and her group, The Blossoms, sang backup vocals on the track. Glen Campbell and Carol Kaye played guitar, with Hal Blaine on drums.  These were some of the top West coast session musicians who played on hundreds of hits in the 60's, and were commonly know as "The Wrecking Crew."
You may remember the song "He's a Rebel."  Here's some interesting tid-bits you may not know about the song and who actually recorded the song.
He's a Rebel" is a song credited to the girl group the Crystals (although actually recorded by The Blossoms; that's another story), reaching No. 1 on the Billboard Hot 100 chart in November 1962.
The song He's a Rebel was written by Gene Pitney (He also wrote "Rubber Ball" for Bobby Vee & "Hello Mary Lou" for Ricky Nelson) and produced by Phil Spector, another example of the Spector-produced girl group sound.

Fabares is quoted in "The Billboard Book of Number One Singles" by Fred Bronson as saying she was intimidated by Love's group and their "beautiful" voices.
It is understandable why those amazing session players appeared on so many hits back in the day.  They were the best on their individual instruments and even better playing as a group. 
---
What's Next?
If the classic  car retro entry from this months newsletter is received well, I will do an entry on my very own personal collection of my four favorite Chevy's, the '55, '56, '57 and '58.  I enjoy all the popular Chevrolet models, but these four have always been my favorite since buying my first '57 in 1962. 
I caught up with Wayne Bullock, Lonnie Mack's bass and keyboard player. Wayne and I were in the same senior class in Hamilton, Ohio in 1962. He began playing with Lonnie Mack (Memphis '63 fame) when he was only 17. 
Wayne was kind enough to  invite me to come to Indiana to share some old memories of his time playing with Mack.  I'm working on it.  Stay tuned....
The Original
Country Doo-Wop Show!
---
Listen to my favorite Country Doo-Wop show Monday thru Saturday from  1pm to 3pm, all times Pacific.

DJ Ned Ward turns music into memories playing yesterday's Country Favorites and the Classic Hits of the 50's and 60's Doo Wop style on the new and exciting KNCP Newberry Mix 107.3 FM.
You won't be disappointed.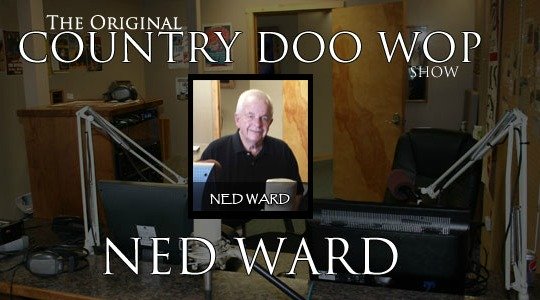 ---
Do you have questions, comments or suggestions? 
If you have any favorite vinyl record topics you'd like to see on this site, please click here and enter your information in the contact form. I would love to hear from you.
All the best,
Danny Lee Sandrik
Vinyl Record Memories

---
Top of Page