Vinyl Record Lovers Newsletter
---
Welcome to my monthly Newsletter. Thank you for subscribing. 
The golden age of vinyl records and all things retro are the highlights of my Newsletter.

Writing stories based on my vinyl record collection is my way of sharing memories and keeping the oldies alive.
I do appreciate the time you take to read my newsletter.
Issue #072 - February 27, 2019.
---
In This Issue:
Jukebox Memories - A Saturday Trip Down Memory Lane.

The 70s Series, Part 5 - Songs and Events from the year 1973.

Famous Kissing Sailor has died.
February, 1959 - The Day The Music Died.

Historical February Dates to Remember.

Happy Birthdays - Remembering A Rockabilly Icon & Two Legends born on same date.
Album Cover Art of The Month - More Stray Cats.
---
What's New?
Join in the fun with my friend, DJ Ned Ward as he begins his new program on Doo-wop radio starting March, 2nd from 4-6pm. 
=======================================
The seventies continues with The Year 1973 -  A "Love Train" and a "Midnight Train" meet on the "Dark Side of The Moon," a '50s movie craze that will last for most of the '70s, and who else but Elvis could generate over a Billion viewers for a live concert.
======================================
Back in October, 2016 I made an entry and photo about a sailor shown kissing a nurse in Times Square celebrating the end of World War II. The mention was made because the woman had died the previous month on September 8, 2016. This month the sailor from that moment has also died.
=======================================
February 3rd will mark 60 years since that fatal plane crash that took the lives of three famous rock-n-roll entertainers.  The event became known as "The Day the Music Died" from a song titled "American Pie."
=======================================
Additional February dates to remember.  What do a board game, an Astronaut, the Tootsie Roll and the U.S. Marines all have in common? 
=======================================
Happy Birthday to one of the coolest rockabilly cats on the planet. Gene Vincent was considered by many to be Rockabilly's greatest vocalist and provided one of the most impressive stage shows in the early years of rock.  Who was this girl,  "Be-Bop-A-Lula"?
=======================================
February 26th -  Happy Birthday to these two music legends born on the same date in February. Both are gone but two live videos will bring back some special memories of these two talented individuals. 
=======================================
Album Cover Art of The Month screams the 50s. The Stray Cats have returned for their second album cover and one of my collection favorites.   
=======================================

Let's get started....

---
Ned Ward's Jukebox Memories.

My Doo-wop buddy, Ned Ward has been playing oldies but goodies and the doo wop hits of the 50s and 60s on FM radio since 2005. Now join Ned with a trip down memory lane each Saturday from 4-6 pm ET on Jukebox Memories. (opens in new window)

Ned will be your DJ host and play the songs you can sing along with and the music that YOU remember. Ned is also working on his original Country Doo-Wop show so stay tuned for more updates.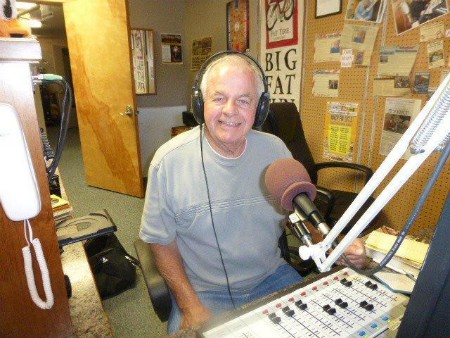 ---
The 70s, Part 5 - The Year 1973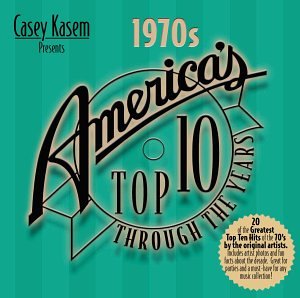 The '70s decade continues with some notable sounds and events from the year 1973.

Remember that famous line and movie, Where were you in 62?
American Graffiti opens, sparking a '50s nostalgia craze that recaptures the sights and sounds of the 1960s like few films before or since and will last for most of the '70s. Pink Floyd's "Dark Side of The Moon," recorded at London's Abbey Road Studios, topped the US album chart for one week and remained on the charts for 741 weeks between 1973-1988. 
The Elvis Presley Aloha from Hawaii music concert was broadcast live via satellite around the world on January 14, 1973 and was seen by over one and a half billion viewers worldwide and remains the most watched broadcast by an individual entertainer in television history.
1973 - Top Songs
"Love Train"

by the O'Jays (pop #1, R&B #1) The O'Jays landed their  biggest hit with the exuberant "Love Train," which topped the charts and voted one of five best singles of the year. How could you not love the Silver Bullet Train and the  "Coors Lite Beer" song?
"Midnight Train To Georgia" - Gladys Knight & The Pips (Pop #1, R&B #1) The song topped the charts and won a Grammy. The poignant tale of a man who is down on his luck was written and first recorded by Jim Weatherly as "Midnight Train To Houston," but Cissy Houston recorded it as "Midnight Train to Georgia" in 1972. Kinda full circle for great song lyrics. 



"Tie A Yellow Ribbon Round The Ole Oak Tree" -

Tony Orlando & Dawn (pop #1) Song was the #1 single of 1973 but could as easily have been a hit in 1963 or 1953 or 1943. Based on a true story, the song is unabashedly sentimental, down to the corny but endearing happy ending. The song has since taken on added dimension as an anthem for homecomings. The yellow ribbon has become an enduring national symbol of hope and steadfastness in times of separation and adversity.





1973 Events to remember.

On this day in 1973, Secretariat (1970-1989) wins the Belmont Stakes by 31 lengths to become the first Triple Crown winner since Citation in 1948. The jockey, Ron Turcotte, claimed he lost control of Secretariat and that the horse sprinted into history on his own accord. (06/09/1973)
Helen Reddy wins a Grammy for "I Am Woman" and thanks God, "because She makes everything possible." (03/03/1973)
"Steve Austin, a man barely alive...We can rebuild him, we have the technology." - from the opening narration of The Six Million Dollar Man. (1973-78)

---
Kissing Couple
The Sailor & Nurse Have Both Died.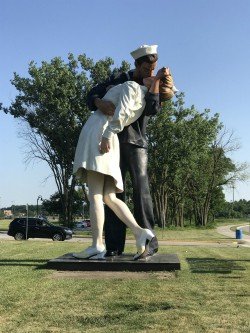 One of the most famous photos of World War II is probably the picture of an American sailor kissing a nurse in Times Square in New York City, when people were celebrating Japan's surrender.

I captured this photo in 2018 while in Crown Point, Indiana for my grandson's baseball tournament.  The ecstatic sailor shown kissing the woman and celebrating the event died on February 17, 2019 at the assisted living facility in Middeltown, Rhode Island, where he lived with his wife of 70 years.  George Mendonsa was 95.

The woman, identified as Greta Zimmer Friedman, died on Sept. 8, 2016 at age 92. She was 21 and George was 22  at the time of that famous kiss. 
The sailor mistook Friedman's dental assistant uniform for that of a nurse. He later explained that he hugged and kissed the girl because of his overwhelming gratitude for the work nurses had performed while he was in combat in the Navy, because of his elation over the war ending and because he had had a few drinks.  You can read my original story in the October, 2016 issue. (opens in new window)

---
February 3, 1959 - The Day The Music Died.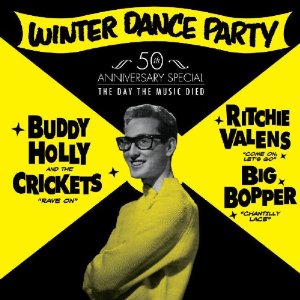 On February 3rd, 1959, at the Surf Ballroom in Clear Lake, Iowa, Buddy Holly, Ritchie Valens, and the Big Bopper played their final show. Admission was $1.25.
The last song of the night was the Big Bopper's "Chantilly Lace." Sadly, it would be their last show.

The event later became known as "The Day the Music Died", after singer-songwriter Don McLean referred to it as such in his 1971 song "American Pie".

---
Historical Events by Day For The Month of February :

06. - The board game Monopoly first went on sale.(1935)
06. - Astronaut Alan Shepard hits three golf balls on the moon. (1971)
07. - The Beatles come to the U.S. for the fist time. (1964)
19. - First time prize is inserted into a Crackerjacks box (1913)
20. - John Glenn is the first U.S. astronaut to orbit the earth.(1962)
23. -  The Tootsie Roll rolls into stores in America. (1896)
23. -  U.S. Marines raise the America flag in Iwo Jima (1945)
29. -  Yellowstone becomes the first National Park (1872)

---
Happy Birthday, Gene Vincent - February 11th.
A Rockabilly Icon With A Sad Ending.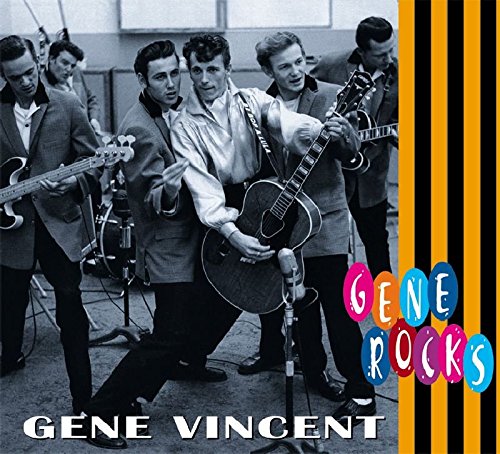 Born February 11, 1935, Gene Vincent and his backing band the Blue Caps, was a major influence on rockabilly and its descendants. These boys were way ahead of the curve. Drums and electric bass; long hair, screaming-serious talent.

Recorded in Nashville on May 4th, 1956, "Woman Love" was actually the a-side to Be-Bob-a-Lula. "Suggestive" lyrics caused DJs to flip it over, not realizing they were now promoting a song originally written about a stripper in Portsmouth, VA.

Gene Vincent was a lot more than Be-Bop-A-Lula. His music was unforgettable and widely collected today. By the late Sixties, Gene had fallen victim to changing times, financial mismanagement, and his own worsening addiction to alcohol. In October 1971, a sick Vincent went on a three-day bender that ruptured existing stomach ulcers and he died soon after. He was 36.

---
Happy Birthday - February 26th
Two Music Legends Born on Same Date

A nice treat to celebrate the birthdays of these two music Icons. Watch this video of Ricky Nelson and Fats Domino in a rare performance together singing their original cover song, I'm Walkin'."  This concert was taped in August 1985, just four months before Ricky Nelson's death...Watch it here. (opens in new window)

Then take a trip with the Highwaymen and watch Johnny Cash introduce and sing his famous "Folsom Prison Blues." (opens in new window)

---
---
Album Cover Art of The Month.
Stray Cats "Rant-N'-Rave"

This is the second Album Cover Art from The Stray Cats. Last month I displayed their first, and most successful album release in the US, Stray Cats, Built for Speed.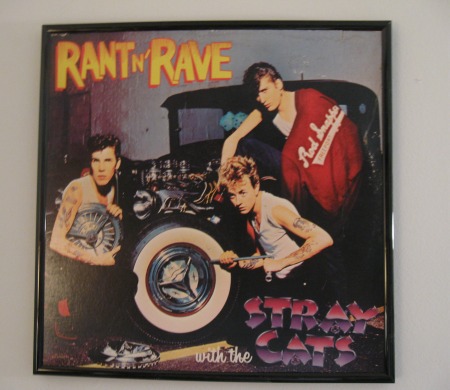 This "Rant N' Rave" Album Cover Art  "screams the 50s." It was the third studio album for the American rockabilly group, "Stray Cats." The album was released in August, 1983 and produced a Billboard Hot 100 top 5 song with "(She's) Sexy + 17."

The band was heavily influenced by three of my favorite rockabilly stars, Carl Perkins, Eddie Cochran and Gene Vincent. Brian Setzer sings lead vocals and plays guitar. Lee Rocker plays bass and sings vocals while Slim Jim Phantom does the drum work.

---
What's Next?
The Year 1974 - The words to "You're No Good" seemed  suitable for a famous "Kidnapping" and while Geraldine screamed "The Devil Made Me Do It"  a song about a "Streaker" managed to "Rock The Boat" at the Academy Awards.  Stay tuned...

---
Do you have questions, comments or suggestions? 
If you have any favorite vinyl record topics you'd like to see on this site, please click here and enter your information in the contact form. I would love to hear from you.
All the best,
Danny Lee Sandrik
Vinyl Record Memories