Vinyl Record Lovers Newsletter

Welcome to my monthly Newsletter. Thank you for subscribing. 
The golden age of vinyl records and all things retro are the highlights of my Newsletter.

Writing stories based on my vinyl record collection is my way of sharing memories and keeping the oldies alive.
I do appreciate the time you take to read my newsletter.
Issue #060 - February, 2018.
---
In This Issue:
Framed Album Art - What would you display?
Upscale Your Man Cave - Album Art Of The Month.

DJ Ned Ward & The Country Doo-wop Show.
---
What's New?
The Mel Tillis page and song, " Send Me Down To Tucson" is completed and online.  It's an all time classic country cheating song that finds the singer having a torrid affair with a lover in another city and state. Another Mel Tillis favorite, "What Did I Promise Her Last Night," will be released later.

---
A few months back, John, a Moe Bandy country music fan and subscriber asked me what type of albums I would recommend he place on his man cave walls. I gave him my suggestions based on his man cave theme but in turn he gave me an idea for this months Newsletter.

Albums from my collection (with a Moe Bandy theme) will be added for this months "Album Art of the Month" entry with titles and partial lyrics included.   This Album was displayed in the June 2017 article but not under the "Man Cave" theme. 

I'll blend the albums with continued content from one album to the next to create an entertainment flow of a night on the town with Moe Bandy and his friends. I couldn't leave out the ladies so I've  added a few special album covers with a different take on some titles and song reference.

Some content displayed on the album cover entries are written based on information printed on the backs of the album covers. Another reason vinyl records remain popular as collectibles.
==========================================
The man cave is specifically reserved for a male person to  involve himself in certain hobbies or activities without interruption. This area is usually decorated by the male that uses it without interference from any female influence.
If clothes make the man, framed album cover art makes the man cave. Displaying album covers as art on your walls can make for a wonderful wall display that reflects your unique style. It's something unique and creative that is a great ice-breaker, starting conversations about music, art, and all things retro.
 
The options for using vinyl record covers as wall art are endless. Since record album covers are all uniform squares it is easy to arrange them in patterns which can create a variety of looks for your man cave walls. You are limited only by your imagination.

No man cave is complete without food and drink, and the perfect spot to indulge is the bar. Add a small refrigerator and microwave for brews and munchies. This makes you more self-sufficient during your stay in the man cave.

---
Upscale Your Man Cave
With Personalized Album Cover Art.


---
Welcome To Moe Bandy's Honky-tonk.
Let's start with a trip down to Moe's Place and enjoy a few rounds with friends. This is great album cover artwork by Gene Wilkes, creating a really nice picture of a classic honky-tonk on the cover of this 1978 album and perfect album art display for your man cave.
The Album titled "Soft Lights and Hard Country Music" features a jukebox favorite "That's What Makes The Jukebox Play" with backing vocals by The Jordanaires starting off with this verse.
"I just spent my last nickel
trying to drive my tears away.
Trying to mend a broken heart
that you once led astray."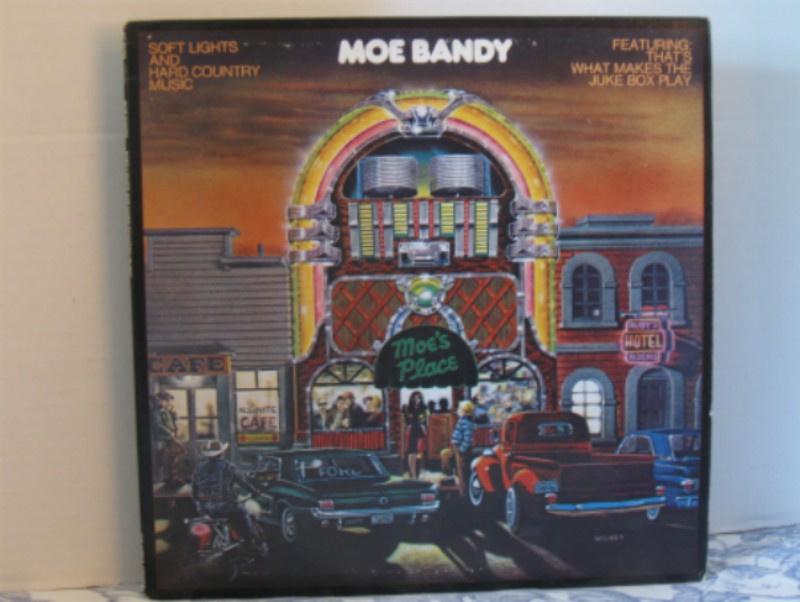 ---
Moe Says..."Love is What Life is All About".
Enter Moe's Place and you're greeted with a friendly toast from Moe Bandy himself right on the cover of his 1978 album "Love is What Life is All About." 
When you wake up the next morning you just might be singing the third cut from side one titled "I Guess I Had A Real Good Time Last Night."

Background voices by The Jordanaires and The Nashville Edition, Charlie McCoy on Harmonica and Photography by J. Clark Thomas. Place this album where Moe can welcome your friends and offer them a friendly first round.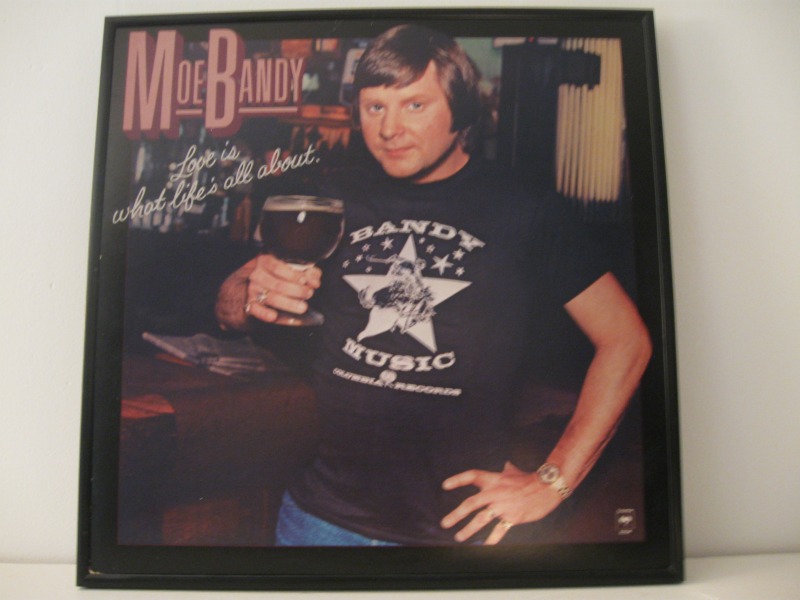 ---
Merle Haggard Album Art - 190 Proof
Moe takes you over to the bar and introduces to his friend, Merle Haggard. Merle offers you a drink from his personalized high octane bottle of 190 Proof with his name and photo printed on the bottle, design & cover photography by Lloyd Ziff. 

The Merle Haggard 190 proof album is from 1979 and reminds me of "Misery and Gin," a favorite of mine by Merle.

Misery and Gin was the first single off the album "Back to the Barrooms" and would have been an excellent choice for this album. The lyrics and the lonely woman at the end of the bar would also make a perfect fit for this album.  You be the judge with a few lines from "Misery & Gin."

Looking at the world through the bottom of a glass
All I see is a man who's fadin' fast.
Tonight I need that woman again
What I'd give for my baby to just walk in
Sit down beside me and say, "It's alright"
"Take me home and make sweet love to me tonight."
Whew!!!

After listening to that verse I went for another cold one, put on my headphones and added a couple of notches to the volume control. Read the Misery and Gin page and listen to one of the best bar room songs ever recorded. (opens in new window)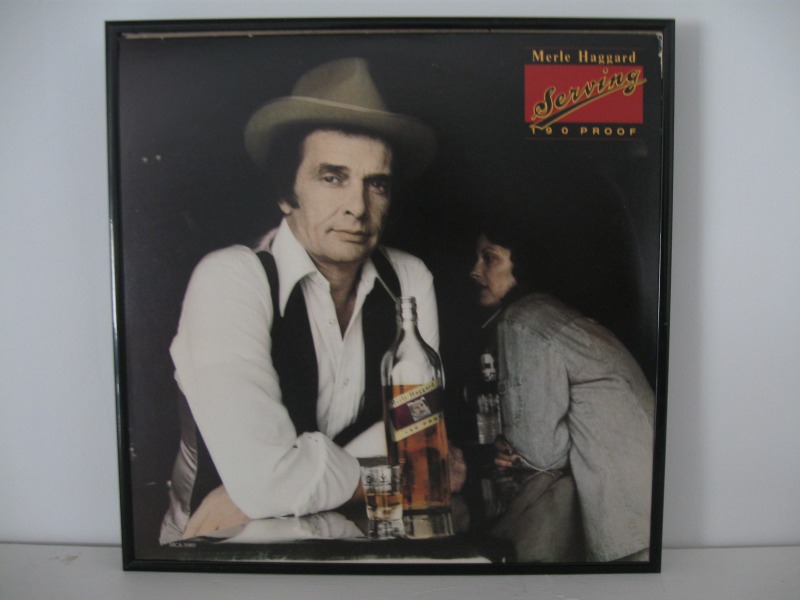 ---
Just Good Ol' Boys - "Tell Ole I Ain't Here He Better Get On Home."

As Moe's Place is winding down for the night Bandy's buddy, Joe Stampley, stops by for a few drinks.  They decide to take advantage of the last song on side two of the album, "Thank Goodness It's Friday," and hit the bars for a little Friday night entertainment. 
Everybody on the strip knows Moe and Joe, but when the wife calls and the bartender says "He ain't here" the sarcastic return answer is a firm voice repeating the title to  track 3, side one of this 1979 album;  Well then Mr. Bartender, you can....

"Tell Ole I Ain't Here, He Better Get On Home."
Another great choice to hang on the wall behind your Man Cave bar.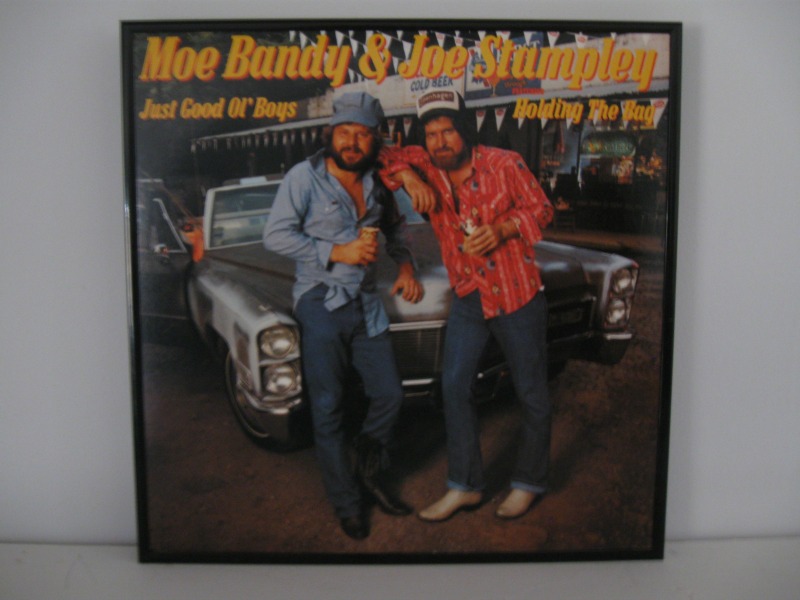 ---
A Few of My Favorite Ladies on Vinyl.
While a wife may have substantial authority over a whole house in terms of design and decoration, she generally has no say about what gets "mounted on the walls" of a man's personal space.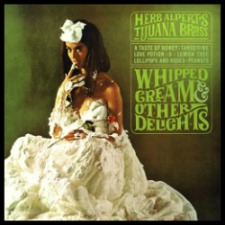 For an entire generation of young record store browsers, puberty kicked off immediately upon first sight of this 1965 Herb Alpert "Whipped Cream and Other Delights" packaging.
Music and art go hand in hand and the best way to get a potential buyers' attention is with an eye-catching album cover. You may not be able to judge an album by its cover, but you can certainly appreciate the view.

The wife may not have control or a say about your man cave but after viewing some of your "Ladies on Vinyl" she may nail a sign to the door indicating...You Must be 18 and over to enter this Man Cave!
---
Did The Lady Paint A Self-Portrait?
Bobby Gentry is the author and singer on the 1967 hit song "Ode to Billie Joe." She was once a DJ on Armed Forces Radio before placing her mark on the music world. It's widely believed that Bobby Gentry painted the portraits used as the covers for her albums Fancy (shown below) and Patchwork.
Painting a self-portrait would have its advantages. You get to be your own model, you're always available and guaranteed not to complain.
It is obvious that Bobby Gentry is an extraordinary breed of "Fancy"....one aptly defined by dictionaries as "of superfine quality or exceptional appeal."
Her head is at a delicate tilt, she has a slight trace of smile, and if the lighting is just right in your "Man Cave," her eyes may twinkle as she looks back at you.  

The Bobbie Gentry album "Fancy" is dated 1970.  The art work and the song  "He made a woman out of me" was reason enough to purchase this album without first listening to what was inside.   A wonderful display for your "Man Cave."

Onstage, before performing "Ode to Billie Joe," she'd explain that the song was authentic because she did indeed grow up dirt-poor on her grandparents' farm near the Tallahatchie Bridge in Chickasaw County, Mississippi.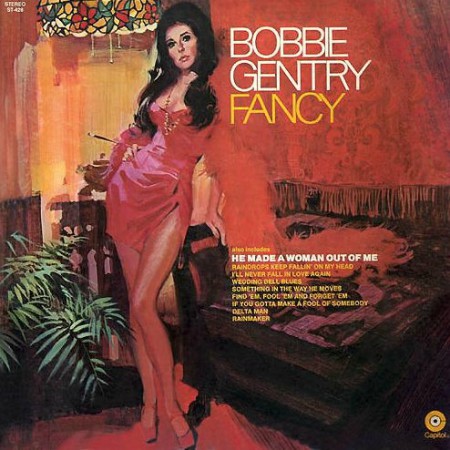 ---
Dolly Parton - Heartbreaker - Boy, I'll Say!
This 1978 Gatefold album opens to a beautiful full length photo of Dolly Parton in the pretty pink dress shown here on the cover.
The album was Co-produced by Dolly and the Photography, along with three other Parton albums, is credited to Ed Caraeff.

As you stare at this album its easy to view Dolly  a real "Heartbreaker" as she sings the last track on side 2 titled "I Wanna Fall in Love," and you just know that ain't gonna happen.  And, why not? Because at my age I'd probably respond by playing side one, track 2, titled...."It's Tool Late To Love Me Now." (wink, wink)
Petite, curvaceous and sporting her trademark platinum tresses, this album cover will leave you in awe as you search for that special place on your Man Cave wall to view this beautiful Album Cover.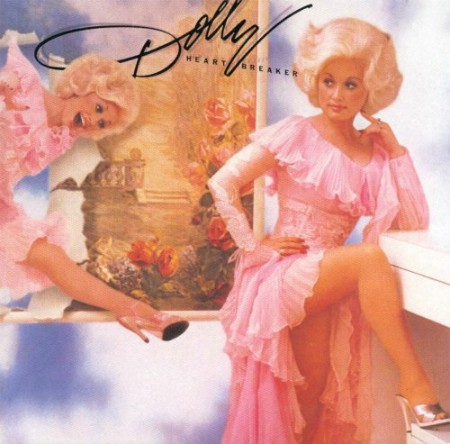 ---
This Album Title Boasts Real Man Cave Goals.
This 1977 Gatefold album was Dolly's 19th solo studio album but more importantly her first "crossover" success with the title song "Here You Come Again," which scored #3 on the pop singles chart during the early months of 1978.
The album was Dolly's first to be certified platinum and both the album and title song scored #1 on the country music charts.

Placed at eye level on your Man Cave wall the title song, "Here You Come Again," could, after a few rounds, draw up some interesting conversation from your buddies. Upon listening to the album, the boys may conclude that track 4, side B, "As Soon As I Touched Him" might soon lead to the title song:-)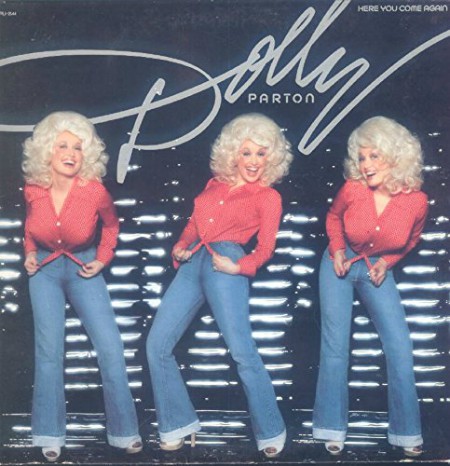 ---
And with this outfit...Tanya turned Boys to Men!
This Tayna Tucker 1978 TNT Gatefold album was her second-highest ranked ever on the Billboard Country charts at #2.

She covers well-known rock songs originally performed by such artists as Buddy Holly ("Not Fade Away"), Elvis Presley ("Heartbreak Hotel"), and Chuck Berry ("Brown Eyed Handsome Man") but the album artwork is what drew attention to this record.

A critical 2008 record review revealed the main controversy surrounding TNT was the album artwork and the sex-driven marketing campaign undertaken by her management and record company. Understand this was around fifteen years before Shania Twain arrived in Nashville.

This cover photo of the 20-year-old Tucker wearing black leather pants with a microphone cord pulled up between her legs was considered outrageous, and the photo on the inside foldout, depicting her in a backless red spandex body stocking was even more so.
There are album frames that will display a Gatefold album and this lady in high-heels and red tight-fitting outfit would no doubt be the topic of conversation in your Man Cave!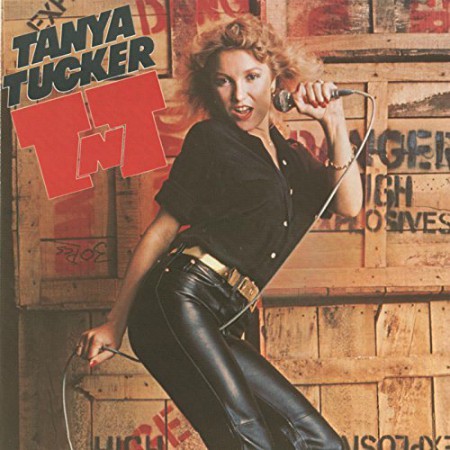 ---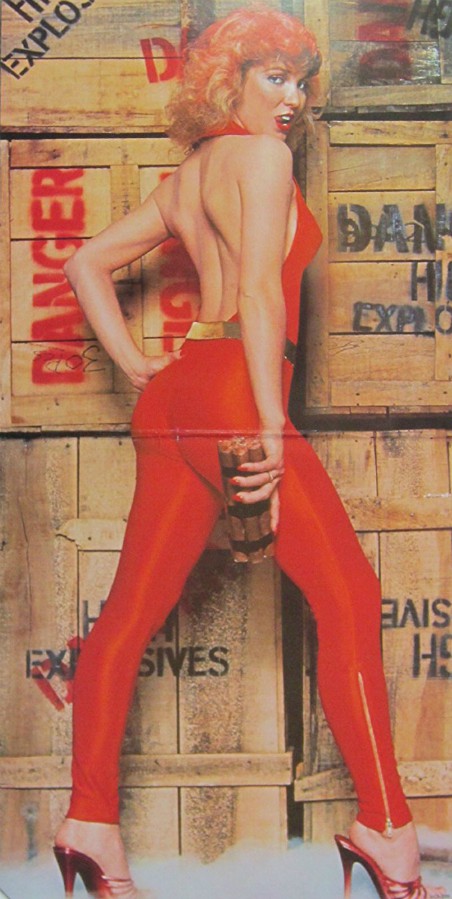 ---
What's Next?
Saxophonist King Curtis released Soul Serenade in 1964. Checking history with known sources like Discogs and Wikipedia I failed to find the best version of this song, released originally by Curtis as an instrumental.
I'll let you in on what many will tell you is the best instrumental version released by a Cincinnati based blue-eyed soul group known as Beau Dollar and the Coins.  Stay tuned....

---
The Original
Country Doo-Wop Show!
---
Listen to my favorite Country Doo-Wop show Monday thru Saturday from  1pm to 3pm, all times Pacific.

DJ Ned Ward turns music into memories playing yesterday's Country Favorites and the Classic Hits of the 50's and 60's Doo Wop style on the new and exciting KNCP Newberry Mix 107.3 FM.
You won't be disappointed.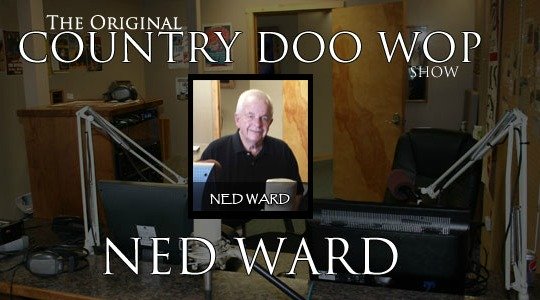 ---
Do you have questions, comments or suggestions? 
If you have any favorite vinyl record topics you'd like to see on this site, please click here and enter your information in the contact form. I would love to hear from you.
All the best,
Danny Lee Sandrik
Vinyl Record Memories

---