Jimmy DeanVinyl Memories

The Story of "Big Bad John."
---
The Jimmy Dean Vinyl Memories looks back on 1961 and the song written by Dean that carries a distinctive sound that was used in place of the original piano arrangement.
Jimmy Dean remains one of the most innovative and successful country stars of the Sixties.

For pioneering crossover country, nothing beats Jimmy's hits like "Big Bad John," "PT 109," and "Little Black Book."

After a chart drought lasting four years, he returned with a bang in late 1961 with the smash vinyl classic, "Big Bad John" that soared to # 1 Adult Contemporary, where it stayed for ten weeks, # 1 Billboard Pop Hot 100 for five weeks, and # 1 Country for two weeks.

"Big Bad John" also won the 1962 Grammy Award for Best Country and Western Recording.

---
The Jimmy Dean Vinyl Memories
Paints A Vivid Picture of The Story.
---
For anyone that loves the old "story" type songs, there is none better than this  Jimmy Dean vinyl memories classic.

He paints such a vivid picture in "Big Bad John", that you can almost taste the soot and smoke  from the bottom of that coal mine.
Dean leans into the lyrics as though he were actually down there in the mine holding up the sagging timbers.

The song was inspired by the Actor John Minto, who was 6'5". Jimmy Dean met him in the Destry Rides Again Summer Stock Play, and referred to as "Big John."
---
The Man Behind The Unique and Distinctive Sound.
---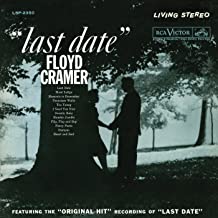 Floyd Cramer of "Last Date" fame was hired to play the piano on the recording, but wound up hitting a chunk of steel with a hammer instead. It was Floyd's idea to make the switch.
   
With Cramer supplying the idea for using a hammer and piece of steel instead of the piano, "Big Bad John" carries a unique and distinctive sound that helped make this Jimmy Dean vinyl memories classic a hit.

And lets not over look that sound included The Jordanaires doing the "Big Bad John" background vocals.  

Cramer was also the piano player on Elvis' "Heartbreak Hotel" and could be heard on many Patsy Cline songs, including that classic Jukebox favorite "Crazy."

---
Why Two Different Endings To The Song?
---
There are two different versions of the inscription on the marble stand in front of the mine.

The original, "At the bottom of this mine lies one hell of a man---Big John", was deemed too controversial.

It was changed and the version that was most often heard on the radio, one could hear "At the bottom of this mine lies a big, big man---Big John" instead.

However, a verse earlier in the song, "Through the smoke and the dust of this man-made hell ..." remains intact in both versions, with no apparent controversy.

---
Jimmy Dean's Side Job.
---
Jimmy Dean's other claim to fame was his brand of sausages and his Jimmy Dean Sausage Company he co-founded with his brother Don in 1969, which later became a part of the Hillshire Brands products.  Against my doctor's advise I still enjoy my Jimmy Dean sausage :-) 
 
Jimmy Dean was inducted into the Country Music Hall of Fame in October, 2010. 

Born August 10, 1928 in Olton, Texas, Jimmy passed away at the age of 81, on June 13, 2010, at his home in Varina, Virginia. He was survived by his second wife Donna.

He was entombed in a 9-foot-tall piano-shaped mausoleum overlooking the James River on the grounds of his estate.

His epitaph reads "Here Lies One Hell of a Man", which is a quote from a lyric from his uncensored version of the song "Big Bad John".

Please enjoy our Jimmy Dean vinyl memories, lyris, and video and continue reading below. 
This "Big Bad John" song is another example of how reconnecting with old friends can kick start memories and give me ideas about certain songs from the past.  

---
"Big Bad John"
Lyrics by Jimmy Dean
Recorded August 1961
Released September 1961


Every morning at the mine you could see him arrive
He stood six foot six and weighed two forty five
Kinda broad at the shoulder and narrow at the hip
And everybody knew ya didn't give no lip to Big John.

Nobody seemed to know where John called home
He just drifted into town and stayed all alone
He didn't say much, kinda quiet and shy
And if you spoke at all, you just said "Hi" to Big John.

Somebody said he came from New Orleans
Where he got in a fight over a Cajun Queen
And a crashin' blow from a huge right hand
Sent a Lousiana fella to the Promised Land - Big John

Then came the day at the bottom of the mine
When a timber cracked and men started cryin'
Miners were prayin' and hearts beat fast
Everybody thought that they'd breathed their last-'cept John

Through the dust and the smoke of this man-made hell
Walked a giant of a man that the miners knew well
Grabbed a saggin' timber, gave out with a groan
And like a giant oak tree he just stood there alone - Big John

With all of his strength he gave a mighty shove
Then a miner yelled out "There's a light up above!"
And twenty men scrambled from a would-be grave
Now there's only one left down there to save - Big John

With jacks and timbers they started back down
Then came that rumble way down in the ground
And then smoke and gas belched out of that mine
Everybody knew it was the end of the line for Big John

Now they never reopened that worthless pit
They just placed a marble stand in front of it
These few words are written on that stand
At the bottem of this mine lies a big, big man - Big John
Big John
Big Jooooooohn
Big Bad John

---
My "Big Bad John" Special Memories.
Whenever I hear this great old song I stop for a moment and drift back to September 1961, the beginning of our senior year and recall many of my old high school buddies. One of those old friends, Johnny (Old JW as he is know today) loved this song, as I did.

Who would have know when we graduated in June, 1962, the following year would be the last time I would see or hear from my old friend for more than fifty years.

Several years back two old high school buddies connected via phone and have kept in touch every since.

When I mention something that happened over fifty years ago at old GWJHS or at Garfield Senior High, it's nice to get a response from someone who also remembers those special times growing up in Southern Ohio. 

At least for now we both remember :-)  

Memories sometimes fade but never disappear when you have friends to keep you on track with fond memories from the past.  Many of you may have friends from your old neighborhood you may have lost track and have not seen or heard from for years. 

I can tell you from experience, if you reconnect with old friends, it will warm your heart and make the later years in life a lot more fun.              

---
Return to golden oldies main page.