Love Me With All Your Heart Lyrics

Based on Spanish language love song
"Cuando Calienta El Sol"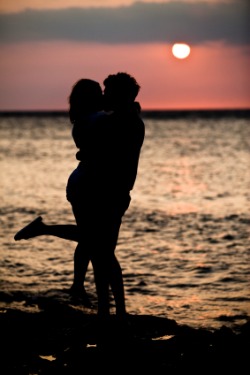 Love Me with All Your Heart lyrics is a popular love song based on the Spanish language song "Cuando calienta el sol".
A cover recorded by The Ray Charles Singers went to number three on the Billboard Hot 100 and spent four weeks at number one on the Pop-Standard singles chart in June 1964.
The song was originally written in the fifties by Rafael Gaston Perez but the English lyrics are sometimes credited to three different song writers and published in 1961.
This music reminds one of the fantastic Anita Kerr singers, who also backed Patsy Cline in some of her early recordings.

Just creamy harmony and seamless pleasure returns you to the days when easy listening was called "dinner music," and Charles and his group always seemed sterophonically perfect.

The other Ray Charles.

He is not the famous Ray Charles, but someone else. You may have heard his voice or read his name credit before; he'd been a Emmy-winning, TV music arranger for five decades, doing everything from Perry Como's last radio and first TV shows to singing the "Three's Company" theme.

The only other music in the "Ray Charles Singers" class would be Percy Faith and his orchestra. Remember Moon River? It would not be hard to call both these artists the very best ever. 

Love Me with All Your Heart lyrics - Which version is more romantic? You decide.
You need to understand the true translation of this song. The English version is "Love Me with All of Your Heart" but the Spanish version, according to some, is much more romantic and eternal.
Opinions vary but I do think the English version is a very well written love song. End result...I enjoy them both very much.
However, if you do not understand Spanish then listen to this most popular English version of the song as I have also provided the lyrics for you to enjoy this wonderful love song.
---
Love Me with All Your Heart
The Ray Charles Singers (1964)
Love me with all your heart..That's all I want dear
Love me with all your heart...Or not at all
Just promise me this...That you'll give me..all your kisses

Every Winter...every Summer...every Fall

When we are far apart...Or when you're near me
Love me with all your heart...As I love you
Don't give me your love..For a moment..or an hour
Love me always...as you loved me..From the start

With every beat of your heart
When we are far apart...or when your near me
Love me with all your heart...As I love you
Don't give me your love...For a moment...or an hour
Love me always...as you loved me...From the start

With every beat of your heart...With every beat of your heart

With every beat of your heart
---

The late Andrew Gold with two of my Favorites

Return to Home Page from this Love Me with All Your Heart Lyrics page