Hi,
Vinyl Record Lovers brings you the latest additions to one man's passion and experiences from "collecting vinyl records."
If you like this e-zine , please do a friend and me a big favor and "pay it forward."
If a friend did forward this to you and if you like what you read, please subscribe by visiting...
Vinyl Record Newsletter
Issue #028a, April 30th, 2014
---
Welcome to my Vinyl Record Lovers Newsletter and thank you for subscribing. I do appreciate the time you take to read my newsletter.
In this issue:
---Retro Rooms and vinyl record art.

---Favorite Patsy Cline songs.

---Happy birthday to the 45rpm record.

---March dates in history - A trip down memory lane.

---Betcha didn't Know.

---What's next for all-about-vinylrecords
---
What's New?
Received an email from a gentleman named Beal Pickett. He said he had some interesting stories about his friend Harold Jenkins (Conway Twitty).

I called Mr. Pickett and learned some interesting facts about the two brothers that grew up with Conway Twitty.

I updated my Conway Twitty page and got the lowdown on how Harold Jenkins became Conway Twitty. You can read my story here.
Framed album covers as art.
For collectors, album cover art can sometimes be as valuable as the vinyl record it holds.

Displaying album covers as art on your walls can make for a wonderful wall display that reflects your unique style.

Even more so, because you can periodically swap out the LP covers to suit your mood. Here is a nice touch displaying a guitar along with the vinyl record art.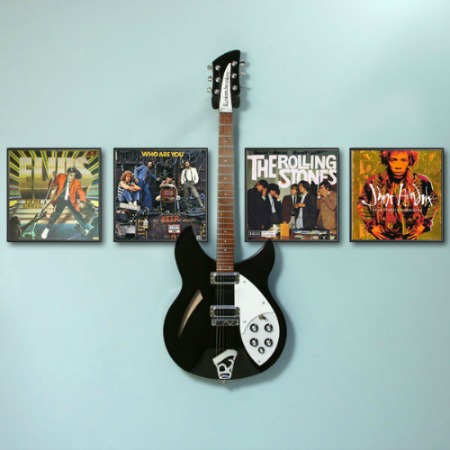 Vinyl record framed art is something unique and creative that is a great ice-breaker, starting conversations about music, art, and all things retro.

The options for using vinyl record covers as wall art are endless.

Since records are all uniform squares it is easy to arrange them in patterns which can create a variety of looks for your walls, just like the display here in this really neat music room.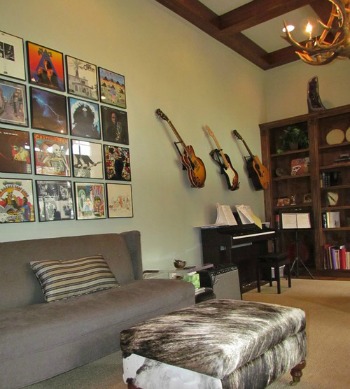 You can choose your records based on your favorite genre or artist, or simply for the color of decorative nature of the cover design, the end result is still the same.

Hanging framed vintage record albums make a great piece of art, not to mention topics that pop up about certain albums...such as;

Never mind that the whipped cream was actually shaving cream, or that the model underneath the cloud of foam, Dolores Erickson, was three months pregnant:

Forty-nine years after it first excited the world, the cover of Herb Alpert's Whipped Cream & Other Delights still remains one of the sexiest album art covers of all time.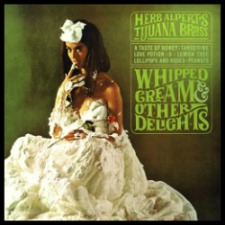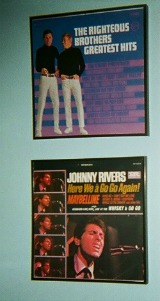 ---
My Patsy Cline Top Ten
Patsy Cline died in a Plane crash on March 5th, 1963. Over a half century later Patsy Cline songs remain some of the most essential in the history of country music.

Though she died at the tragically young age of 30, in the eight short years that Patsy Cline recorded music, she left behind a recorded legacy that is almost unmatched in country music.

It spoke volumes when the First Lady of country music, Tammy Wynette, said this quote in the liner notes of "The Patsy Cline Collection."

"In the cotton fields of Mississippi, I would daydream about being Patsy Cline. Patsy is and perhaps will always be the standard bearer for all female country singers."

My list represents the songs that have become standards in the American Songbook, like "Crazy" and "She's Got You," along with tunes like "Someday" and "You Belong to Me" that never seem to get much radio play, but remain beloved fan favorites.

So come with me and enjoy our trip down memory lane with my Top 10 Patsy Cline Songs.
---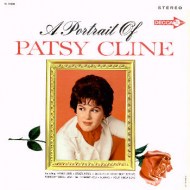 #10 Someday

From: A Portrait of Patsy Cline

"Someday" (You'll Want Me to Want You) is a popular song, written by Jimmie Hodges and was published in 1944.

"A Portrait of Patsy Cline" would be one of a string of posthumous released albums that Decca and later MCA records would release. It was released a little over a year after Cline was killed in a plane crash.

The song has become a standard, recorded by many pop and country music singers however, in my opinion, no one does it better than Patsy Cline. Her single version of the song was posthumously released in 1964.
---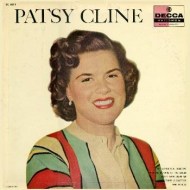 #9 - Faded Love

From: "A Portrait of Patsy Cline" (1964) "Faded Love" is an old Western swing classic, written by Bob Wills with his father, John Wills, and brother, Billy Jack Wills.

But Cline's recording of the song is the definitive version. She recorded the song just prior to the airplane crash that took her life, and it was not released until after her death, when it reached No. 7 in the country charts.
---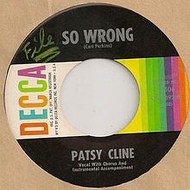 #8 - "So Wrong"

Single (1962) Cline had already been successful on both the pop and country charts by the time she released "So Wrong." She'd already delivered a string of her biggest hits, including "I Fall to Pieces," "Crazy" and "She's Got You."

Her first single of 1962, "So Wrong" was written by Carl Perkins, Danny Dill and Mel Tillis, and produced by Owen Bradley. It reached No. 14 on the country charts.
---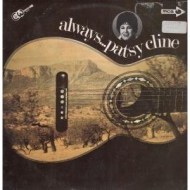 #7 - "Always"

From "Always…Patsy Cline" (1980) Surprisingly, 17 years after her death, Patsy Cline's version of the Irving Berlin classic broke the Top 20 on the Billboard Country Singles chart.

The song was originally recorded in 1963 in the same session as "Sweet Dreams (of You)" and "Blue Moon of Kentucky."

Re-arranged with modern studio musicians and background vocals, the song would later become the title of the 1993 musical based on the life of Pasty Cline.
---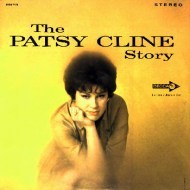 #6 - Leavin' on Your Mind

From: "The Patsy Cline Story" (1963) Cline was at the height of her career when she released "Leavin' on Your Mind." After a string of failed singles, she had scored back-to-back country and pop success with "I Fall to Pieces and "Crazy" and followed up with "She's Got You."

"Leavin' on Your Mind" soared to the Top 10 in February of 1963, less than one month before her untimely death.
---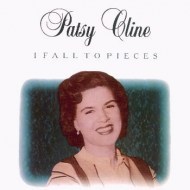 #5 - I Fall to Pieces

From "Patsy Cline Showcase" (1961) "I Fall to Pieces" has become one of the greatest standards in the country music catalog. Written by Hank Cochran and Harlan Howard, the song only came to Cline after Roy Drusky rejected it, saying it was not a man's song.

She fought with her producer, Owen Bradley, about the arrangement, with its lush strings and backing vocals by the Jordanaires. She actively resisted the pop crossover elements of the song until hearing the studio playback.

The resulting record was such a perfect combination of country and pop that it not only became Cline's first No. 1 country single, it also became a hit in pop and easy listening as well. Read the story and listen to the song here.
---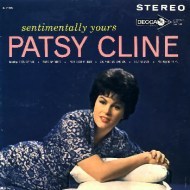 #4 - She's Got You

From: 'Sentimentally Yours' (1962) Unlike many of the other stories behind the hits Patsy Cline recorded, it seems that everyone loved "She's Got You" right from the start.

Penned by Hank Cochran, Patsy Cline and company needed no convincing to cut this smooth, sensitive story song.

She'd already scored with "I Fall to Pieces" and "Crazy," and when Hank Cochran played the song for her, she was so excited that she sang it over the phone for her manager and producer.

They all agreed it was a hit, and her rendition rocketed to the top of the country charts upon its release, giving Cline her second No. 1 hit. You can read my story and hear Patsy sing these beautiful She's Got You lyrics.
---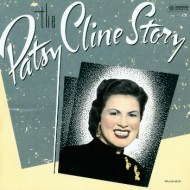 #3 - Sweet Dreams

From "The Patsy Cline Story" (1963) Pasty Cline and producer Owen Bradley took a different twist on this Don Gibson composition. The recording was a perfect fit for Cline's soothing voice, gently soaring above lush orchestration and background vocals of the Jordanaires.

Cline was reluctant about the string arrangements and pop edge to her version of it, which she recorded in what turned out to be the last sessions of her life.

The song helped immortalize the Country Music Hall of Famer as it peaked at No. 5 two months after her death in 1963 and later served as the title of a movie about Cline's life.
---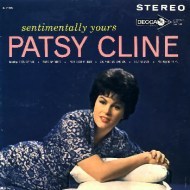 #2 - You Belong to Me

Album - Sentimentally Yours (1962)

This song was included on her last studio album "Sentimentally Yours" and also on the album "The Patsy Cline Story" released in June, 1963 just three months following Cline's death on March 5th, 1963.

The song remains at the top of my list as one of my all favorites by Patsy Cline. You can see the video I made and listen to this grand old classic here.
---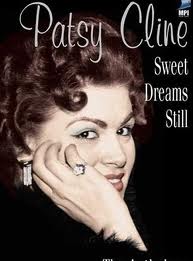 #1 - Crazy

From: "Patsy Cline Showcase" (1961) Cline had broken through to enormous stardom with "I Fall to Pieces" when she recorded "Crazy." The song was written by Willie Nelson.

Cline initially didn't like the arrangement, and struggled with the high notes due to broken ribs from a recent car accident.

The original session didn't come off, but when Cline returned to the studio a few weeks later she recorded the now-iconic vocal in one complete take.

With Floyd Cramer at the piano, Grady Martin on guitar and The Jordanaires behind her, Cline recorded this No. 2 hit song in what would become a treasure in the Great American Songbook.
---
The Birthday party I missed.
Happy Birthday to the 45rpm record.

Something I over looked but my friend Robert Benson did a much nicer job of remembering this special time in history.

Robert writes a high quality Blog and I always enjoy his articles. I hope you enjoy this article as much I did. Read Robert's article here.
---
March-April dates in history.
March 3rd

In 1959, the Drifters, with new lead vocalist Ben E. King, record their breakthrough hit, "There Goes My Baby," at Atlantic's studios in New York.

The song will become the group's first of 16 Billboard Top 40 hits.

In 1963, Patsy Cline gave her last public performance, a benefit in Kansas City.

March 4th

In 1957, Marty Robbins released the single "A White Sport Coat (And A Pink Carnation)."

March 5th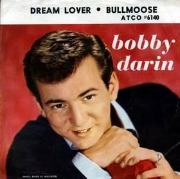 In 1959, in New York, Bobby Darin recorded his composition "Dream Lover," accompanied on piano by Neil Sedaka.
The song became a multi-million seller, reaching #2 in US charts for a week and #4 on the R&B charts.
In 1963, country music singers Patsy Cline, Cowboy Copas and Hawkshaw Hawkins were killed when their small plane crashed near Camden, Tennessee. Cline was 30, Copas was 49, and Hawkins was 41.
March 6th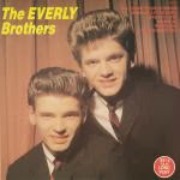 In 1958, the Everly Brothers recorded another Boudleaux Bryant tune, "All I Have To Do Is Dream," which will become their second US #1 hit, after "Wake Up Little Susie."
It had been recorded in just two takes on March 6, 1958 and featured Chet Atkins on guitar.
It is the only single to be at #1 on all of Billboard's singles charts simultaneously, on June 2, 1958.
The song is ranked #141 on the Rolling Stone magazine's list of The 500 Greatest Songs of All Time.
The February newsletter listed Glen Campbell as one of the premier session players. Listen to a really nice duet of Campbell and Bobbie Gentry doing a great remake of this classic Everly Brothers song here.
March 7th
In 1955, Carl Perkins becomes the first Country artist to have a hit on the Billboard R&B chart when his "Blue Suede Shoes" makes the list.
In 1957, in Boston, the Tune Weavers recorded "Happy Happy Birthday Baby."
April 2nd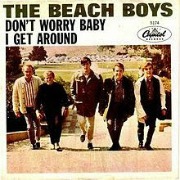 In 1964, Brian Wilson produced the instrumental track for the Beach Boys' "I Get Around." It was during this session that Brian Wilson dismissed his father Murry as the group's manager.
It became the group's first #1 hit in the US.
April 3rd
In 1958, Alan Freed's "Big Beat Show" concert tour played two shows at the Coliseum in Baltimore, with performances by Buddy Holly and the Crickets, Jerry Lee Lewis, Chuck Berry, Danny & the Juniors, Frankie Lymon and the Teenagers, the Diamonds, Billy & Lillie, the Chantels, Dicky Doo and the Don'ts, Jo Ann Campbell, Larry Williams, Ed Townsend, the Pastels, and Screamin' Jay Hawkins.
Tickets to the show were priced at $2.00 and $2.50. Imagine what a show like that would cost today.
April 4th
In 1959, Buddy Holly's "It Doesn't Matter Anymore" hit #13. It was his first posthumous hit.
In 1960, RCA began releasing singles in both stereo and mono, starting with Elvis Presley's "Stuck on You."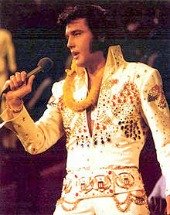 In 1973, a taped Elvis Presley concert, "Elvis: Aloha From Hawaii," which had been shown live to most of the world except North America on January 14, 1973, was telecast on NBC.
The total audience for the show, the first commercial worldwide satellite broadcast, was more than a billion people and it is regarded as the most-watched broadcast by an individual entertainer in television history.
In 1983, Danny Rapp of Danny and The Juniors, died of a self-inflicted gunshot wound. His band achieved two classic 1950's hits, "At the Hop" (#1) and "Rock and Roll is Here to Stay" (#19). He was 41 years old.
April 7th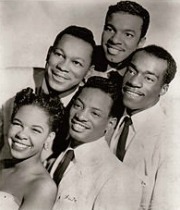 In 1958, the Platters released the single "Twilight Time."
In 1962, eighteen year old Shelly Fabares, who was currently appearing as Mary Stone on TV's The Donna Reed Show, had the #1 song in the US with "Johnny Angel."
She was accompanied by Glen Campbell on guitar, Hal Blaine on drums and Darlene Love And The Blossoms on backup vocals.
---
Betcha didn't know.
Elvis Presley performed formally outside the US only four times in his career, all in Canada.

In 1957 he played before two concerts at Maple Leaf Gardens in Toronto, one the following night in Ottawa, and one in Vancouver later in 1957.
What's Next.
Received a nice note last week from Nick Galletta, Founder and President of the New Jersey Doo Wop & A Cappella Society.

He's doing some quality stuff with oldies Doo-Wop and as I get more information I'll pass it on.
---
Don't miss out on my favorite vinyl record blog.
If you're into Vinyl Records and want good quality content, be sure to visit my favorite collecting vinyl records blog. My friend Robert Benson puts a lot into his blog. You will not be disappointed.
Do you have some favorites?
If you have any favorite vinyl record topics you'd like to see on this site, please click here and enter your information in the contact form.

I'll respond withing 24 hours.

Have a great month.

Regards,

Danny Sandrik