Hi,
Vinyl Record Lovers brings you the latest additions to one man's passion and experiences from "collecting vinyl records."
If you like this e-zine , please do a friend and me a big favor and "pay it forward."
If a friend did forward this to you and if you like what you read, please subscribe by visiting...
Vinyl Record Newsletter

Issue #037, October 30th, 2015
---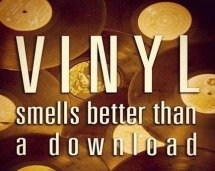 Welcome to my Vinyl Record Lovers Newsletter and thank you for subscribing.

I do appreciate the time you take to read my newsletter.
In this issue:
---What's New?

---Money Music - Favorite 45's.

---He's Back!

---Betcha didn't Know!

---A very special day.

---What's next?
---
What's New?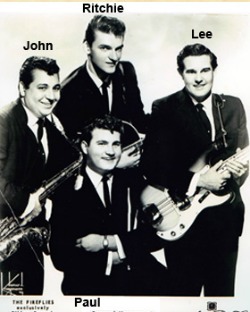 A few days ago I received an email from Paul Giacalone, the son of Paul Giacalone Sr, an original member of "The Fireflies" and songwriter for their first and most memorable hit "You Were Mine."

He wrote to me to correct some information on my site about the group.

I have received information from several oldies groups and artists in the past giving me updates on their music history.

This allows me to add content to my site I know to be accurate. I was glad Paul contacted me about his dad's song and the group.

He sent me some photo's and I will be talking, via phone, with Paul to get more detailed information for the "You Were Mine" page.

If you are not familiar with the song, visit the current Fireflies page here and you will see why this is one of my favorites from 1959.

Stay tuned for the next newsletter and update on the song "You Were Mine."
---
The 45rpm records you might have thrown away!
For those of us who collected 45's in the fifties, sixties and 70s, we never gave a second thought that a half century later they might be worth more than the .49 cents original cost. Who would've thought.

Here are a few you wish you had or might still have.
---
The Elvis 45rpm Blue Christmas.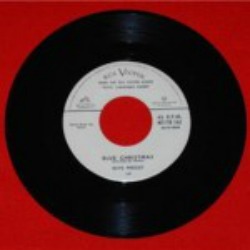 The photo is somewhat fuzzy but it is the real thing.

First appearing on the 1957 Elvis Christmas Album, "Blue Christmas" this is Elvis' best known and best loved Christmas song.

Promo copies of the single 45rpm as shown here were sent to radio stations in 1957.

It would be nice to find a copy under your tree today. It's worth up to $3,000.00.


---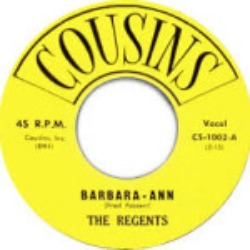 Remembering "Barbara Ann" the original.
The Regents originally recorded "Barbara Ann" in 1961.

"Barbara Ann" was composed by Fred Fassert. The Regents included the song on their album of the same name and it reached number 13 on the Billboard charts.

The Bronx-based group got their name from the fact that lead singer Guy Villari smoked Regents cigarettes.

He still has the empty pack that was in his pocket the day the band's name was chosen. Other members include Sal Cuomo as first tenor, Chuck Fassert singing second tenor, Tony Gravagna playing sax and Don Jacobucci on bass.

The Regents version on "Cousins" records can fetch up to $500.00.

The next Vinyl Record newsletter will feature a group that also got their name from a pack of cigarettes.
---
The Beach Boys Cover of "Barbara Ann"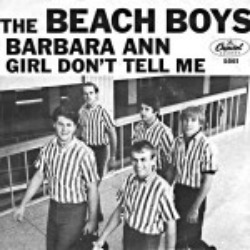 Brian Wilson was obligated for one more track on the "Beach Boys' Party!" album.
He chose "Barbara Ann" and sang lead on the song along with Dean Torrence of Jan and Dean.
Dean is not credited on the album. The song peaked at number two for the Beach Boys in 1965.
The Beach Boys 45 on Capitol records, with its picture sleeve, is worth up to $150.00 today.


---
A Beach Boys 45rpm classic.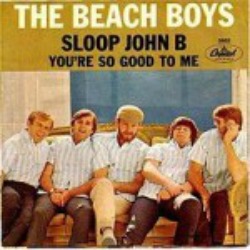 "Sloop John B" by the Beach Boys is one of Rolling Stone magazine's top 500 greatest songs of all time.

It was originally a folk song called "The John B Sails."

In 1959 Johnny Cash recorded the song as "I Want To Go Home." Jimmy Rodgers recorded the song in 1960 as the "Wreck of the John B."

The Beach Boy's single, released on Capitol records in 1966, is worth up to $100.00 today with its picture sleeve.

---
The Diamonds EP (Extended play) Record.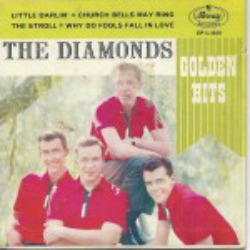 The Diamonds were the most successful white group to cover the hits of some of the great black artists of the fifties.
Among them was "Why Do Fools Fall In Love," originally done by Frankie Lymon & the Teenagers and their biggest hit "Little Darlin, originally done by the Gladiolas.
Following that was their top 10 hit "The Stroll." In 1956 Mercury records released the EP "Golden Hits" by the Diamonds. A copy today is worth up to $500.00.


---
Favorite Halloween song.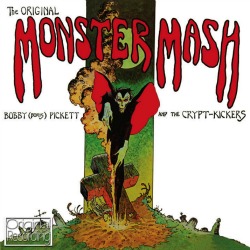 Each year I rerun this great original Halloween song and content. Here's my favorite, and how the song originated.

I remember 1962 when my favorite National Anthem of Halloween went from being recorded in August '62 to #1 in eight short weeks. What was the song?...The Monster Mash.

Here's how it all started...

Robert George Pickett's father was a movie theater manager in Somerville, MA. After spending hours at a time with his dad at the theater he developed a desire to act, along with a pretty dog gone good impersonation of Boris Karloff.

Bobby Pickett eventually made it out to Hollywood and while hustling his budding acting career, he also indulged his other passion, singing around town with a Doo-wop group.

One member of the group suggested making a novelty song about monsters, using Pickett's natural talents.

The twist had been around for a while so they settled on a note perfection recreation of the "Mashed Potato" craze made famous by Dee Dee Sharp's "Mashed Potato Time."

While performing the silly song live a record producer's daughter heard it, told her dad about it, and when he heard the performance he loved it.

The song was laid down in one take but was rejected by every major label. Gary Paxton, the record producer pressed a thousand records, drove up and down the coast and hawked them to every radio station he could find.

The strategy paid off shooting "Monster Mash" to Number One in just eight short weeks and has stood the test of time as it continues to receive an amazing amount of airplay over fifty years later.

Here is some trivia you may not know about the Monster Mash.

The sound effects were all performed in the studio. That creaking door was actually a nail being pulled from a piece of wood. The bubbling sound was from blowing through a straw into a glass of water, and the heavy chains were dropped onto plywood for that "shackled" effect.

It was one of only three records to make it on the billboard Hot 100 three times.

The original singer was Bobby Pickett but Boris Karloff actually performed the song on "Shindig" on October 30, 1965. I still have the original Bobby Pickett 45rpm vinyl record.

See the Monster Mash Video on my Home Page on Halloween.
---
Betcha didn't know!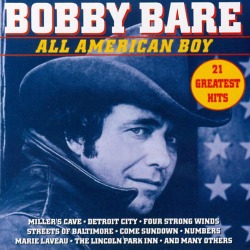 Nearly 60 years ago (1958) "The All American Boy" was recorded by Bobby Bare, but his name was not on the record. The name on the record is Bill Parsons.

The music business, at the time, was new and fast paced so incidents like this happened in addition to songs and lyrics being out right stolen from the original artist.

Bill Parsons was a friend of country singer Bobby Bare. Prior to entering the US Army, Bare agreed to help Parsons, who was just leaving the service, make a record.

The song was recorded at King Studio in Cincinnati with Bare playing bass on the side that Parsons recorded. Bare had recalled to Billboard magazine:

"We had about fifteen minutes. I said, Let me put down this thing I've been working on. So, I did."

"That same day, they wanted to make a copy of it," Bare continued "The guy who was paying for it went to a Fraternity Records to get an acetate made."

"When they heard the two records. They asked who was singing, and the guy told him Bill Parsons – which it was on the back side of that record. So, they put it out with his name on it. It scared him to death. He didn't even know the song."

It rose to number 2 in the US pop charts as the real Bill Parsons stood on the sidelines watching.

Bobby Bare was drafted by the army just before the song's release so Bill Parsons toured with the hit, lip-synching to the record.
---
Veterans Day, 2011
Remember Wednesday, Nov. 11, is Veterans Day: a time to celebrate and honor our military heroes.

Veterans Day is dedicated to honoring anyone who has served in the United States military.

This day gives Americans the opportunity to personally thank veterans for their sacrifice.



---
What's Next?
Working on a classic from the mid-fifties. You will immediately remember this song and treasure the live performance of this popular oldies Doo-Wop group.

The Fireflies (You Were Mine) page will be rewritten with new content provided by the son of the original member and songwriter of this wonderful old Doo-wop classic.
---
The Original County Doo Wop Show With Ned Ward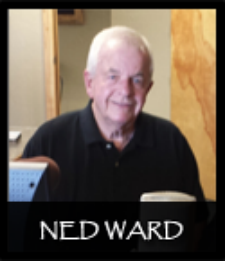 Listen to my favorite Country Doo-Wop show every Monday and Wednesday at 10am, Pacific Time with a repeat on Saturdays at 2pm.

DJ Ned Ward plays yesterday's country favorites and the Classic Hits of the 50's and 60's Doo Wop style.

Tune in every Monday and Wednesday to Country Doo-Wop Live.

You Will not be disappointed.



---
Do you have some favorites?
If you have any favorite vinyl record topics you'd like to see on this site, please click here and enter your information in the contact form.

I'll respond withing 24 hours.

Have a great month.

Regards,

Danny Sandrik