Vinyl Record Lovers Newsletter
Issue 025, December 31, 2013
Hi,
Vinyl Record Lovers brings you the latest additions to one man's passion and experiences from "collecting vinyl records."
If you like this e-zine , please do a friend and me a big favor and "pay it forward."
If a friend did forward this to you and if you like what you read, please subscribe by visiting...
Issue #025, December 31, 2013
---
Welcome to my Vinyl Record Lovers Newsletter and thank you for subscribing. I do appreciate the time you take to read my newsletter.
In This Issue:
---Happy New Year!!!
---What's New?
---Best jobs in the music industry.
---Interesting music dates in History.
---A Special article why friends matter.
---
Happy New Year!!!
Wishing everyone the very best health, love, and prosperity in 2014.
My apologies for the November-December delay. I had plenty of excuses but I decided to take Yogi Berra's advise.
When you come to a fork in the road...take it! Yogi Berra...
What's New
I added a girl group page and because the story fit I turned it into a special page for my friend Steve Meyer in Franklin, Ohio who has some health issues.
Steve and I worked together right before I went into the Service so I decided to take us both back to the summer of 1963.
The song One Fine Day by The Chiffons was part of that feel good music era and my friend Steve was the reason I was able to listen to this song for the first time in my '57 Chevy. Read my One Fine Day story here.
Best Jobs in the music industry
Superstar singers, song writers or Session Players. Who has the best job? Here's my thoughts, love to hear yours.
Super Star Singer
If I were in the music industry and had my choice as to what I would want do I would definitely not want to be a lead singer, either solo or in a group.
Why?
They can't possible have a normal life, regardless of how much money they make. And with most, all things come to an end.
My first choice would be:
Song Writer.
Why?
You may be writing songs for big time stars but you can walk into a mall and not be noticed and also lead a pretty normal life. No one outside those music walls will know who you are.
You will be paid royalties as long as you own the song and the stars who make you big bucks cannot walk into that same mall without being mobbed.
No matter who sings your songs, you get paid and can eat in any restaurant with no distractions, and the stars who sing your hit songs cannot do that.
Music Promoter
I would also like to have a job like "TJ" Lubinsky. Terry James (TJ) Lubinsky is the creator and executive producer of "Doo-Wop '50", and over 30 national television specials from PBS which archive America's soundtrack from the '50s, '60s and '70s.
That's a job I would like. If someone asked who I would enjoy talking to in the music industry it would be TJ.
But to me the most accomplished musicians are the Session players.
The Session Player:
The coolest musicians under pressure who always seem to come through on a moments notice is the Session Player.
It takes a very special kind of musician, one with incredible talent, versatility and inspiration, to bring a song to life. Few have what it takes to achieve the perfection of chart-topping, memorable recorded music.
I have been following Session players for some time and as I wrote stories about my vinyl records I have come to know some top Session Players in the music industry.
Session players arrive at the studio knowing little or nothing about what they will be asked to play.
They are given either cryptic notes or complex musical instructions on how the music should be played.
In a matter of minutes, they create music that will be played and replayed for years. Sometimes decades.
Remember "Return to Sender" by Elvis? Boots Randolph was the Session Saxophone Player on that song. Boots is in the color photo below.
He also played on many other recordings including the Johnny Cash "Orange Blossom Special" along with Session Player Charlie McCoy on Harmonica. McCoy was also the Harmonica player on Roy Orbison's "Candy Man."
Session player Floyd Cramer played on many of Elvis' hits, including the piano solo on Heartbreak Hotel. That was also Floyd playing on many of the Patsy Cline hits, including the classic "Crazy."
Another well known Saxophonist, Steve Douglas, worked with Brian Wilson and The Beach Boys and can be heard on records by Duane Eddy, Aretha Franklin, Elvis, and Bob Dylan, among others.


With the exception of Charlie McCoy all the Session players I have mentioned above are no longer with us.
If you have a musical talent and want to be a professional musician I would look into becoming a Session player at a recording studio.
Take this route and you will soon discover that Session players are the very best musicians. Stick it out and you'll be the best also.
November-December dates in history
November 1st
In 1960 Elvis Presley released the single "Are You Lonesome Tonight?" For this recording, guitarist Scotty Moore played on Elvis' acoustic guitar, the Gibson J200 model.
It went on to be one of the biggest-selling singles of 1960, peaking at #1 on the Billboard pop chart for six weeks and peaking at #3 on the R&B charts.
I added a Norah Jones remake of this classic Elvis Presley song. Take a look here and see this well done cover song by a gifted lady.
November 6th
In 1961, Jimmy Dean's "Big, Bad John" becomes the 100th US #1 single of the rock and roll era. It would prove to be his only #1 song.
Jimmy said he wrote the song in an hour and a half while flying to Nashville for a recording session.
When I do a page on this great song it will be for old JW, my special friend down Indiana way. Johnny loved this song as I did, so it'll bring back those special times we shared during those fun filled days at Garfield Senior High school.
November 7th
In 1958, Eddie Cochran made his UK chart debut with "Summertime Blues." It reached #18 in the UK & #8 in the US.
I loved Eddie Cochran's Rockabilly style and my story on him will include how he died and the girl and another famous Rockabilly singer he was with at the time of his death.
The song has been covered by many artists, including being a #1 hit for country music artist, Alan Jackson, and a notable hit for the English rock band, The Who.
November 21st
In 1965, Bill Black, who backed Elvis Presley on his early hits, died of a brain tumor at the age of 39.
After leaving Elvis, he formed Bill Black's Combo and placed 8 hits in the US Top 40.
Presley received criticism for not attending Black's funeral, however he believed his presence would turn the funeral into a media circus.
He decided instead to visit the family privately after the service to express his condolences.
November 27th
On November 27, 1957, the Crickets, led by Buddy Holly, released the album "The 'Chirping' Crickets."
It was the only Crickets album issued in North America during Holly's lifetime. If anyone has a copy of this album please send it to me, I do not have one.
In 1965, Herb Alpert's Tijuana Brass went to #1 on the US album chart in 1965 with 'Whipped Cream & Other Delights.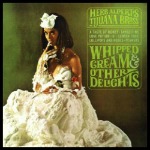 I do have three of the famous "Whipped Cream" LP's, including the one I purchased new in 1965.
The album cover is continually listed as one of the best album covers ever.
December dates in history
December 2nd
In 1947, at the RCA Victor Studio in Chicago, Pee Wee King recorded eight songs, including his composition "Tennessee Waltz."
I sent my "Tennessee Waltz" page to my classmates that lived in Tennessee and received a nice reply from Teri P. in Franklin, TN.
It's still nice to connect with classmates after fifty years.
December 4th
In 1944, in Nashville at the WSM Radio studios, Eddy Arnold recorded four songs, including "Cattle Call," at his first recording session.
I have this song with the music added to a cattle drive from the 1948 movie "Red River" starring John Wayne.
For those who remember the 25 and 50 cent movie theaters this will be a nice 3 minute treat.
It is the second video at the bottom of this page and is a duet with LeAmm Rimes and Eddie Arnold singing that great old cowboy song, Cattle Call.
Why old friends are so special
I've made note of this a few times, well maybe more than a few times, but after you read this your friends may become more special to you. They have always been special to me.
I am writing the following article that is not related to vinyl records or music so if doing so would cause you to un-subscribe, you may skip this last article:-)
My bet is that your curious and will read it. I hope so...
I received an email from friends I've know for more than a half century, old JW and Butch, related to a topic about what people regret the most when they have gone home to die and have maybe three to twelve weeks remaining.
The reason I was so curious about the article was that the Nurse that remained with these individuals was able to determine the Five Regrets people make on their deathbed.
The Nurse, Bronnie Ware, said that people grow a lot when they are faced with their own mortality.
When questioned about any regrets they had or anything they would do differently, common themes surfaced again and again. Here are the most common five:
I skimmed the list and #4 drew my immediate attention to read further.
The number four regret was:
I wish I had stayed in touch with my friends.
The Nurse said often they would not truly realize the full benefits of old friends until their dying weeks and it was not always possible to track them down.
Many had become so caught up in their own lives that they had let golden friendships slip by over the years.
There were many deep regrets about not giving friendships the time and effort that they deserved. Everyone misses their friends when they are dying.
It is common for anyone in a busy lifestyle to let friendships slip.
But when you are faced with your approaching death, the physical details of life fall away. People do want to get their financial affairs in order if possible.
But it is not money or status that holds the true importance for them. They want to get things in order more for the benefit of those they love.
Usually though, they are too ill and weary to ever manage this task.
It all comes down to love and relationships in the end. That is all that remains in the final weeks, love and relationships.
Here are the 5 Regrets listed in Bronnie Ware's article:
1. I wish I'd had the courage to live a life true to myself, not the life others expected of me.
2. I wish I didn't work so hard.
3. I wish I'd had the courage to express my feelings.
4. I wish I had stayed in touch with my friends.
5. I wish that I had let myself be happier.
Now is your chance for 2014. Make it a point to contact or renew old friendships, it will warm the heart.
---
What's next for All About Vinyl Records?
I came across a song I have not heard since 1964. I could not remember the name of the song or who sang it but when I heard the song after fifty years I immediately flashed back to 1964.
Don't miss out on My favorite vinyl record Blog:
If you're into Vinyl Records and want good quality content, be sure to visit Collecting Vinyl Records.com. My friend Robert Benson puts a lot into his blog. You will not be disappointed.
---
Do you have some favorites?
If you have any favorite vinyl record topics you'd like to see on this site, Please Click here and enter your information in the contact form.
I'll respond withing 24 hours.
Have a great month.
All the best,
Danny Sandrik