Hi,
Vinyl Record Lovers brings you the latest additions to one man's passion and experiences from "collecting vinyl records."
If you like this e-zine , please do a friend and me a big favor and "pay it forward."
If a friend did forward this to you and if you like what you read, please subscribe by visiting...
Vinyl Record Newsletter

Issue #033, March 11, 2015
---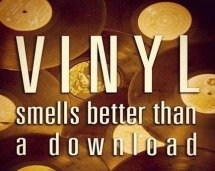 Welcome to my Vinyl Record Lovers Newsletter and thank you for subscribing.

I do appreciate the time you take to read my newsletter.
In this issue:
---What's New?

---A very special Conway Twitty release.

---"Shakin'" - Was this done in one take?

---The 1978 "Buddy Holly" Story.

---Gene Vincent and Eddie Cochran - Tragic endings.

---Back in the day - Meet the Thunderbox.

---Betcha didn't know.

---What's next for all-about-vinylrecords.
---
What's New - Guitar Favorites
The "Guitar Favorites" page is a new addition to the Guitars and Cars main title.

You will find all the new guitar related entries under the Guitar Favorites title.

The Fender story and Les Paul's "Chasing Sound" video clip have already been added. If you have not seen the Fender Guitar Story video you will be amazed what an Eric Clapton guitar was sold for at a special auction.
Castaway Lounge - Conway Twitty rare performance.
My friend Terry Wilson from Canada is writing liner notes for the new Conway Twitty double CD to be released in the next month or two. He contacted me this week with some updates.

It will include rare songs from Conway's live appearances at the Ohio "Castaway Lounge" in August of 1964.

Terry has been gathering facts for an independent record label that specializes in reissues of archival material ranging from country music to 1950s rock and roll.

It's the research and dedication Terry puts forth that will make this new release a must for all Conway Twitty fans.
Did Jerry Lee Lewis really record "Whole Lot of Shaking Going On" in one take?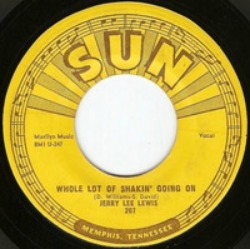 Yes he did. When Jerry Lee Lewis was recording for Sun Studios his touring band had been performing the song with Lewis for months while on the road.

In April, 1957 Jerry Lee recorded a song at Sun Studios written by Jack Clement called "It'll Be Me."

After recording the A-side everyone began considering what might work as a b-side. Base player J.W. Brown suggested they play "Shakin'" again, the way they had on stage.

The song was a favorite at many of the live shows so Lewis agreed and said he knew it was a hit when he cut it.

Sun engineer, Jack Clement turned the tape on, and the rest is history. (You can hear the band drop a bar or two at the beginning of Jerry Lee's solo, but Sun always valued emotion over technical perfection.)

When the single was released, "Whole Lot of Shakin' Going On" was the A-side and "It'll Be Me" became the B-side.

Jerry Lee proved that in the new age of Rock-n-Roll not everybody was going to stand there with a guitar.
Why do some Buddy Holly fans dislike the movie "The Buddy Holly Story"?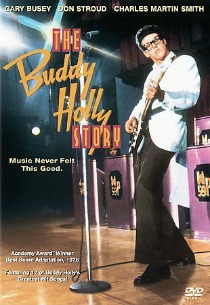 Answer: The movie did decently at the box office, but didn't please Buddy's friends and family, who were upset at the suggestions Buddy was capable of violent outbursts and impure sexual urges.

The movie was released by Warner Bros. in 1978 and starred Gary Busey. His performance as Buddy Holly was so well portrayed it earned him a Best Oscar nomination.

Busey and his "Cricket" actors play all the music in the film and his performance of "True Love Ways" was so accurate that Holly's real-life widow reportedly left the room in tears when she first watched the scene.

You can see the True Loves Way video here. By movie standards, the film was tame, but in attempting to give him a more aggressive personality, the movie crossed the line in many folks' minds.

It did fudge many facts about Buddy's life and music, but that's what Hollywood does when making film biographies.
Gene Vincent - A Rockabilly icon with a sad ending.
Two of the greatest Rockabilly singers both died tragically at a young age.

Gene Vincent was considered by many to be Rockabilly's greatest vocalist and provided one of the most impressive stage shows in the early years of rock.

His backing band the Blue Caps, particularly lead guitarist Cliff Gallup, was a major influence on rockabilly and its descendants.

These boys were way ahead of the curve. Drums and electric bass; long hair, screaming-serious talent.

He was the first rock star to wear a leather outfit. After hearing "Be-Bop-A-Lula," Elvis' bassist, Bill Black, accused the King of making the record in secret. If you listen to the song a few times you can hear similarities.

Gene Vincent and His Blue Caps had only five charted hits from 1956 through 1958, but he and the Caps simply rocked too hard for radio.

It was those legendary '56 sides, however, that kept Vincent viable as a performing artist, both here and in Europe where he was instrumental in establishing the rock craze in England.

Gene Vincent was a lot more than Be-Bop-A-Lula. His music was unforgettable and widely collected today.

Vincent recorded some sessions with his close friend Eddie Cochran in 1957 and was in the car during Eddie's fatal crash in 1960.

By the late Sixties, Gene had fallen victim to changing times, financial mismanagement and his own worsening addiction to alcohol.

In October 1971, a sick Vincent went on a three-day bender that ruptured existing stomach ulcers and he died soon after. He was 36.
Eddie Cochran - Short career with great music.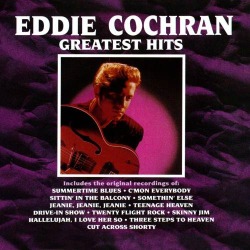 Eddie Cochran was one of the first rock and roll artists to write his own songs and overdub tracks.

He originally learned the guitar playing the country music he heard on the radio.

After seeing a young Elvis Presley perform in 1955, Eddie switched to rock and began playing on sessions in Los Angeles.

Movie producer Boris Petroff was impressed with Cochran and asked Eddie to appear in a film he was involved in called "The Girl Can't Help It."

That appearance (singing "Twenty Flight Rock") and his subsequent single "Sittin' In The Balcony" helped make Cochran a star.

In 1958 "Summertime Blues," a song that never ages, became his biggest hit, charting at #8. In a session for Gene Vincent in March 1958 he contributed his trademark low bass voice as heard on "Summertime Blues."

"Twenty Flight Rock" is rockabilly at its finest and it was because Paul McCartney knew the chords and words to the song that he became a member of the Beatles.

John Lennon was so impressed that he invited Paul to play with his band the Quarrymen.

In early 1959, two of Cochran's friends, Buddy Holly, and Ritchie Valens, along with the Big Bopper, were killed in a plane crash while on tour.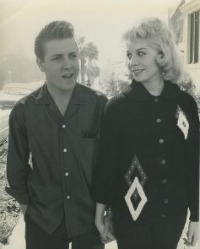 Eddie's friends and family later said he was badly shaken by their deaths, and said Eddie believed he would also die young.

In April, 1960 while on tour in the United Kingdom with his friend Gene vincent, Eddie Cochran died as a result of a traffic accident in a taxi.

Cochran threw himself over his finance Sharon Sheeley and suffered severe head injuries when he was thrown out of the taxi. He died the next day. Eddie Cochran was 21.

Vincent sustained lasting injuries to an already permanently damaged leg that would shorten his career and affect him for the rest of his life.

Sharon Sheeley wrote, "Poor Little Fool" for Ricky Nelson and a book titled "Summertime Blues," A true Rock & Roll adventure with Eddie Cochran. She died in 2002 at age 62.
Gettin' in and Gettin' out - Meet the Thunderbox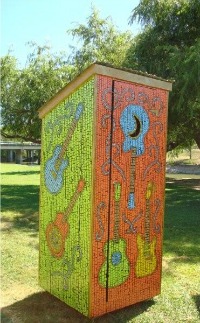 When I added the Jerry Lee Lewis article above it made me stop and think about my old buddy JW. He received an article from a friend about a Texas city that had an annual "Thunder-box" display and contest as to who had the best looking "Outhouse."

It brought back old memories of my days many moons ago sittin' and "Shakin'" (as Jerry Lee would say) in freezing temperatures in one of those ever so cold calls to nature.

My uncle owned an auto repair business and junkyard back in the fifties and I would spend many weekends as a young boy looking for fun in the junkyard...breaking out windows and headlights with my cousins.

Sittin' in the "Thunder-box" and listening to Jerry Lee Lewis' "Whole Lot of Shakin Going On" and "Great Balls of Fire" coming from the garage radio was a fun part of those fifties memories.

Most "Thunder-boxes" had to be close enough for easy access, but far enough to minimize the smell.

My uncle would place Montgomery ward or Sears Roebuck catalogs in the "Outhouse" whenever toilet paper was in short supply.

The Sears catalog was well-known in this context, and even produced such humorous spin-offs as the "Rears and Sorebutt" catalogs.

The Thunderbox did not have a ventilator like modern day bathrooms so gettin' in and gettin' out was the first priority.
---
Betcha didn't Know!
A little tid-bit on the above Gene Vincent song Be-Bop-A-Lula.

Recorded in Nashville on May 4th, 1956, "Woman Love" was actually the a-side to Be-Bob-a-Lula.

"Suggestive" lyrics caused DJs to flip it over, not realizing they were now promoting a song originally written about a stripper in Portsmouth, VA.
What's next?
I'm working on the "Sleepwalk" challenge and my plan is to show three guitar greats, each playing their cover of this all-time favorite.

I'll let you be the judge after you see and hear the results.

Stay tuned.....
---
Do you have some favorites?
If you have any favorite vinyl record topics you'd like to see on this site, please click here and enter your information in the contact form.

I'll respond withing 24 hours.

Have a great month.

Regards,

Danny Sandrik