Hi,
Vinyl Record Lovers brings you the latest additions to one man's passion and experiences from "collecting vinyl records."
If you like this e-zine , please do a friend and me a big favor and "pay it forward."
If a friend did forward this to you and if you like what you read, please subscribe by visiting...
Vinyl Record Newsletter

Issue #032, January 31, 2015
---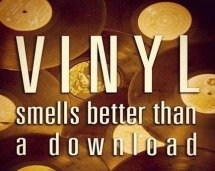 Welcome to my Vinyl Record Lovers Newsletter and thank you for subscribing.

I do appreciate the time you take to read my newsletter.
In this issue:
---What's New?

---An Elvis movie with no original songs?

---The beauty of vinyl album cover art.

---Two special people who left us in 2014.

---Betcha didn't know.

---What's next for all-about-vinylrecords.
---
Guitars and Cars!
Guitars and Cars is the latest addition to All About Vinyl Records. Classic old cars surrounded by oldies music and my favorite guitar players will be featured under the Guitars and Cars title.

Vintage classics, like this beautiful 1957 Buick Roadmaster. See all the tailfins and chrome in my Cool Classic Cars videos.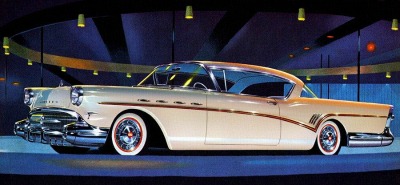 I have added content on the two featured videos about those beautiful classic cars from the past. One was recently moved from another page and placed under the Guitars and Cars title.

A second Classic Car Video was recently added and comments have already been received in reference to the background music sounding very much like the Beach Boys. If you are a car buff you will love this video and the song on the classic cars museum page.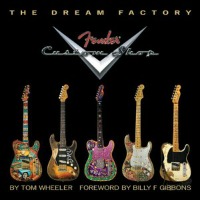 I'll bring back Duane Eddy, Lonnie Mack and you'll once again hear Les Paul chasing sound and doing a "Sleepwalk" solo.
I'll feature the Stratocaster master, Hank Marvin, with his original "Apache" sound and a live solo on "Ghost Riders in The Sky."
Jeff Beck remains one of my guitar favorites.
You'll hear great sounds from this guitar icon and a cool session with Jeff and my favorite new rockabilly queen, Imelda May, paying tribute to Les Paul.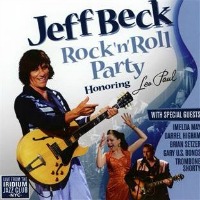 Do you remember when all this music was available only on vinyl records? Listening to Vinyl records is the only true way to hear music and be really conscious of it.

It'll be fun to expose you to some early guitar icons and music that you probably never heard of any other way.

Look, even if you don't like or care one iota about guitars, you may find the stories interesting. Example; The US Government harassing Gibson guitar for years and what Gibson did to get the last laugh.

You'll see and hear Dick Dale and Hank Marvin tell what it was like working with Leo Fender and how he helped them both. This will be fun for me. Given time, I'll bring back all the great sounds from the past. Sounds that have mood and direction when played by these special guitarists.
---
An Elvis 45rpm movie soundtrack for $600.00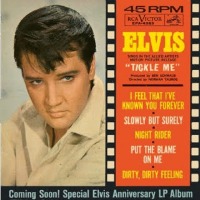 In 1965 Elvis Presley starred in the movie "Tickle Me." It's unique for an Elvis movie as all the songs for the film had been previously released on other Elvis albums.

There were no new songs recorded just for the movie. It's also rare that the title did not have a song of the same name.

The EP soundtrack, released by RCA, is worth up to $200.00 if the record label is black. However, if the record label is orange, the value can go as high as $600.00.
Do you remember the beauty of vinyl album cover art?
Long before the digital era and the mini designs that emerged with it, there was a unique canvas, reaching a visual audience of millions; every designer dreamed of working on a vinyl record album cover.

Invented in 1938 by graphic designer Alex Steinweiss while working at Columbia Records as an art director, album cover art quickly became one of the most important features in the vinyl record world.

Thanks to Steinweiss's inventive concept a new way of representing music was born.

It also became an effective marketing tool. It was often the main reason that persuaded people to purchase the album, rather than the music itself. I've been down that road.

I have seen and purchased albums with a cover design that was in fact, much better than the music inside.

Some artists became popular simply because of their beautiful album cover designs. Here are a few examples of creative album covers.
Afterburner: - ZZ Top - Artwork by Barry E. Jackson.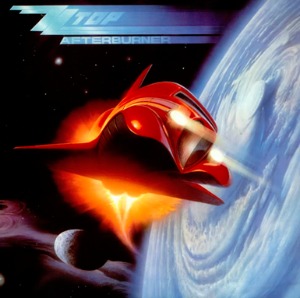 Afterburner is the ninth studio album by the American blues-rock band ZZ Top, released in 1985.

Afterburner was a financial success, going several times platinum and launching several hit singles, the most successful of which was "Sleeping Bag" which peaked at No. 1 on the Mainstream Rock Tracks and at No. 8 on the Billboard Hot 100.
Out of The Blue: - ELO - Artwork by Shusei Nagaoka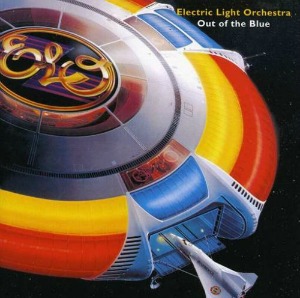 Out of the Blue is the seventh studio album by the British rock group Electric Light Orchestra (ELO), released in October 1977.

Written and produced by ELO frontman Jeff Lynne, the double album is among the most commercially successful records in the group's history.

With a sound all of their own, ELO produced some of the most original and unique sounds I have ever heard.
Fancy - Bobby Gentry - **Artwork by (read below)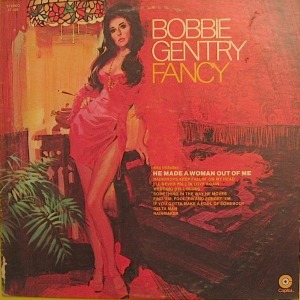 Fancy is the fifth album by Bobbie Gentry. The first of three albums she released in 1970. It was recorded at Fame Recording Studios, Muscle Shoals, Alabama and eight of its ten tracks were produced by Rick Hall, the other two by Bobbie Gentry herself.

String arrangements were by Jimmie Haskell. The album was released on Capitol Records.

**The original cover art for the album is an uncredited painting of Gentry, based upon a reference photograph, but the painting is believed to have been done by Gentry herself.
---
The two most famous child motion picture stars ever!
Wonderful memories of these two remarkable entertainers.
Shirley Temple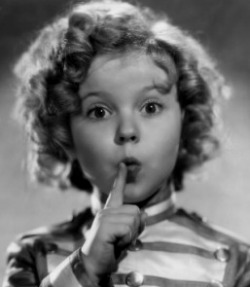 Shirley Temple Black was the most famous child motion picture star ever.

She began her film career in 1932 at the age of three.

She died on February 10,2014 at her home in Woodside, California. She was 85.












Mickey Rooney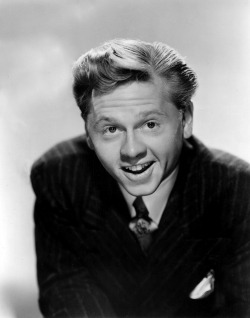 Actor Mickey Rooney died April 6, 2014 at the age of 93. Mickey was one of my all-time favorite actors.

Actress Margaret O'Brien said that Mickey Rooney was "Undoubtedly the most talented actor that ever lived."

"There was nothing he couldn't do.

Singing, dancing, performing...all with great expertise."

I have read actor Cary Grant echoed the same thoughts about Mickey.







Betcha didn't Know!
In 1958,The Champs released "Tequila", an instrumental that will hit number one in mid-March, staying there for five weeks.

The group included sax player Jim Seals and drummer Dash Crofts, who would go on to score several hits in the seventies, including "Summer Breeze" as Seals and Crofts. How bout that!
What's next?
I'll begin adding to the Guitars and Cars pages and will be working on the Gibson story and the Fender story also.

Stay tuned.....


---
Don't miss out on my favorite vinyl record blog.
If you're into Vinyl Records and want good quality content, be sure to visit my favorite collecting vinyl records blog. My friend Robert Benson puts a lot into his blog. You will not be disappointed.
Do you have some favorites?
If you have any favorite vinyl record topics you'd like to see on this site, please click here and enter your information in the contact form.

I'll respond withing 24 hours.

Have a great month.

Regards,

Danny Sandrik