Vinyl Record Lovers Newsletter
Issue 024, October, 2013
Hi,
Vinyl Record Lovers brings you the latest additions to one man's passion and experiences from "collecting vinyl records."
If you like this e-zine , please do a friend and me a big favor and "pay it forward."
If a friend did forward this to you and if you like what you read, please subscribe by visiting...
Issue #024, October 30, 2013
---
Welcome to my Vinyl Record Lovers Newsletter and thank you for subscribing. I do appreciate the time you take to read my newsletter.
In this Issue:
---What's new? A Cool blast from the past.
---Halloween parties and songs.
---Best Halloween song ever!
---Interesting vinyl record dates in History.
---Veterans Day - Celebrating those who served.
---
What's New - A celebrity visit.
Remember the song "My Girl" by The Temptations? David Ruffin Jr, the son of the lead singer on the original recording, contacted me in late September and requested I email or call him in reference to some vinyl records he owned.
It's always nice to hear from someone from the entertainment industry who takes time to view my site and then makes the effort to contact me.
My point is that even though David Ruffin Jr has no idea who I am he thought enough of the information on my site to contact me.
That is really what I am happy about, that anyone who comes to my website, enjoys their stay, can talk to a real person if they choose, and hopefully, will return often.
Thank you David Ruffin Jr. for your kind words.
Halloween Parties

Many years ago my wife and I enjoyed giving and attending Halloween parties. Dressing up in costumes, sharing food and games with friends, and of course dancing and looking silly was always more fun when no one recognized you.
If you decide to have a Halloween party here are some suggested Halloween songs you can play at your parties in addition to my favorite, The Monster Mash.
Ghostbusters, Ray Parker, Jr.
Love Potion #9, The Clovers
Werewolves of London, Warren Zevon
Bad Moon Rising, Creedence Clearwater Revival
Purple People Eater, Sheb Wooley
The theme from The Twilight Zone
What's Your Favorite Halloween Song?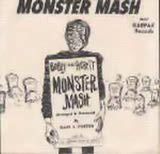 Here's my favorite, a rerun, and how the Monster Mash originated.
I remember 1962 when my favorite National Anthem of Halloween went from being recorded in August '62 to #1 in eight short weeks. What was the song?...The Monster Mash.
Here's how it all started...
Robert George Pickett's father was a movie theater manager in Somerville, MA. After spending hours at a time with his dad at the theater he developed a desire to act, along with a pretty dog gone good impersonation of Boris Karloff.
Bobby Pickett eventually made it out to Hollywood and while hustling his budding acting career, he also indulged his other passion, singing around town with a Doo-wop group.
One member of the group suggested making a novelty song about monsters, using Pickett's natural talents.
The twist had been around for a while so they settled on a note perfection recreation of the "Mashed Potato" craze made famous by Dee Dee Sharp's "Mashed Potato Time."
While performing the silly song live a record producer's daughter heard it, told her dad about it, and when he heard the performance he loved it.
The song was laid down in one take but was rejected by every major label. Gary Paxton, the record producer pressed a thousand records, drove up and down the coast and hawked them to every radio station he could find.
The strategy paid off shooting "Monster Mash" to Number One in just eight short weeks and has stood the test of time as it continues to receive an amazing amount of airplay over fifty years later.
See the Monster Mash Video on my Home Page on Halloween.
Here is some trivia you may not know about the Monster Mash.
The sound effects were all performed in the studio. That creaking door was actually a nail being pulled from a piece of wood. The bubbling sound was from blowing through a straw into a glass of water, and the heavy chains were dropped onto plywood for that "shackled" effect.
It was one of only three records to make it on the billboard Hot 100 three times. The original singer was Bobby Pickett but Boris Karloff performed the song on "Shindig" on October 30, 1965. I still have the original Bobby Pickett 45rpm vinyl record.
Britain's BBC banned Bobby 'Boris' Pickett's "Monster Mash" right after its release in 1962.
Although the song is neither obscene or controversial, it's about a horror movie party and like many other songs, is banned under a catch-all regulation prohibiting the broadcast of anything deemed "offensive." (Some sources say this happened on September 10, 1962, and a few others insist it was on October 10, 1962.)
Memorable October dates in history
Oct 3rd
On this day in 1958, "It's All In The Game" by Tommy Edwards was the #1 song.
In 1961, the Country Music Hall of Fame inducted their first class: Jimmie Rodgers, Fred Rose and Hank Williams.
In 1961, a group of teens from Hawthorne, California calling themselves the Pendletones recorded three songs on a small record label.
One of those songs, "Surfin'", which was then pressed on to a Candix Records 45rpm disc, was credited to The Beach Boys, a name made up by promotion man Russ Regan who took it upon himself to re-christen the band.
"Surfin'" would make it to #75 on the Billboard chart and sold 50,000 copies, launching the career of one of America's most successful Rock-n-Roll acts.
Oct 4th

In 1963, Billboard magazine reported that hot-rodding songs are the latest teen fad, replacing surfing songs. Among the top tunes is The Beach Boys' "Little Deuce Coupe", which sits at #15 on the Billboard chart.
Capitol Records starts supplying DJs and record retailers with a book of hot-rod terms.
Oct 9th
In 1958, Eddie Cochran recorded the classic song, "C'mon Everybody," which became a 1959 UK #6 single for Cochran. It is ranked #403 on the Rolling Stone magazine's list of The 500 Greatest Songs of All Time.
On October 9, 1964, The Beach Boys recorded "Dance Dance Dance," with Glen Campbell playing the lead guitar intro.
Oct 10
Here's an interesting story I did not know about this Beatles song. In 1939, the real Eleanor Rigby died in her sleep of unknown causes at the age of 44.
The 1966 Beatles' song that featured her name wasn't really written about her, as Paul McCartney's first draft of the song named the character Miss Daisy Hawkins.
Eleanor Rigby's tombstone was noticed in the 1980s in the graveyard of St. Peter's Parish Church in Woolton, Liverpool, a few feet from where McCartney and Lennon had met for the first time in 1957. Hmmmmm.
October 21st
In 1958, Buddy Holly's last recording session took place at Pythian Temple Studios, New York City. The songs recorded included "Raining In My Heart," "Moondreams" and "It Doesn't Matter Anymore," which became a #1 hit.
All the songs were notable for their use of strings, a first for a rock 'n' roll artist.
Sam "The Man" Taylor played the tenor saxophone solo on "True Love Ways," not King Curtis as some accounts have said. Curtis did play on Holly's recording of "Reminiscing," recorded in Clovis, New Mexico at Norman Petty's studio a month earlier.
Please read my Buddy Holly True Love Ways page and enjoy the song at the same time.
In 1972, seventeen years after having hits with some of rock 'n' roll's most memorable classics, Chuck Berry had his first US #1 record with "My Ding-a-Ling," a silly novelty song centered on grade-school level, private parts jokes.
A Salute to American Veterans...A little history.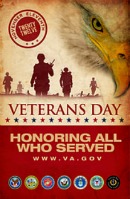 A repeat each year as I try to keep the meaning of Veterans Day in front of those who are younger and may receive too much negative information about this great country we live in. Please read on.
November 11 was chosen to commemorate the close of World War I. Originally called Armistice Day, the day was set aside to "not be devoted to the exaltation of glories achieved in war, but rather, to an emphasis upon those blessings which are associated with the peacetime activities of mankind."
In this light, the day was to mark not the "end of a great war," but the ushering in of a "new era of peace," according to the Congressional Record. The day was set aside as a day to honor the veterans of the First World War "who fought, and especially those who died, for that cause."
The name of the annual event was changed to Veterans' Day in 1954, in an effort to broaden significance of the day. So on Veterans' Day, we honor those who worked and fought for our country, as well as those serving in uniform now.
My dad was a World War II B-17 combat crew veteran...He was and will always be my hero!
I have former military friends I keep in touch with and I always remember my high school classmate, Rick Stephenson, especially on Veterans' day and Memorial day.
Rick was a Navy pilot. He gave his life for his country at the young age of 25 while flying a mission in his Navy Jet to North Vietnam in 1971.
Riding around Hamilton, Ohio hanging onto the back of his red Cushman Eagle brings back fond memories of my friend Rick.
I truly believe Rick already knew he would be flying a military jet as he would yell at me "Hang on dude, we're taking off." Good times, good friends.
What's next for All About Vinyl Records?
Been working on girl groups for a long time. Gonna see if I can get a couple up by next Newsletter. Ever heard of Kenny Vance and the song "Looking for an Echo"? A visitor asked me to look into the song and the singer. Stay tuned...
Don't miss out on My favorite vinyl record Blog:
If you're into Vinyl Records and want good quality content, be sure to visit Collecting Vinyl Records.com. My friend Robert Benson puts a lot into his blog. You will not be disappointed.
---
Do you have some favorites?
If you have any favorite vinyl record topics you'd like to see on this site, Please Click here and enter your information in the contact form.
I'll respond withing 24 hours.
Have a great month.
All my best,
Danny Sandrik