The Skyliners
An American Doo-Wop Group From the Fifties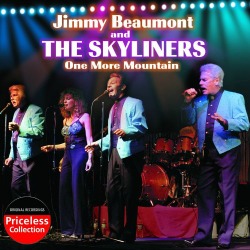 The Skyliners are an American Doo-Wop group from Pittsburgh fronted by Jimmy Beaumont.
The original lineup included Wally Lester, Jack Taylor, Joe Verscharen, and Janet Vogel.
The current lineup includes, in addition to Beaumont, Nick Pociask,  Frank Czuri, and Donna Groom.
I grew up during the time in history when this song was popular, and believe me there was nothing like the Saturday night sock hops and dancing to a song like this.
What a wonderful time to be a teenager. Gone but certainly not forgotten.
This video is from the 1999 1st Doo Wop reunion concert on PBS, and was recorded at The Benedum Center, in Pittsburgh PA.
Legend has it that the original song was set to fade to the music, but Janet ad-libbed the song's memorable ending in high C (after repeating thirteen you's) as a joke during rehearsals.
It made for such a beautiful ending and the group liked it so much they made it a permanent part of their arrangement.
More than a dozen labels rejected the song before it was released by a local Pittsburgh label, Calico Records.
The song is considered by many oldies fans to be one of the best "heartbreak" ballads ever recorded. I agree...

Was this female singer as good as the original?
As you enjoy this video watch Donna Groom as she seems to hit those high notes with little effort, just like the original singer, Janet Vogel.
How good was Donna Groom that night in 1999. She backed up on "The Lion Sleeps Tonight", with that incredible opera sound, on the same show.
I prefer listening to this beautiful song from a an original 45rpm on a good turntable.
Switch off the lights and this tune will send you back to the late 50s era where life was so innocent...full of new discoveries, good traditional food, drive-in movies, classic cars, and cool multi colored striped shirts for the boys. Life was good...
In recent years Jimmy Beaumont and the Skyliners have been a substantial part of the PBS Specials (DooWop50, Moments to Remember, Cavalcade of Music, My Music).
The video below was also recorded on the same program in May 1999 at the Benedum Center for Performing Arts in Pittsburgh, PA.  Enjoy another Skyliners favorite, "This I Swear" from 1959.  
Today, members Donna Groom, Nick Pociask, Frank Czuri, drummer/conductor Mark Groom and legendary leader, Jimmy Beaumont, continue to thrill live audiences in the United States and Canada each time they perform "Since I Don't Have You".
---

Listen to this classic by the Casinos from Cincinnati, Ohio

Return to The Doo-Wop Groups Page

Return from The Skyliners Page to My Home Page